A Roma fan has been cleared of inflicting grievous bodily harm on a Liverpool supporter in an attack outside Anfield.
Filippo Lombardi, 21, from Rome, was found not guilty at Preston Crown Court on Thursday of the assault on Irish father-of-three Sean Cox, who suffered "catastrophic injuries" when he was attacked on Walton Breck Road before the Champions League semi-final on April 24.
The jury of six men and six women took just under nine hours to reach a verdict.
Lombardi, who had an Italian interpreter with him in the dock but gave most of his evidence in English, will be sentenced later for a charge of violent disorder which he admitted before the trial.
About half a dozen members of Mr Cox's family, including his wife Martina, were in court for the verdict, as were three of Lombardi's relatives.
Summing up the case, Recorder of Preston Judge Mark Brown said: "Football has been described as the beautiful game but the terrible events that took place outside Anfield stadium when Sean Cox was assaulted, and suffered catastrophic injuries, surely have blighted its reputation."
Mr Cox, from Dunboyne, Co Meath, suffered a severe, traumatic brain injury in the attack and is still unable to talk or sit up unaided.
The court was told another man, referred to as N40, was responsible for the punch which knocked Mr Cox to the ground, causing his injuries, but the prosecution alleged Lombardi swung his belt towards Mr Cox as he fell and was jointly responsible for the attack.
The trial, which began last Thursday, heard Lombardi arrived at the ground after walking from Liverpool Lime Street train station with a group of 20 to 30 Roma supporters.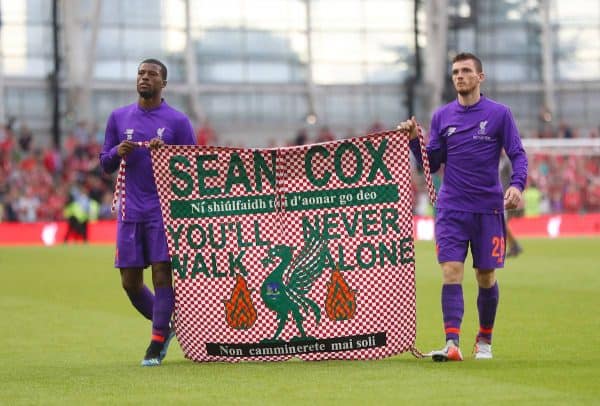 The jury was shown footage of the student appearing to swing his belt in the direction of Mr Cox, who was standing with his brother Martin, as he fell.
Martin Cox told the court he and his brother had been excited as they made their way to the ground.
But he said he heard aggressive chanting from a group of people wearing dark clothes as they walked along Walton Breck Road shortly after 7pm.
He said: "I turned to Sean as if to say 'let's get out of here', or whatever, but as I turned Sean was lying on the ground."
Lombardi told the court he had been lost when he wandered on to Walton Breck Road, which was full of Liverpool fans, just after 7pm and had wrapped his belt round his hand because he feared he was walking into a "dangerous situation".
He said he had heard a man standing behind Martin Cox say something to him about a fight and had swung the belt at him to get him away.
He said he had not noticed Sean Cox until he saw him lying on the ground.