Former Liverpool striker Peter Crouch played with Xherdan Shaqiri last season and believes he has every attribute to be a huge success for the Reds.
Both players were relegated with Stoke City last season from the Premier League, with Jurgen Klopp swiftly moving to sign Shaqiri for £13 million.
Crouch, writing in his column for Sportsmail, says he was in no doubt that the Switzerland international would be a massive Anfield success.
More than that, the ex-Reds man believes that Shaqiri is good enough to break up the fabled front three in place at Liverpool, and says recent form suggests he's ready to hit the heights he's capable of.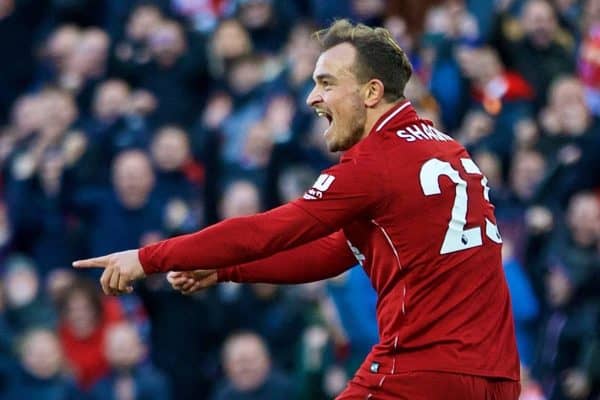 "When he got his move to Anfield in the summer, I said to a few of the lads in our dressing room that he would go there and rip it up, and that is what he has been doing over the last few weeks.

"People say it is impossible to break up Liverpool's three-man attack of Mohamed Salah, Roberto Firmino and Sadio Mane, but if anyone is going to do it, Shaqiri can.

"In terms of ability, he is up there with the best I've played with. Trust me, he can be whatever he wants to be.

"For someone with his ability, £13m is a bargain, and I'm only surprised that more clubs didn't register an interest.

"I know he is going to have a big season. I saw the ball he slipped in to Salah at Huddersfield last week and the pass he played against Red Star Belgrade in the Champions League. These showed me he has found his feet."
While Shaqiri might be shining in a combined starting-or-sub role in the early weeks of his Liverpool career, he did have detractors while at Stoke.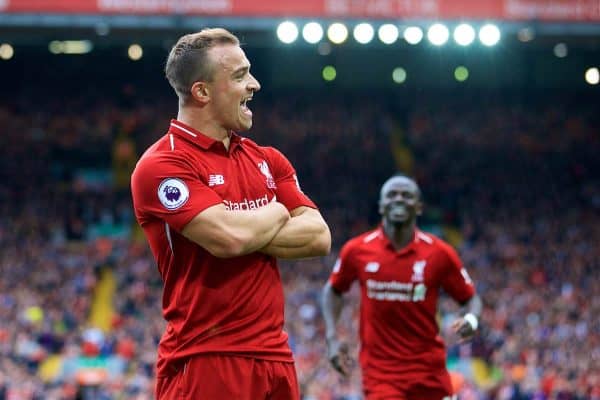 Curiously, some of the loudest mouths in that regard were from his relegated team-mates, which Shaqiri has responded to in dismissive form.
Crouch admits that the winger had a bit of an adjustment period, but says that he gradually got better—and his entire Stoke experience might well have set him up to succeed at Anfield.
"In many respects, Shaqiri got lost in his first few months at Stoke and he found English football a culture shock. It really did take him a long time to adjust.

"Last season was much better but, again, it was not without issues. Did he go missing in terms of tracking back to help the defence? The honest answer is yes. I think he felt he needed to be the man who scored and created goals, particularly after Marko Arnautovic had moved on, but Shaq didn't always do what he needed to at the other end.

"There is no escaping the fact that it was a difficult 12 months, but I wasn't in the least bit surprised Liverpool took advantage of his release clause.

"Maybe the difficulties he experienced at Stoke have helped the penny drop. He is playing for a manager now who will not tolerate anyone who shirks their defensive duties and if Shaqiri adds that to his game, he will be an exceptional talent.

"You need belief in yourself to thrive at Anfield and that is something he has in abundance. Nobody has ever doubted his talent and now it seems he is maturing. Perhaps he appreciates what an opportunity he has been given."
Shaqiri himself has certainly been quick to state he realises that he's at a team who can challenge for major honours, but that hard work is key to realising that ambition.
And Crouch thinks that Shaqiri could even prove the missing piece which turns challenges into title-winning quality on the pitch this year.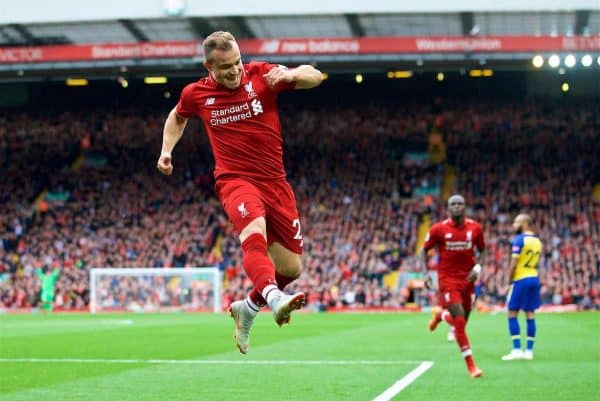 "Liverpool look the real deal this season. They are so dynamic and so exciting and their squad is primed to push for the biggest trophies.
"Shaqiri might just be the man who provides the final ingredient to the team. He is genuinely special — it's up to him to prove it."
The Swiss star's start to life at Anfield has certainly caused a lot of discussion, from the fee to his application and even his on-pitch position.
There's a way to go before he can be considered a first-team regular or a key piece of the puzzle, but there's no question that Klopp has gotten his transfer targets right more often than not.
And judging by the start he has made at Anfield, scoring and creating for his team-mates, Shaqiri could well be another addition tailor-made to improve the Reds overall.