Mohamed Salah netted his 50th goal for Liverpool in a club record time—then stated he was happy to keep helping the team win more games.
The Reds won 4-0 against Red Star Belgrade at Anfield, with Salah netting twice to reach the 50-goal mark in the shirt in just 65 matches—quicker than anyone else in club history.
Typically, Salah was keen to focus on the collective after the game, though noted he was proud to have reached the milestone.
In an interview with BT Sport after the final whistle, Salah—along with captain Virgil van Dijk—noted the importance of the victory as much as the pleasing aspect of his brace.
"That's great!" he said. "I'm happy to score my 50th goal for Liverpool, very proud about that and I want to keep scoring and helping the team win games."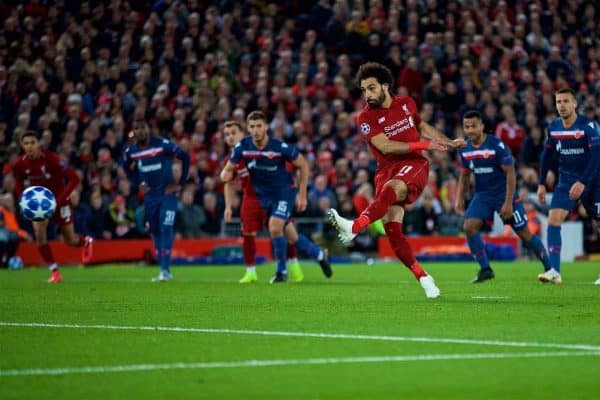 Salah was less enthused about the idea of some feeling he had lost his touch in front of goal, with a supposed "drought" lasting all of four games.
Since then he has now netted three in two matches, and demanded "who?!" of the interviewer when reminded that some had questioned his lack of strikes previously.
Van Dijk, meanwhile, demanded that the focus remained on what the Reds could do themselves as they got closer to securing progression from the group stage into the Champions League last 16.
"We need to look at ourselves. We want to win every game we play, especially at home. It'll be difficult over there but we need to look forward to those challenges."
Elsewhere, the Dutchman had praise for Fabinho and Xherdan Shaqiri, while Salah noted that the front three had always had confidence they would rediscover their touch in the final third.