Liverpool have rotated the team with more regularity of late, but with a key run of games coming up it's time to settle on the strongest back line.
It wasn't always this way, but Liverpool fans now look at the team-sheet with a mixture of admiration and reassurance when it comes to the defence.
Massive expenditure on key areas, coupled with bargain hunting and progressive youth development, has given the Reds the possibility of employing a solid and regular last line which could be in place for five years or more.
The back four, plus goalkeeper Alisson, have shown they are among the Premier League's best this year; now Jurgen Klopp has to keep them in place for a succession of matches which could shape Liverpool's season.
Getting Rotation Wrong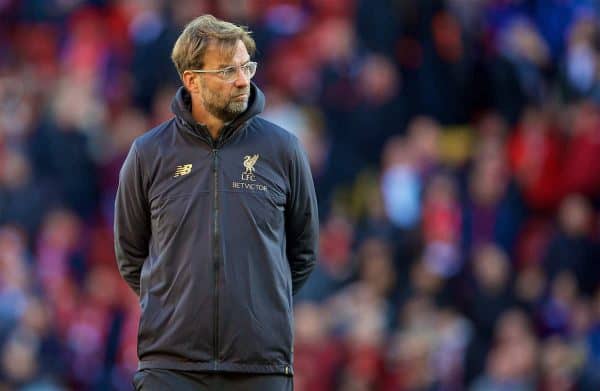 Of course, the same players can't play every week—even in areas where it's optimal to have stability.
Klopp's system and the demands of the mere expectation that Liverpool win every match mean much is asked of the full-backs, at least a couple of midfielders and certainly the wide forwards.
But, at other times, it can seem as though rotation is undertaken simply to keep certain players involved—also, from a managerial perspective at least, a necessary adjustment.
It was only last year that the Reds found themselves with three central defenders out injured, of course, and it's tough to come into such a key position after weeks of inaction.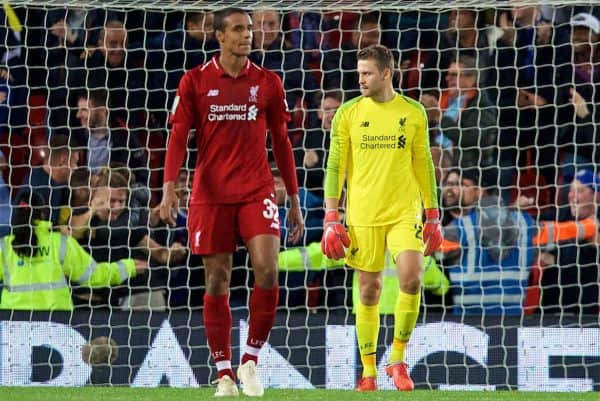 But, as we saw prior to the international break, getting it wrong when to rotate can have a big impact; a team who should be matched and beaten for effort and technical ability can suddenly find confidence, spaces and points coming their way.
After rotating almost not at all in the early weeks, Klopp did so far more regularly last month, and it didn't always work.
And it was not, it should be mentioned, entirely his fault on each occasion—though the Red Star debacle does fall squarely at the feet of the boss.
Solid Start & Drop-off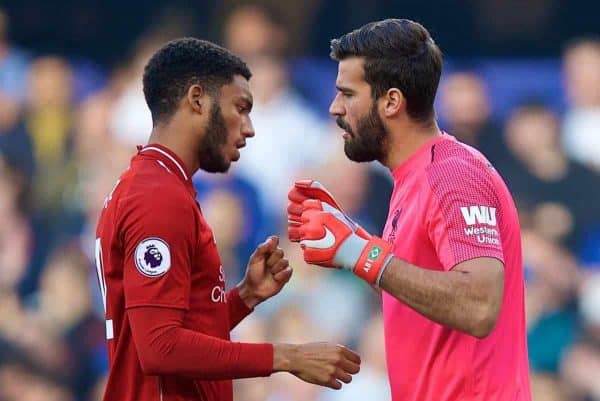 Liverpool started the season with the same back five for six matches in succession.
Six wins were attained, with the first three all yielding clean sheets. Four goals were conceded in the latter three, as the level of opposition stepped up: Leicester away, Tottenham away, PSG at home.
In the 11 games since, a further five clean sheets have been kept, with eight conceded: 0.72 per game on average, up from 0.67 per game from the first clutch of matches.
It's hardly a devastating leap, particularly given what has come beforehand in previous seasons, but the impact was felt much more keenly in wins and points.
In fact, the Reds have failed to win more than they have won in that spell: five wins, six lost or drawn.
As always, it's not down to a single factor, even changes in the defence. A misfiring forward line, a midfield which hasn't yet picked itself the way this quartet of defenders do and, of course, tough matches away and in Europe have all needed to be dealt with.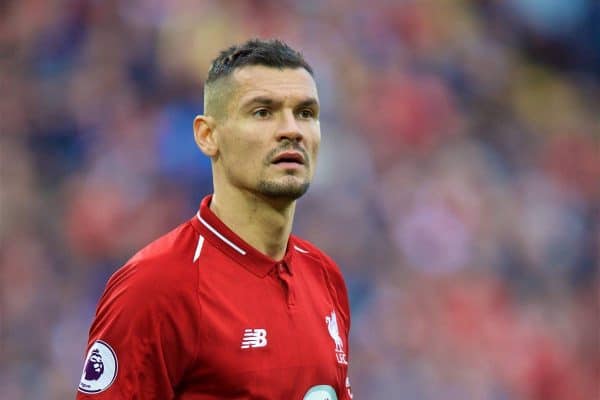 But familiarity is key in defence more than in any other area of the field, and it has most certainly played a part.
From Southampton onward, Klopp has repeatedly altered his back four—positionally as much as personnel—with a number of changes per game: 1, 3, 4, 0, 2, 0, 2, 2, 2, 1, 1.
It isn't always just a new face, either, but partnerships halted and new pairings given an outing, particularly down the right channel where Alexander-Arnold has played to the side of each of Gomez, Dejan Lovren and Joel Matip and Gomez has also featured outside Lovren.
Until the Fulham game just prior to the break, the strong back line was no longer quite as secure: Liverpool hadn't kept a clean sheet in three games, winning just once.
Key Games & Opportunity to Change

After a halting, stop-start run of form, it's time for the Reds to regain the winning habit on a regular basis—at least, if they plan to lift silverware this term.
Key fixtures and rival battles plenty are on the horizon, and Klopp will have to pick his games carefully to rotate beyond one or two players.
The defence, however, should remain firmly in place for the majority of fixtures.
The Champions League adventure could be over within a month, unless the right calls are made. Dropping points to rivals is always unpalattable, but even more so if they hamper the first genuine title bid in years.
Naturally, the upcoming games against PSG and Everton are huge.
But before that, a trip to Watford will likely be incredibly difficult: they're one of the form sides in the league with home results, with just Man United and—a real off-day for the Hornets—Bournemouth picking up points at Vicarage Road.
A strong platform at the base of the team is a must, getting the first-choice quartet into their rhythm with the Reds after each tasting international action over the past couple of weeks.
They need to be at their best for the following games, and that means mentally as well as technically. For that, partnerships must be resumed, renewed and kept.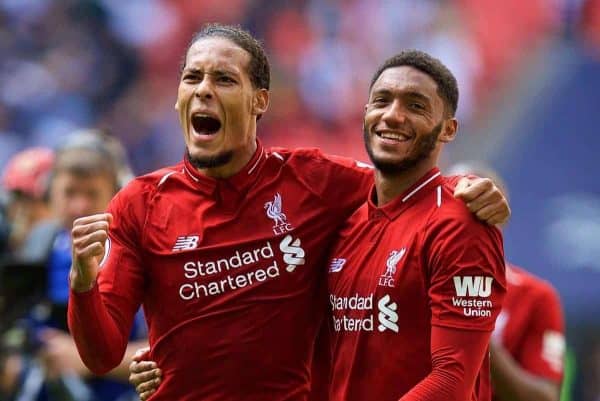 Beyond the Merseyside derby, either one of Burnley away or Bournemouth away can be seen as an opportunity to change one or two each game, perhaps most notably the former given their poor home form so far.
The sensible approach, notwithstanding any injuries accumulated before then, might be to rest Trent and Van Dijk for one game, Gomez and Robertson for the other. Van Dijk, indeed, may not need to come out at all.
There are five games of the seven, however, where the same defensive lineup should be seen throughout if the Reds are to have their maximum chance of coming out with maximum points.
Further Afield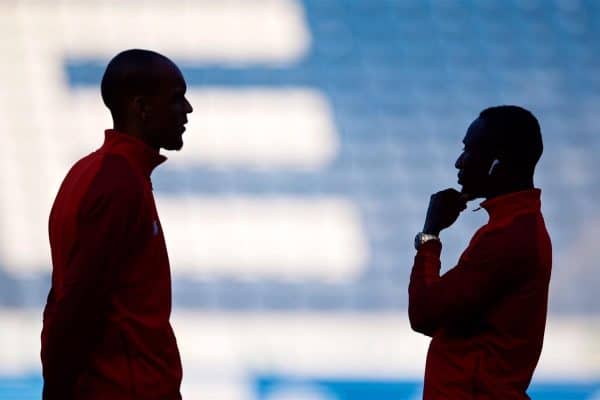 A first-choice back line in place doesn't automatically mean no goals conceded, just as changes don't inevitably lead to no clean sheet.
Keeping the same players in place is all about upping the chances in each match and strengthening the partnerships, game by game.
But it matters, too, what comes ahead of them. Will this be the period of the season where Fabinho establishes himself as the first name on the team-sheet in the middle of the park? Will Naby Keita shake off his inhibitions and win a place?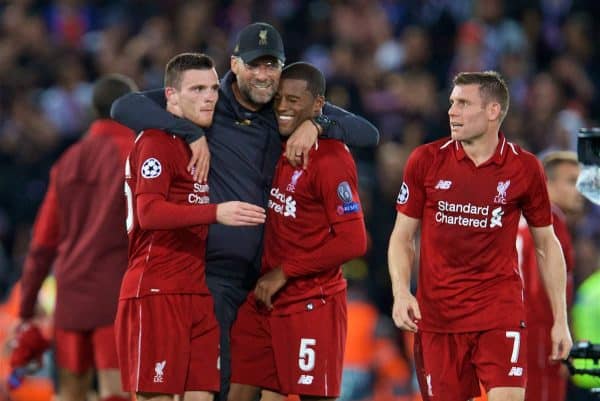 Will Klopp himself, indeed, settle on a double-pivot in midfield or resume his switching between two and three?
All these factors will count toward Liverpool's attacking creativity as much as their defensive acumen. And on a game-by-game case, individuals and systems may need to change.
But that's for further forward.
In defence, keeping personnel and shape the same is a priority. These four have earned the right this season to be called the first-choice quartet, and it's they who should be inked onto the team-sheet for a crucial upcoming run.