Liverpool go head-to-head with Everton for the 232nd time on Sunday, but do Blues supporters think the long wait for a win at Anfield will come to an end?
The Reds lost 2-1 at Paris Saint-Germain on Wednesday night, as their disappointing away form in the Champions League continued.
A big response is needed in the Merseyside derby, with Jurgen Klopp's men aiming to stay in touch with Premier League leaders Man City.
Everton descend on Anfield in a positive frame of mind, sitting sixth in the table and looking for a first win at the home of their rivals this century.
Ahead of the game, Henry Jackson spoke to the ever-honest Paddy Boyland (@Paddy_Boyland) from The Blue Room podcast (@theblueroomefc) to hear about the Blues' season, Liverpool's title hopes and Sunday's meeting.
Everton sit sixth in the Premier League – how happy are you with their season to date and the job Marco Silva is doing?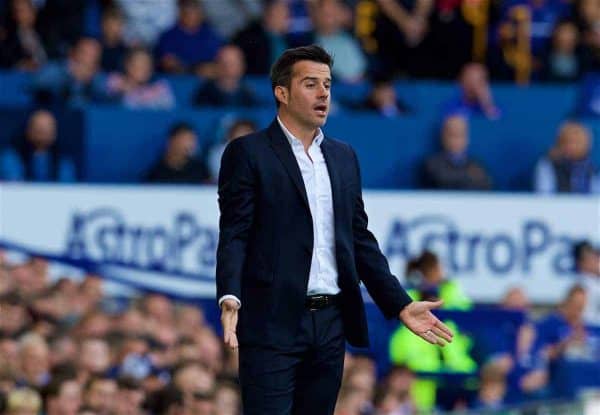 Pretty happy indeed! Taking into account the scale of the underachievement last season, many expected this to be a season of transition.
Strong home form, coupled with an impressive draw at Chelsea, hints that this can be much more than that. There's a pleasing mix of style and substance at present that certainly bodes well moving forward.
A fresh wave of optimism is now sweeping around L4, and that's largely to do with the forward steps taken in Silva's short tenure so far.
It's not been perfect—a disappointing cup defeat to Southampton at Goodison attests to that—but it's a whole heap better than 2017/18's rather turgid fare.
Evertonians are enjoying seeing their side in action again, while Silva has also succeeded in re-establishing the bond between players and supporters.
Is a top-six finish on the cards?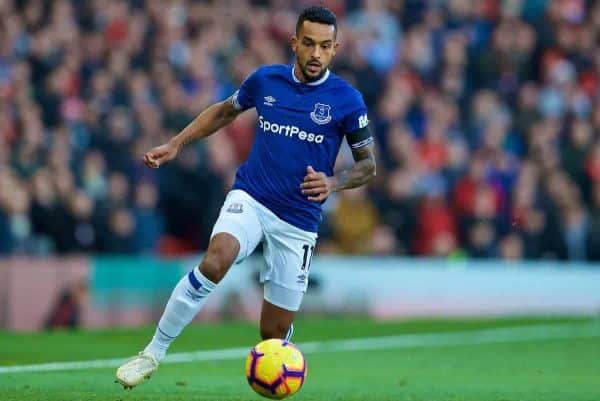 Potentially. At the beginning of the season, most would have settled for a season of consolidation with a cup run thrown in for good measure.
Now, I would say Everton are in a 'mini league' with the likes of Man United, Bournemouth and Watford, in terms of who finishes between sixth and ninth.
There's no reason why the Blues can't come out on top there, either.
Which three players have stood out most for Everton, and why?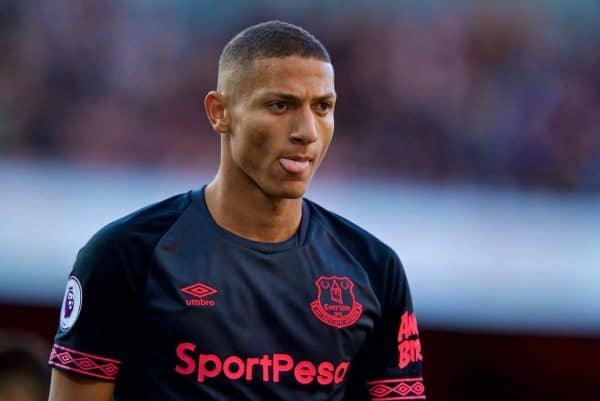 That's a tough one, as five or six immediately spring to mind. If pushed, however:
1. Richarlison – Has completely revitalised the Everton attack. Pace, power, and the desire to go right to the top. Still prefer him from the left rather than as a central striker, but those scoffing at his summer fee are now looking very silly indeed.
2. Idrissa Gueye – Thriving now he has a partner to complement him in Andre Gomes. His role has been simplified, with the focus on winning back the ball—something he does exceedingly well—while the elegant Gomes dictates play.
3. Gylfi Sigurdsson – Forced out of position all too often last season, the Icelander has six goals in his last eight games and is a pivotal part in just about everything Everton do offensively.
Honourable mentions go to Michael Keane (vastly improved), Gomes and Lucas Digne.
What have you made of Liverpool's start to 2018/19?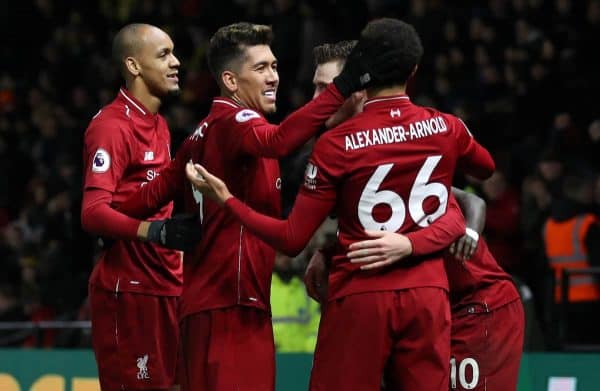 Very impressive.
Goals have never really been a problem under Klopp, but big-money signings Virgil van Dijk and Alisson have added a layer or two of solidity on top of the flair.
Liverpool are definite title contenders alongside City, but I do ultimately expect Pep Guardiola's men to seal the deal with a few weeks to spare.
Anyone you fear for the Reds, in particular?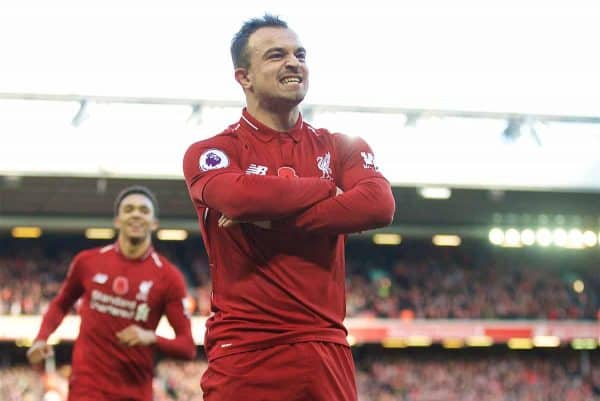 I have always felt it was more about systems than individuals with Klopp, so I would highlight the attacking triumvirate of Sadio Mane, Mohamed Salah and Roberto Firmino rather than any one player.
They are so gifted that focus instead has to be on cutting off the supply line to them and denying space in behind.
A word, too, for Xherdan Shaqiri, who has added much-needed guile from a slightly deeper role.
Liverpool have routinely struggled to break down deep-lying sides in recent years, but Shaqiri has all the tools necessary to pick the lock.
What is your best and worst-ever memory of a Merseyside derby at Anfield?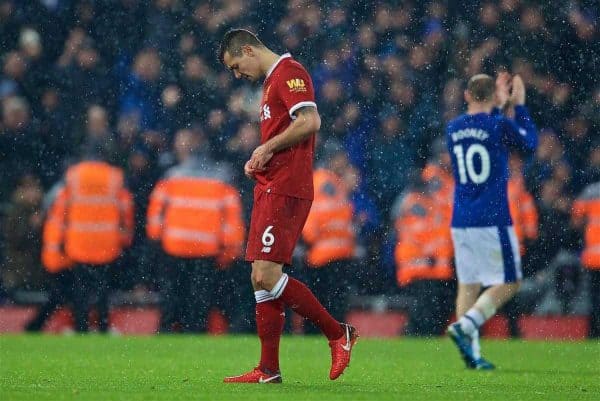 I'm 26, so plenty springs to mind for the latter and not so much for the former!
That said, Phil Jagielka's wonder goal in 2014 was a rare highlight at Anfield, while Wayne Rooney's penalty last season provided cheer in an otherwise glum campaign.
My worst memory is probably the 1-0 defeat back in 2010.
We have undoubtedly had worse results, but that was a palpable opportunity missed to end our barren run in Anfield derbies against an average Liverpool side playing with 10 men.
Where do you see the key battles taking place?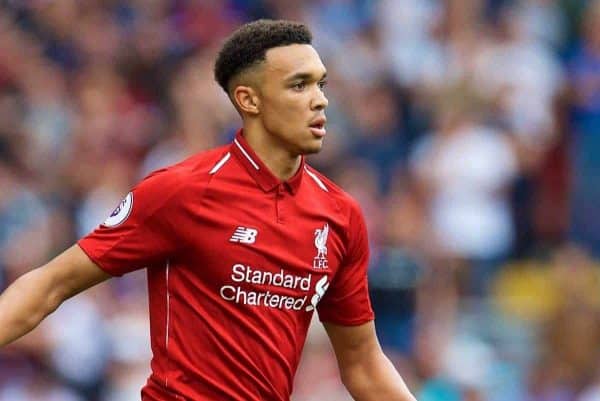 A lot from a defensive point of view will depend on how well Gueye and Gomes do in cutting off quick balls to Mane, Salah and Firmino.
Gladly, I'm infinitely more confident about Everton's midfield now that the Portugal international is on board.
I have also been saying all week that the aim offensively should be to isolate Richarlison against the promising but occasionally naive Trent Alexander-Arnold.
Finally, hit us with a prediction…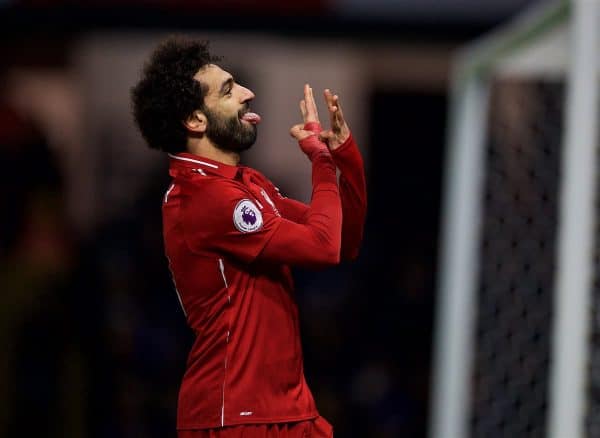 I'm torn between the head (2-1 Liverpool) and the heart (1-1).
Whatever happens, Silva's Everton have provided more than enough evidence already this season to suggest they are able to go toe-to-toe in games of this ilk.