The Football Association is pushing for the number of non-homegrown players to be restricted to 13 per Premier League club, even if Brexit does not come to pass.
The vote to leave the European Union has led to the relevant bodies meeting to discuss the knock-on impact on football.
The FA, Premier League and EFL are in talks about post-Brexit regulations after being asked by government to come up with a joint view on policy.
Current top-flight clubs are permitted to have up to 17 non-homegrown players, but Press Association Sport understands the FA is proposing that drops to 13 in a 25-man squad—something the governing body would like to push through even if there is a longer transition period or second referendum.
The plan aims to maintain the Premier League's current quality while offering more opportunities for homegrown talent, considering England-qualified starters are down to 30 percent at a time when Gareth Southgate's national team are on the rise.
It is understood that the FA's proposal was met by initial resistance from the top-flight clubs when chief executive Martin Glenn spoke at last week's Premier League shareholders' meeting.
Talks are ongoing and the path to an overarching policy agreement is unclear.
The existing system has been in place since 2011 and a steady increase in non-homegrown players meant Premier League squads had 270 in total at the start of the 2018/19 season.
Liverpool's Non-Homegrown First-Team Players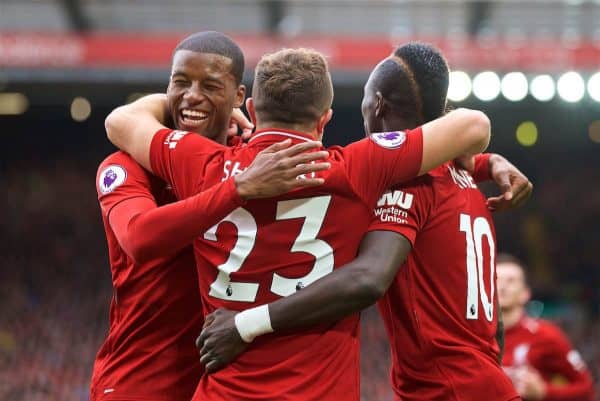 Goalkeepers: Alisson, Mignolet, Karius
Defenders: Van Dijk, Lovren, Matip, Robertson, Moreno
Midfielders: Keita, Fabinho, Wijnaldum
Forwards: Salah, Mane, Firmino, Shaqiri, Origi
That averages at around 13 non-homegrown players per squad and the FA intends to keep that level, while creating a fully-open market to allow the best access to talent across the world to join.
Currently non-European players require Governing Body Endorsement, meaning a number of African, Asian and South American talents have failed to get work permits.
The current Brexit no deal solution would see GBE applied for European players as well. The system is run by the FA with Home Office approval and research shows 65 percent of the Premier League's current European players would not have made it through GBE.