Rhian Brewster features in a new documentary examining the role black players have played in football—and speaks about instances of racism he has faced.
The young Liverpool striker is still awaiting a first-team debut, with his progress having been temporarily halted by a long-term injury sustained last season.
Now back in training, he's expected to be around Jurgen Klopp's squad after the turn of the year.
Brewster has already made headlines thanks to his footballing ability, winning the U17 World Cup and Golden Boot with England, but was also involved in multiple instances of racial abuse last year.
Now he is set to make his views heard in two-part documentary Out of Their Skin, produced by ITV Sport, surrounding the "pioneering role black footballers have played in changing the game and what still needs to be done."
In it, Brewster details four occasions where he has suffered racial abuse—twice with the national team, twice with Liverpool—and says much more must be done to end such occurrences.
Brewster suggests that the game's governing bodies are not dealing out harsh enough sanctions, meaning there is little reason to enforce a change in mentality for some.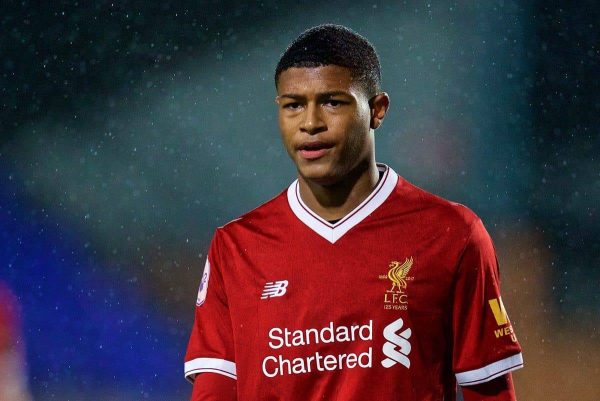 "It's just going to keep happening if they give them a light slap on the wrist," he says, in reference to a stadium being part-closed as punishment.
The documentary is presented by former England striker Ian Wright, and features ex-Liverpool winger Raheem Sterling as well as Brewster.
It is being produced to mark "a history-defining moment in English football—40 years since Viv Anderson became the first black footballer to win a full cap for the England national team."
The first part of the documentary airs on ITV 4 on Tuesday at 10pm GMT, with the part two the following evening at the same time.