Again, it wasn't perfect, but again we picked up three points. There was something stubbornly professional about Liverpool's win at Vicarage Road.
Goalless at half time away to Watford, while Manchester City were contemplating racking up another cricket score away at West Ham. It could have been an ugly day for us down at Vicarage Road.
Instead, we dug in and played the patient game.
The goals eventually materialised, and the points were claimed. It was the type of stubbornly professional performance that Bill Shankly, Bob Paisley and Joe Fagan used to build title-winning campaigns upon.
Preach it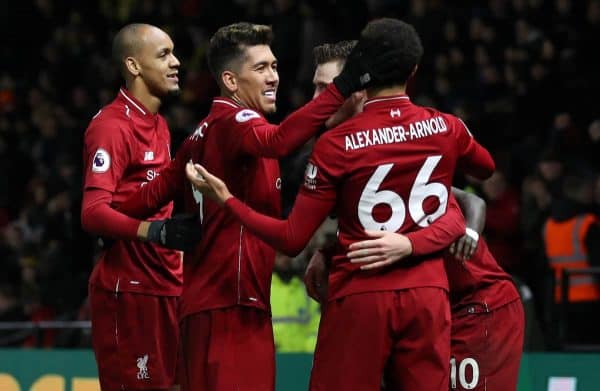 I've preached it before, but we can win the Premier League title this season.
Manchester City have other ideas, of course, and compelling ideas they are too.
They will slip up at some point however, as will Liverpool. The winners will be which side responds the most professionally to those inevitable defeats when they do arise.
Everything seems to be coming to City quite easily at the minute. That isn't true, of course. That 'zone' they are in is a hard-earned commodity. You don't reach the levels they are playing at easily.
I'm actually ill at ease to compare and contrast Liverpool with how City are performing, or at least the positions they occupy and how minimal the points gap is between the two, when we aren't even playing them.
Imagine playing the type light-distorting football they are playing, only to glance over their shoulder to see Liverpool are still breathing down their neck. A Liverpool which still only flirts with the sort of form they were throwing out at times last season.
We are now left with little option but to compare and contrast with our immediate rivals, however, as it is increasingly looking like 'us vs them' after Chelsea's defeat to Tottenham. There was nothing stubborn, or professional in the way Maurizio Sarri's team played this weekend.
Turbulence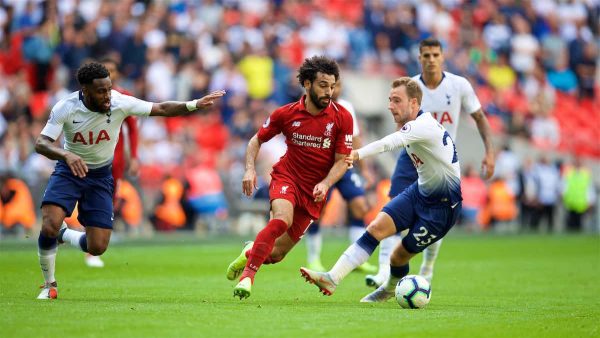 No, I don't discount Spurs from this title-chasing conundrum by the way.
I do expect them to suffer some turbulence from their switch back to White Hart Lane in January/February however.
There has been nothing professional about the delays in Spurs returning 'home' and as seen with their continuing Champions League fluctuations, the comforts of home are very important.
I'd expect to see a repeat of the difficulties Spurs initially faced on their switch to Wembley Stadium.
I think they've become accustomed to Wembley now and the new White Hart Lane will take some adjusting to. Any march by Spurs will be derailed by their stadium switch, or should the delays go on, by the continued uncertainty instead.
Spurs are currently sat in a position which is all too familiar to us. A step or two away from the title race, a step or two ahead of the battle to hold on to a top 4 spot.
Tread well and they can become a third wheel in our 'duel' with Manchester City. Step in something unsavoury and they'll start to look over their shoulder toward those in pursuit.
The insanity of the way the 'haves' and 'have lots' deal in near-perfection now means that despite Chelsea only just having cashed in their unbeaten start to the Premier League season, they are already at a distant looking 7 points behind the leaders.
This makes our stubborn professionalism such a valuable attribute.
This stubborn professionalism is built upon the solid foundation of Alisson Becker and Virgil van Dijk.
What's the old adage?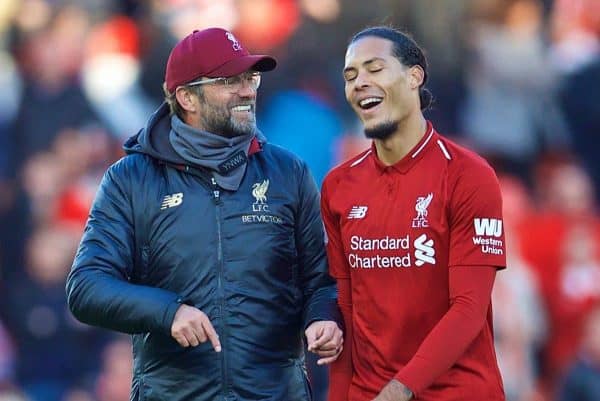 You get what you pay for?
We paid biblical amounts of money for these two pillars of security.
Laughing in the face of the concept that you get what you pay for, we paid a combined £11.5m for the services of Trent Alexander-Arnold, Joe Gomez and Andrew Robertson.
Just let that sink in for a moment.
Jurgen Klopp was stubborn in his pursuit of van Dijk, but the Netherlands captain has been the catalyst for the stubborn professionalism of this Liverpool side.
That calmness with which we play. A calmness which has seeped through his team-mates, wouldn't be there now without his arrival.
It has only been strengthened by the arrival of Becker. There is a sort of strength of calm at play.
Remember that ridiculous 3-3 draw we had at Watford at the beginning of last season. A game of sheer lunacy in both positive and negative slices.
You just couldn't see van Dijk being associated to something like that.
Dejan Lovren's name on the team-sheet brought with it a cold shudder, but he always looks like a defender reborn when alongside van Dijk.
I still want Gomez back in there as soon as possible though.
There were plusses and negatives at Watford on Saturday. Jordan Henderson was at his polarising peak, earning himself a needless red card. Beware red cards baring Henderson's name.
There was a stubborn professionalism in how we dealt with going down to 10-men. It could have invited Watford back into the game, but we absorbed the way they had to push on for some form of opening, then struck for our third goal on the break.
It was a job well done; it was three points on a day when other versions of Liverpool FC would have taken a point, or even a defeat.
On the upward trajectory, Mohamed Salah scored again. The smile continues to creep back into his game. Roberto Firmino was on target too, while that was a free kick of beauty from Alexander-Arnold. Sadio Mane was at ease with his performance.
Here comes silly season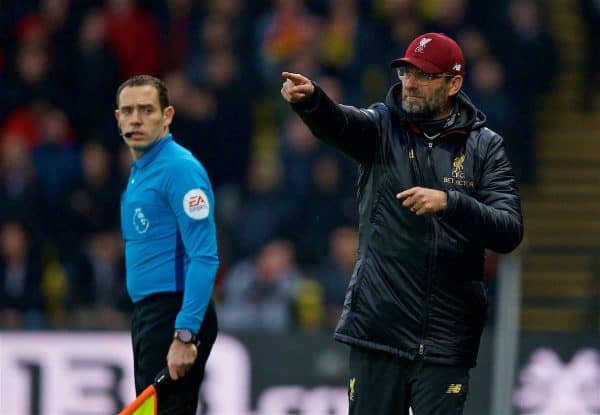 The last international break of 2018 has gone now. We are past the one-third marker of the campaign and the silly-season of December, with its multitude of games, will see us comfortably past the halfway point.
In fact, in the next five weeks we have seven Premier League games to play, with two more in Europe, just because we aren't busy enough.
Paris will bring November to an end, while December will be the defining month. We will need to be stubbornly professional in our dealings.