One of the very best nights of many supporters' lives, this compelling new video relives the build-up to Liverpool's incredible triumph in Istanbul.
The word unforgettable simply doesn't do justice to the occasion: the anticipation, the drama, the comeback and the glory, all of it rolled into one as Liverpool won the 2005 Champions League final.
Captain at the time, Steven Gerrard explains how he barely slept in the lead-up to the final itself.
"I couldn't wait for the game to come about. I'd played the final three or four times mentally before I even walked onto the pitch!"
Rafa Benitez, Sami Hyypia, Xabi Alonso: names who have gone down in Anfield folklore are all documented on video in this superb offering from UEFA.tv, who captured every angle of the pre-game rituals and thoughts from those involved.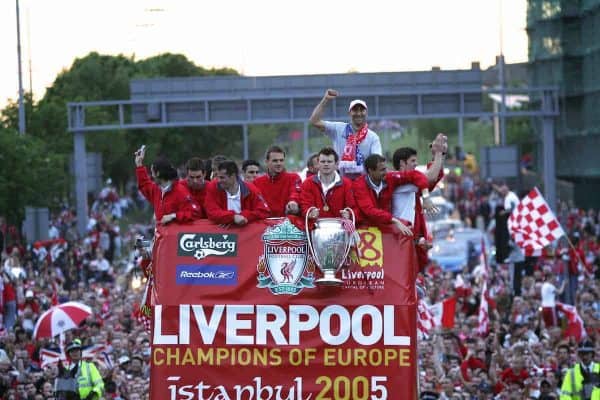 Italian legends Carlo Ancelotti and Paolo Maldini are also on show with their pre-match press conference, before Alonso, unknowingly, absolutely nails what is to come.
"In one game, anything could happen."
Safe to say, that was an understated version of the events which unfolded, as Liverpool trailed by three goals at the break, only to mount a stunning recovery and an eventual victory on penalties.
Gerrard recounts his pre-game thoughts, covering tactics, which players needed help and what his set-piece duties were.
And, poignantly, he refers to hearing the sound of the Liverpool supporters at half-time, urging the team to keep going despite the seemingly insurmountable deficit. That, plus scoring the first goal himself, was the beginning.

"A little bit of hope, a little bit of belief. The fans went wild. I could see on my team-mates' faces that it was the start of a bit of belief."
Dudek's save, Traore's block, the penalty shoot-out—all of it is relived in incredibly dramatic fashion, as befits the greatest final of all time.
What a night. Watch the full video here!