Liverpool were held to a 1-1 draw by a spirited Arsenal side on Saturday, with the landscape of the title race the main talking point with the spoils shared.
After putting four past both Red Star and Cardiff, the Reds took to the capital looking to make a statement with their display at the Emirates.
But under the lights in north London, and in a strong atmosphere as Unai Emery led from the technical area, Liverpool were unable to fully assert themselves.
A goal from James Milner came arguably against the run of play, but so too did Alexandre Lacazette's late equaliser, and Jurgen Klopp was left disappointed after Sadio Mane's first-half effort was ruled out for offside.
With Man City taking on Southampton at the Etihad on Sunday afternoon this result could be seen as a slip-up from the Reds.
But given they ended the day top of the table it would be remiss to focus on negatives.
After the game, This is Anfield's Jack Lusby (@jacklusby_) and Matt Ladson (@mattladson) were joined by Liverpool writer Jonathan Higgins (@Jhiggins3) to discuss the ups and downs from the Reds' 1-1 draw.
The good…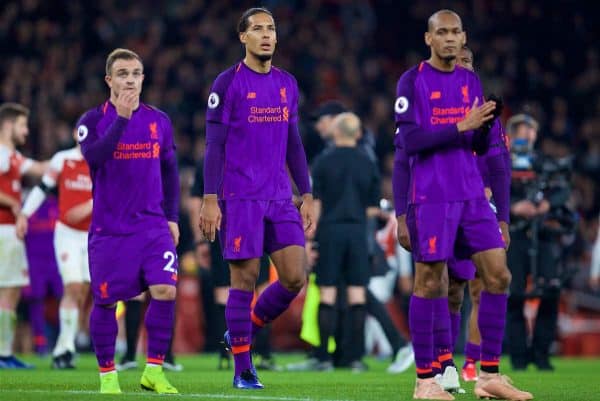 JACK: I'm still astounded at how Van Dijk continues to improve.
He was top-class again throughout, as were Gomez and Robertson alongside him, and his performance deserved at least one of the goals he was so close to scoring.
The way in which Liverpool responded to a tough first half, with Klopp's system change, was encouraging, and Milner's tireless efforts were central to that.
Salah looked a constant threat, as did Mane, but most of the credit for that result should go to the back line.
MATT: Virgil. Van. Dijk. And Joe Gomez, which is becoming a theme. Andy Robertson also had his best game for a while—some of his crosses were delightful.
It was a good game of football, two good sides, each playing the 'right' way and going for the win. People get lost in the end result and forget to enjoy the actual football.
It was a good game and a draw is a fair result.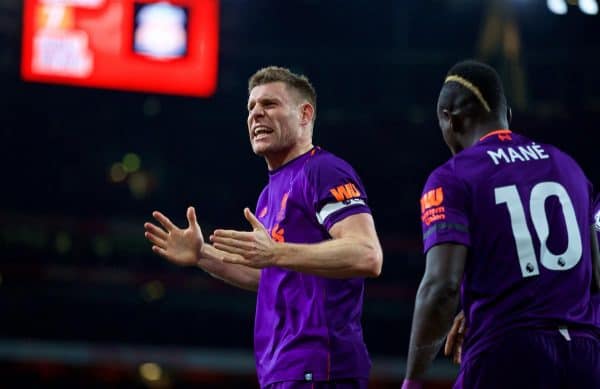 JONATHAN: Van Dijk wasn't just good, he was an absolute colossus (again!).
The best centre-half in the league by a country mile was immense at the back and held the team together as Arsenal threatened to run us over for periods of the game.
He was also a huge threat to the Arsenal goal and could have bagged himself a hat-trick on another day.
The other obviously good points are the fact our unbeaten run continues and we are back on top of the league.
We all know City have pushed the boundaries to almost unrealistic expectations but eight wins and three draws after 11 games is a more-than-decent start to the season for Liverpool.
Particularly when you consider this run includes away trips to Chelsea, Arsenal and Tottenham and not forgetting we are also top of our Champions' League group.
The bad…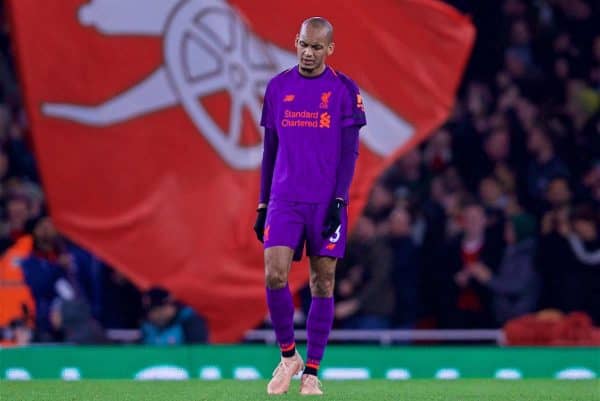 JACK: Fabinho and Alexander-Arnold both struggled massively. Fabinho got better as the game went on, but both were culpable for Arsenal finding space in and around the box.
I was baffled at how sluggish Trent looked, even in simple situations.
There was a stage in the second half where Wijnaldum popped up on the ball and I realised I hadn't noticed him at all (in a bad way) and Firmino was similarly anonymous for much of the game.
MATT: Trent. It's funny how we've gone from a year ago teams targeting our left side (Lovren and Moreno to Van Dijk and Robertson is some upgrade), to now targeting our right side.
Before the game, This Is Anfield posted a poll on Twitter asking whether Gomez-Lovren or Trent-Gomez was preferred; it was overwhelmingly (88%) in favour of Trent-Gomez, with many asking how it is even a question.
Watch Trent's performance, and especially his role in the goal, then ask yourself again.
Fabinho was also very poor; he starts games too slowly. And I don't like Firmino as the No. 10, he's far more productive as the No. 9 and it affects our attack massively.
Need a solution there, because Salah doesn't track to cover Trent on the right.

JONATHAN: Am I allowed to say the incorrect offside decision?!
The biggest negative for me is the way Arsenal, particularly during parts of the first half, had total control of the game and overran us in midfield especially.
In an unusual turn of events, we could not match their intensity levels.
It was a baptism of fire to top-level Premier League football for Fabinho and perhaps shows us why Klopp has taken a cautious approach with his summer signing to date.
No doubt Fabinho will have much better days but Klopp's vocal displeasure with his first-half performance in particular will still be ringing in his ears.
Being supercritical, not been able to see out our one-goal lead with half an hour to go leaves a negative mark also.
And should we be happy with a draw?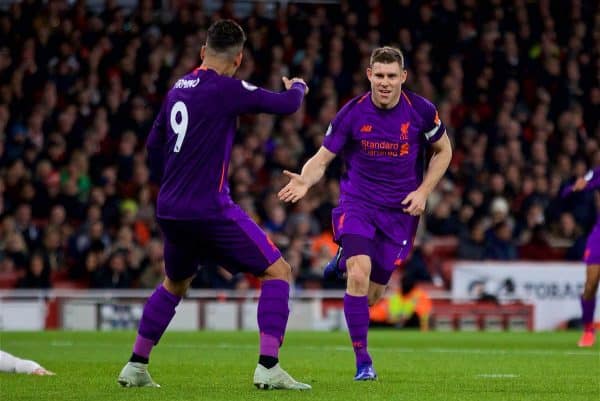 JACK: Initially I was disappointed—there were so many opportunities to get that second goal, and obviously Mane's wasn't actually offside—but Arsenal were good value for the draw.
Liverpool weren't playing for a point at least, and though taking three from one of our title rivals would have been an ideal situation, the main contributing factor to this being seen as a let-down is out of their hands, with City still to play.
However, I do think Klopp could have managed the game better in pursuit of a winner—introducing Sturridge could have given us more of an edge.
MATT: Depends on your definition of happy! I hate draws as the pure maths indicates that a win and a loss is better than two draws.
But there's absolutely no need to be unhappy, given that we are—at the time of writing—top of the league, unbeaten, eight wins from 11 games, our joint-best ever Premier League start!
The problem is that Man City's near-perfect season has skewed opinions and now any dropped points leaves some thinking that it's all over. It isn't, they will drop points too.
Look, if City win the league with 100 points again, then we can't be unhappy.
I'm pretty certain right now we will better our best ever Premier League points total (86) this season, and quite possibly our best ever total points in the history of Liverpool FC (90).
If that doesn't end with a title, then we're just unlucky to be here in this City era.

JONATHAN: In the cold light of day, with the emotion left aside, a draw away to a revitalised Arsenal isn't a bad result.
However, from a personal point of view, my overriding feeling on full-time was frustration and disappointment. Interestingly, this was reflected also by Klopp in his post-match interviews and by a number of players on social media.
I guess the best way to summarise is this is a reflection of far we have progressed that a draw at Arsenal results in this reaction.