Jurgen Klopp was left frustrated as he addressed reporters after Liverpool's 2-1 defeat at the hands of Paris Saint-Germain in the Champions League.
Victory over their Ligue 1 opponents helped in their efforts to reach the last 16, but the Reds were unable to take advantage.
Instead, early goals from Juan Bernat and Neymar consigned Klopp's side to their third consecutive away loss in this season's tournament.
James Milner's stoppage-time penalty halved the deficit, but after the final whistle at the Parc des Princes, the manager was left to focus on the negatives.
One of those was referee Szymon Marciniak, who made a host of questionable decisions which left Klopp reeling—including a yellow for a red-card challenge from Marco Verratti.
"I had to explain it 20 times, it still feels no good—this game was an important game for us," he said.
"It was clear that the start would be as the start was, especially when you saw the lineup, the approach they chose was 'full-risk'.
"With the quality they have it was obviously intense to deal with; they took the risk in these situations and the speed they have is not really to defend.
"I always felt this game was still open, if we score one we are in the game again.
"We did that, 45th minute—after somebody had to convince the ref, I don't know exactly who."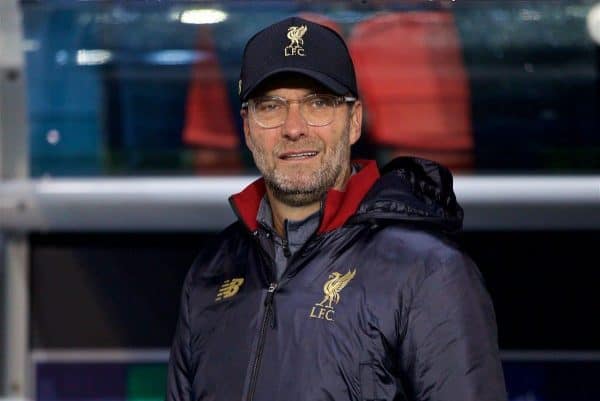 Klopp explained how he and his backroom staff attempted to highlight the "spaces" his players couldn't see at half-time, but conceded that PSG "adapted" their game to shut them down.
He added that the "number of interruptions in the game was just not cool," saying "two times in a row we won the Fair Play 'title' in England, and tonight we looked like butchers with the yellow cards we had."
"It was clever from PSG. Especially Neymar, but a lot of other players went down like it was really something serious, and obviously we were not that calm any more," he said.
On a more optimistic note, Klopp called upon the home supporters to provide the atmosphere to fuel a much-needed win over Napoli in the final game of Group C—with a 1-0 enough to take them to the last 16.
"We need Anfield again, we need to create an atmosphere which is pretty special, we know that," he insisted.
"But Napoli is a really strong side, they played here well, against us really well.
"It's on the 11th of December, we have a few others games before that—but we have to make a special night of it, 100 percent, if we want to go through."