Xherdan Shaqiri has had to bide his time for minutes on the pitch at Liverpool, but the Swiss star says he's settling well and there's more to come.
Having signed from Stoke City in the summer, Shaqiri immediately impressed in pre-season—but was sub in the early weeks of the new campaign.
Since then he has earned a handful of starts and his appearances off the bench have often sparked the Reds into life, proving his worth at the top end of the league.
In an interview with Liverpoolfc.com, Shaqiri said he has adapted surprisingly well so far, but believes more will follow as he gets to know the team and his manager more.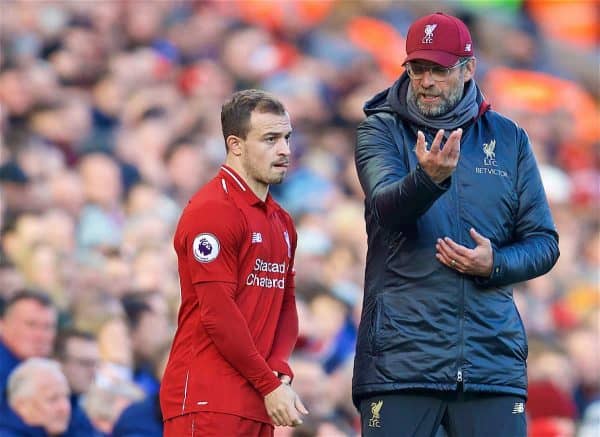 "The process is going very well – I think you can see that also on the pitch. I'm very happy to be here and I'm settling in very well, but I think it's going to be much, much better the longer I settle in. I'm very happy.

"The coach has helped me a lot to improve and that's the most important thing.

"I was surprised to be honest because I didn't think that I would start as good as I did, but it's only a positive thing when you start good [straight away].

"It's always positive for the team and also for the coach to know that you have a good player on your side who can help the team and I'm very happy with the process."
Shaqiri perhaps merits more starts so far than he currently has to his name this season, but the attacking midfielder isn't too worried.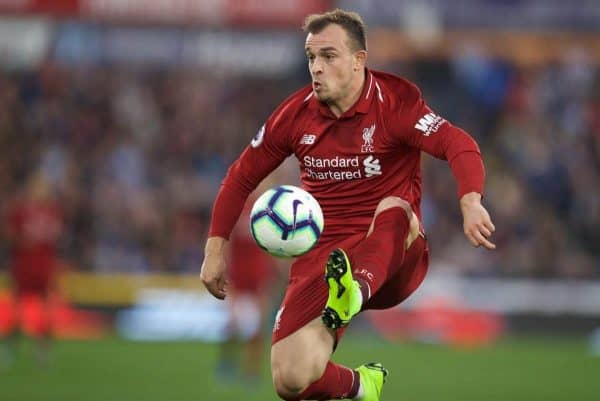 As has already been the case, he shows a good team-first ethic when discussing what he can contribute.
"I think you need patience always in your life, so [you need it] in football too. I knew my time would come and I spoke a lot with the coach, with Jurgen, so it was also important for me to have good conversations.
"Of course in the end the coach can only play 11 players but it was always in my mind to try when I came on to help my team, to make an impact and like I said before I am very happy with how the process is going.
"I am just trying to help the team when they need me, when I play from the beginning or when I come in, to be successful."
In Liverpool's last home league game, against Cardiff, Shaqiri experienced scoring at Anfield for the first time for the Reds.

He'll be keen to add more going forward—but, as the saying goes, you always remember your first.
"To be honest it was very special. I don't know how to describe this feeling, it was really special.
"I scored goals for other big teams also, but in front of the Kop was very special for me.
"It was my first goal at Anfield and it was maybe not the most beautiful goal I've scored but it was a good one! It was a special one and it will always be in my heart."
Shaqiri will be in with a good chance of starting against Fulham on Sunday, given the low-quality performance in midweek and the likelihood of Klopp making changes to the lineup.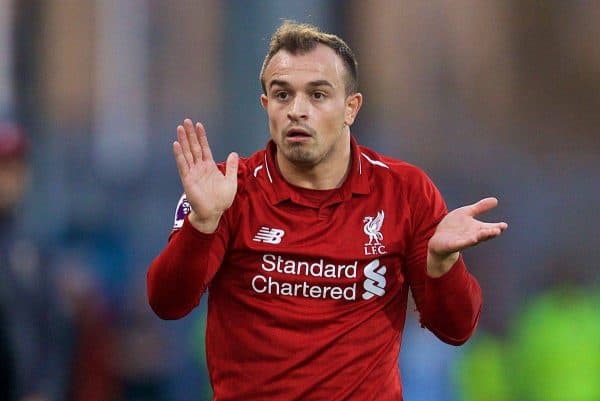 The No. 23 admits that these types of games can be the most difficult of all, when struggling sides come to Anfield.
"That's exactly the difficulties of the top teams. Most of the time they struggle against the smaller teams and they are, for me, the most important games.
"They try to defend 90 minutes, counter-attack, settle back. They have nothing to lose when come to Anfield, they can only win. So it'll be a difficult game and we have to make a good performance."
"Every game in the Premier League is very tough, we need to turn up to win the game."
Shaqiri's creativity, close control and speed in changing direction has already proven important for the Reds this season and there's a good chance he'll be called upon at some stage on Sunday once more.