It's not just big saves that has seen Alisson proving his worth in the last week.
It's stretching it a bit far to say it was worth losing a Champions League final in the manner that Liverpool did to persuade Jurgen Klopp that he needed to sign Alisson to solve his goalkeeping issue, but while the Reds may not have won a silver trophy in Kiev we now have a silver lining – a massive goalkeeping upgrade.
Alisson is a game-changer. A game-saver. And a goal creator.
He was all three on a wet Wednesday night at Burnley in deepest, darkest Lancashire, an old-fashioned place where the streets are still cobbled, whippet-walking remains a hobby, dominos is a pub game not a pizza place and the local football manager believes visiting players should take a good two-footed maiming like real men instead of trying to avoid Phil Bardsley decapitating them. And to think we get accused of living in the past.
When Sean Dyche brought up the issue of dives after Liverpool's 3-1 win at Turf Moor I assumed he was talking about the pub in Burnley that's named after him rather than Daniel Sturridge, but I've never been to the Bitter Ginger Throwback Arms so let's get back to the matter in hand – Liverpool's beast of a Brazilian goalie.
'A flying Pink Panther'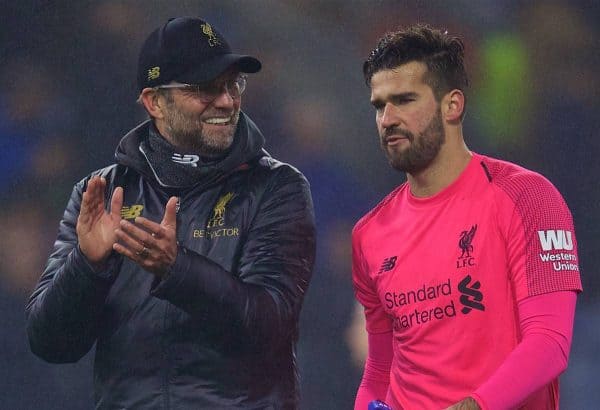 Alisson equalled a top-flight record at Burnley, even though they scored an offside goal against him.
He's only conceded six league goals so far this season, equalling the top-flight record after 15 games previous set by the Mancs in 1985/86 (when Liverpool won the double), Arsenal in 1990/91 (when we didn't) and Chelsea in 2004/05 (when Liverpool won the European Cup) and 2008/09 (when we didn't).
It's fair to say he was at fault for the goal he conceded at Leicester – although giving a Brazilian footballer a yellow shirt is just inviting him to dribble – but the most encouraging thing about that is he hasn't made the same mistake twice.
There have been some hairy moments and there'll be more of them as Klopp wants his goalkeeper to play the ball out with his feet, but the trick is assessing when it's safe to do so or not. Alisson has got his head around that a lot better since the game at Leicester.
He also knows how to start a counter-attack with a long throw as we saw with Xherdan Shaqiri's goal at Burnley, Liverpool's best on the break since Sadio Mane made it 2-0 at Crystal Palace in August.
The amount of ground Mo Salah covered to set up that goal, by the way, should not be ignored having chased Charlie Taylor from inside his own box to the touchline, blocked the Burnley full-back's cross about 12 yards out for Alisson to claim and then sprinted down the wing to latch onto Sturridge's lofted pass to tee up Shaqiri. He shouldn't just be judged in goals.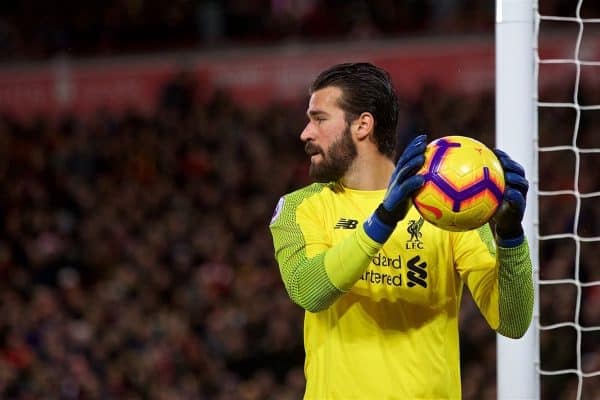 The save seconds before starting that counter-attack goal, however, is why Alisson is worth every penny of the £66.8 million transfer fee Liverpool agree to pay AS Roma for his services.
Conceding late goals from set-pieces is a well-established staple of the Liverpool Way. The Reds have become experts at it over the years, snatching draws (or even defeats) out of the jaws of victory so when Ben Mee headed the ball goalwards from a set-piece in stoppage time I'd written off two points, mentally handed Man City the Premier League trophy, booked a summer holiday and started looking forward to 2019/20.
But then, like a flying Pink Panther fired from a cannon, Alisson soared through the air, got one of his giant purple gloves to the ball and somehow tipped it onto the angle of post and crossbar.
It was, quite frankly, the best save I've seen from a Liverpool 'keeper since Pepe Reina finger-tipped Nigel Reo-Coker's effort onto the inside of a post during extra-time of the 2006 FA Cup final against West Ham in Cardiff. Although I've probably forgotten a few since.
Saves like that win points, and points make prizes. Unless you get them for speeding. It was the type of save Peter the red nosed Schmeichel used to make the for the Mancs back in the days when they were good and the type of absolutely vital save at a crucial time that not enough Liverpool goalkeepers have made during the Premier League era.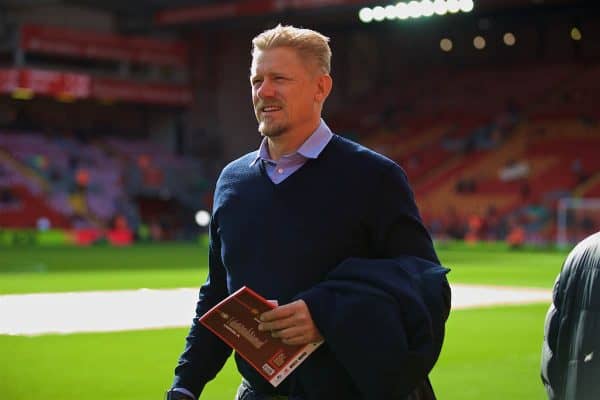 Liverpool have now got exactly what we needed – a goalkeeper who commands his penalty area, makes big saves when needed and has the required distribution skills to allow Klopp's team to play the way the manager wants them to. If only we'd had him in Kiev…


Chris McLoughlin writes for This Is Anfield each Friday; he's also senior writer for the Official LFC Matchday Programme and LFC Magazine. You can order the new edition of Liverpool FC magazine here.