The Liverpool squad hailed Alisson, Mohamed Salah and the Anfield crowd after a 1-0 win over Napoli clinched a place in the Champions League's last 16.
The Reds went into Tuesday night's clash knowing either a 1-0 victory or one by at least two clear goals would guarantee progress to the next stage.
Jurgen Klopp's side dominated the game, but it came down to two key moments at either end of the pitch, with Salah's brilliant strike and Alisson's last-minute save defining 90 minutes otherwise hallmarked by wasteful finishing.
Liverpool can now look forward to Monday morning's last-16 draw, although there's the small matter of the visit of Man United to come before then.
But reflecting on the night in an interview with BT Sport, James Milner was able to relish the significance of the win, explaining how important it was the Reds got it right defensively, and how the Kop helped:
"It was always going to be a tough game, they're a good team.

"We know Anfield's about European nights. The crowd were amazing tonight.

"I thought it was a really good performance, we knew defensively that was what was going to win us the game. We had to be on the front-foot.

"The first game I don't think they experienced how we can defend at all, it was a really poor performance.

"So I thought we defended really well through the game, from front to back."
Unsurprisingly, much of the focus after the game was on both Alisson and Salah, who have proved to be game-changers on a number of occasions already this season.
Also speaking to BT Sport's Des Kelly, Andy Robertson echoed Milner's sentiment that it was an excellent all-round performance, but singled out the goalkeeper for his "unbelievable save" as he looked ahead to the last 16:
"When we're 1-0 up they've got nothing to lose, and they throw their centre-back up and we knew that was going to be the last 10 minutes.

"We had to say strong—and big Alisson, it's an unbelievable save that he's just pulled off and all the credit goes to him.

"But we've performed well today. We knew what we had to do and we've done it, so we look forward to who we get in the last 16 now."
Milner, who was effusive in his praise of Salah when speaking together on Sky Sports after Saturday's 4-0 thrashing of Bournemouth, highlighted him as well as Alisson, saying the Egyptian King "changed the game again":
"[It was] an unbelievable save from Ally. I think it was a fantastic performance all the way through.

"And Mo's goal as well. He's a match-winner, he's a top-class, world-class player.

"You need that sometimes in these games and he changed the game again."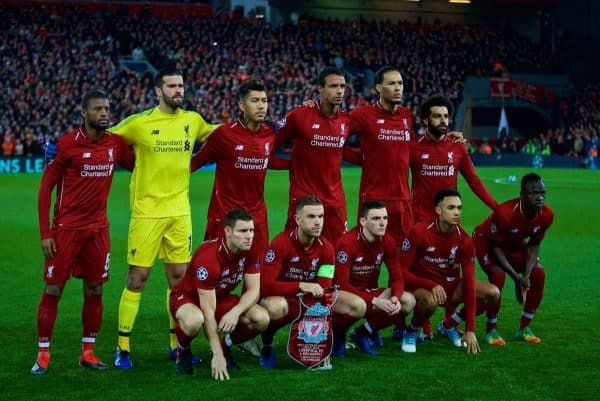 For Virgil van Dijk, who spoke to LFCTV, the overall impact of Alisson's arrival is clear, with the pair working closely together at the back.
As many of his team-mates would attest of himself, Van Dijk detailed how the Brazilian "gives confidence to everyone," though he added that a profligate Liverpool shouldn't have needed to rely on his "fantastic save."
"He's been fantastic for Liverpool and for us.

"[He's a] great character, a great guy and he helps us all. He gives confidence to everyone.

"That's how it is and how it should be as well, for the whole team.

[…]

"That Ally needs to make the fantastic save is something that wasn't really necessary if we'd scored all the goals—including myself.

"But like I said, we're through."
Taking to Instagram after the game, the likes of Milner, Gini Wijnaldum and Jordan Henderson paid tribute to the atmosphere created by supporters on the night, with the captain describing it as "another special night at Anfield":
Dejan Lovren, who replaced Trent Alexander-Arnold late on after the right-back took a knock, followed suit, though his celebrations were restricted to doping control:
For Robertson the night was particularly special as he marked his 50th game since joining Liverpool from Hull in an £8 million deal last summer that has proved one of the club's biggest bargain signings:
Naturally, Alisson came in for much praise from his team-mates, and most interestingly from Simon Mignolet, who showed his professionalism in acknowledging the role of a player who is keeping him out of the side:
Liverpool will now need to turn things around quickly, as just five days after this crucial night at Anfield they take on United knowing a win will keep them top of the league.
The euphoria of this important victory will give them a boost as they aim to do so, but Klopp will be hoping for a more comfortable afternoon, and that he will need less from Alisson this time out.