Jose Mourinho admitted Liverpool were too good for his Man United side on Sunday, following a thrilling 3-1 win for the Reds.
Jurgen Klopp's side returned to the top of the Premier League after an emphatic performance at Anfield, as their magnificent season continues.
The hosts dominated their bitter rivals throughout, with Sadio Mane's strike added to by two deflected efforts from substitute Xherdan Shaqiri.
It was another sign of the chasm in class between Liverpool and United these days – the final shot count was 36-6 – with the Reds now 19 points clear of their north-west rivals after just 17 matches.
Mourinho accepted as much in his post-match press conference, with the Portuguese admitting Klopp's men were stronger in all facets of their play, giving Andy Robertson special praise.
"The players gave everything and when they do that I am not frustrated with them," Mourinho told reporters.
"They played in relation to their qualities in the same way Liverpool played in relation to their qualities. My players don't have intensity to match Liverpool.
"They are fast, intense, aggressive, physical and objective. They play at 200 miles per hour with and without the ball.
"I am still tired just from looking at (Andy) Robertson! He makes 100-metre sprints every minute – absolutely incredible.
"These are qualities, so when the game was really intense in the first 20-25 minutes it was difficult for us to cope with it.
"In the second half when the game slowed down, when we had more time to have the ball and play, we were in a good position in the game.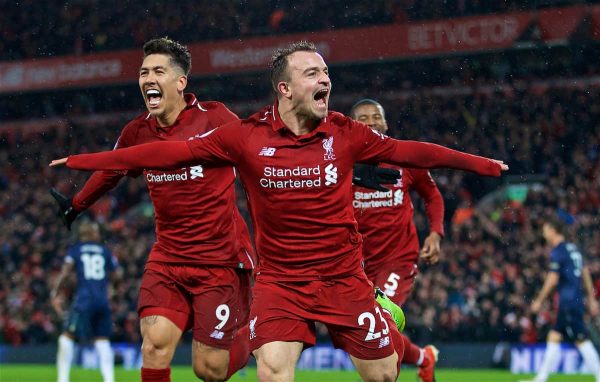 "It's hard to lose in the moment where the game was dying and when (Virgil) Van DiJk, Fabinho and (Dejan) Lovren were having to shoot from 30 metres.
"Liverpool deserved the victory but it's hard for my players to work hard like they did and lose in the moment when we didn't believe we would lose."
Liverpool have completed a perfect week, having reached the Champions League knockout stages after beating Napoli on Tuesday.
This is a team fighting on all fronts this season and Man City will know they have a battle on their hands to retain the Premier League title.
As for Mourinho and United, sixth place looks their best bet!