Jurgen Klopp insists Liverpool are ignoring what title rivals Manchester City are doing – while his under-pressure Manchester United counterpart Jose Mourinho still believes in a top-four finish.
The Reds returned to the top of the table, one point ahead of City, with a 3-1 win over United, who are already 19 points off the pace and 11 behind the top four.
There was no doubting whose ambition was greater at Anfield, where the hosts had 33 shots to their opponents' five, in a game where Mourinho sent on Marouane Fellaini at half-time with the score at 1-1 and Klopp responded by introducing Xherdan Shaqiri with 20 minutes to go
The Switzerland international proved to be the match-winner with his two goals.
It was an important response after City briefly went back to the top of the table but Klopp stressed he has no interest in Pep Guardiola's side, who they lead by one point with a chance to extend that in Friday night's match at Wolves.
"We ignored it completely. I didn't mention it one time," Klopp said of City's 3-1 Saturday lunchtime win over Everton.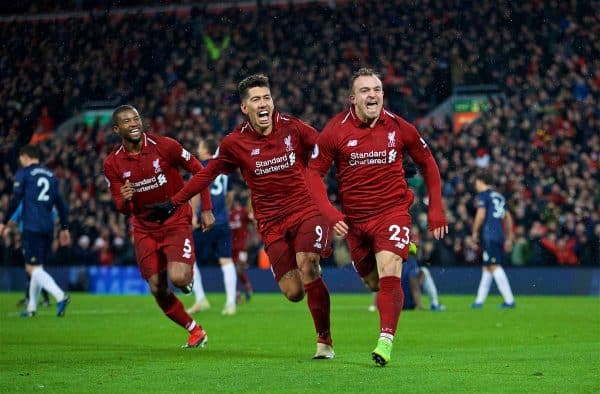 "We know the table, just are you focused on it or not. We played against Man United and not Man United and City.
"When we eat and train together we are not saying, 'Did you see what City did?'.
"We are focused on what we need to do and will there come a moment in the season where we are still around them and we start hoping they drop points or whatever.
"But at the moment we respect them a lot and they respect us. We meet them on January 3 and then we will think about them."