Jurgen Klopp was typically low-key despite an impressive Liverpool win over Arsenal which saw the Reds go nine points clear at the top of the table.
Liverpool went into the match knowing they could open up a significant lead, after Tottenham blew a one-goal lead and lost 3-1 to Wolves earlier in the day.
Despite that, Liverpool fell behind early on—only to mount a truly impressive response and rout Unai Emery's team, 5-1 in the end, thanks in no small part to a Roberto Firmino hat-trick.
Sadio Mane and Mohamed Salah also notched to help end the year on a high, with Man City away the next fixture in a crunch clash in the title fight.
Klopp was understandably pleased with the reaction of the team and the outcome of the match, but reserved judgement on it having any greater meaning than three points.
The boss saw room for improvement in the first-half display in particular, with an open match leading to the Gunners taking the lead.
"Could we have played better in the first half? Yes of course," Klopp told reporters in his post-game press conference.
"Could we have defended better? Yes. We were a bit too open, too wide in the formation and Arsenal are a really good football team."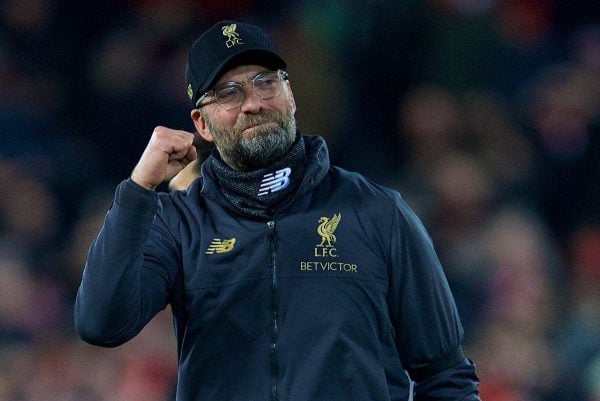 The boss also had short shrift for reporters asking about the nine-point gap, with Klopp adamant that it could, and likely would, be reduced in short order.
"Tomorrow it will be seven, then we play against Man City it can be four…it's possible.
"I'm the smartest person in the world but I'm not an idiot—it's nothing, it's absolutely not important how much points you are ahead in December.
"What you all create, how can you not be positive about us? But if we drop three points the next headline is 'are they nervous now?' and we cannot play that game."
The boss also had praise for Mo Salah's 'present' to Firmino, letting him take the second penalty to seal a hat-trick.
Quite clearly, however, the focus is already shifting to the key clash at the Etihad Stadium and a fixture which determine the stress levels in the title fight after the turn of the year.