Roberto Firmino earned the plaudits of his team-mates as Liverpool celebrated the end of the 2018 calendar year with a 5-1 victory over Arsenal.
The Reds headed into the clash in the knowledge that a ninth successive league victory would extend their lead at the top of the table to nine points, after news of Tottenham's defeat to Wolves earlier in the day.
While the outside world looked to question their ability to handle the pressure of being the clear pacesetters, Jurgen Klopp's men got to work and refused to retreat into their shells—even when Ainsley Maitland-Niles put Arsenal momentarily ahead.
It was Firmino who then took centre stage as he found the back of the net twice within 90 seconds in scintillating fashion, before Mohamed Salah scored from the spot and Sadio Mane added the finishing touches on a ruthless and frantic opening 45.
The second half saw Liverpool ease to victory in comfortable fashion, where another penalty saw Firmino secure his first hat-trick for the club.
And Xherdan Shaqiri was quick to praise the Brazilian as he reflected on the result with LFCTV:
"It was fully deserved. He had a very good game.

"It's always good to have people who can score in the team, he scored the second one very nicely. He fully deserved to score a hat-trick and I'm happy for him. I hope he can keep going like this.

"It was a top game; obviously Arsenal have their quality and you can see that with the first goal they scored.

"It was a little wakeup call for us, we were straight on after we conceded and scored for 1-1—that was the big point for us to change the game and to win in the end.

"Expectations are always high. But we want to stay focused, we have to stay focused and work hard every day. There's a long way to go.

"At the moment we're really happy and I hope we can keep going like this."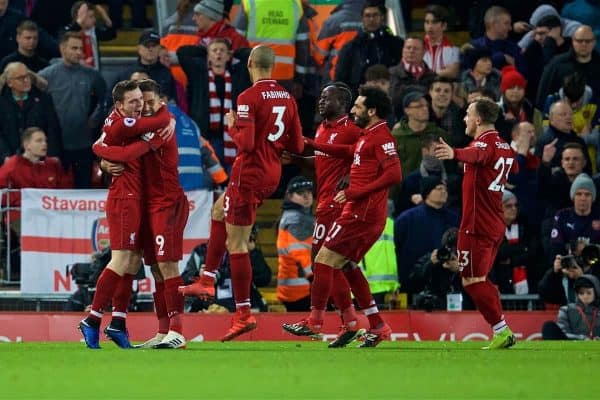 Andy Robertson similarly commended Liverpool's "brilliant" performance at Anfield when he spoke to LFCTV, where he also stressed the need to stay focused on the task at hand as the Premier League continues to present challenges:
"It was a great performance, when you look back on it, we started bright and they caught us on a sloppy pass and at the back post but, we reacted really well.

"The response was brilliant [after conceding], we stayed in control and when you look at the players we didn't panic and we kept on playing our football and that's how the first goal came about.

"December has been a hectic period but we've come out unscathed and that's all you can ask.

"When you looked at the fixtures you'd probably thought there's a lot of tough ones there, but we're still unbeaten in the league so we move onto January and we can be excited about 2019.

"We've got a fantastic squad, manager, coaches and backroom staff that will keep us on our toes and we cannot take our foot off the gas.

"If we can keep going it is a nice lead but, we know how easy the Premier League can change.

"Who would've expected Man City to get zero points at Crystal Palace and Leicester, no disrespect to them, but everyone was thinking they were untouchable but that's how the gap has happened.

"We'd be daft to think that cant happen to us so we need to be 100 percent every single game, and if we are then I believe we can achieve something special."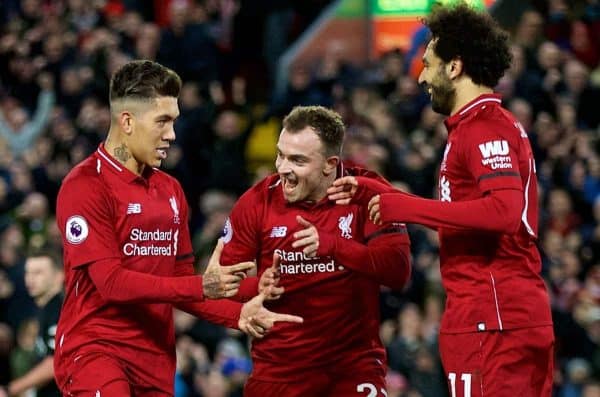 With Firmino taking the headlines after bagging his hat-trick, Fabinho, Dejan Lovren, Alberto Moreno and Robertson all took to Instagram to heap praise on the Brazilian:
James Milner and Sadio Mane, meanwhile, showed their appreciation by shining a light on Firmino's trademark moves:
The man of the moment, as well as Trent Alexander-Arnold, Jordan Henderson, Adam Lallana and Shaqiri all commended ending the year with a "top performance":
The last matchday of 2018 saw Liverpool pass yet another test with flying colours, and the year draws to a close with the Reds at the top of the Premier League table after 20 games.
It ensures Klopp's side head into the meeting with Man City on January 3 full of confidence of creating a bigger buffer ahead of their closest title rivals.