While their rivals have wilted, Liverpool withstood an early setback against Arsenal to produce a comeback that highlights the character of title contenders.
There's something defining about facing Arsenal at Anfield when it comes to attempting to chase down a league title.
Be it 'that' game in 1989, or 'that' insane 4-4 in 2009, or 'that' 5-1 in 2014, Arsenal have been a marker in the past for an unrequited tilt at the title.
This time, however, they might just have provided the definitive signpost that with 18 games to go, league title No. 19 is on the horizon.
Arsenal were meant to hand us a serious test of our potential title-winning aspirations.
Going in at half time 4-1 down, they could actually have suggested they still had posed us a few questions, despite the scoreline intimating otherwise.
Loose Balls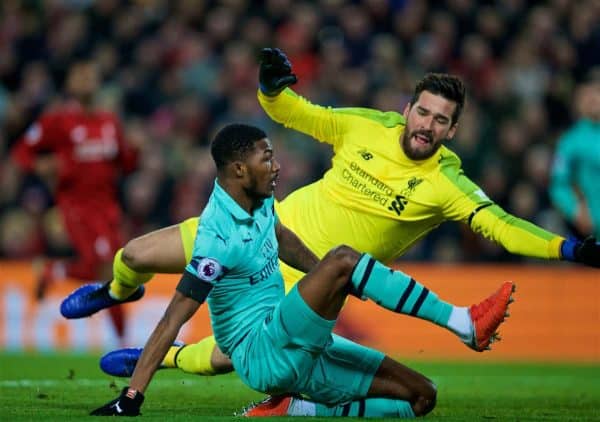 Whether it was a case of nerves, or just a general early sluggishness, we were a little bit careless at times during the first half with our passing.
While it didn't come directly from a misplaced pass by Fabinho, Arsenal opening the scoring came from a chain of events that stemmed from a misplaced pass by Fabinho and was rubber-stamped by another, more critical one, from Dejan Lovren.
For quite a way into this game our usually impressive Brazilian midfielder carried on in a similar theme and it became contagious. Trent Alexander-Arnold was another who was afflicted.
Arsenal were bold, or foolish if you prefer. The line is a fine one and they trod it bravely, before falling heavily. They pressed high and they harried us when we were in possession deep.
Unai Emery has gained plenty of plaudits this season, when his Arsenal side have been on winning curves, but familiar frailties remain. Had it been Arsene Wenger who had presided over this hammering, then the unrest in Islington would have been thermo-nuclear.
From a Liverpool perspective, it was nice to see us deliver Emery a footballing lesson. He has remained an annoying itch of sorts ever since the 2016 Europa League final.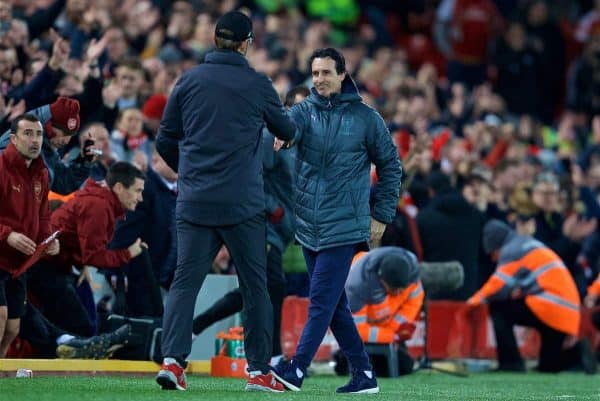 This result will have softened that somewhat, as has the bombshell that he said "thanks, but no thanks" when once offered the services of Mohamed Salah, during his days in charge of PSG.
Emery went from self-congratulatory to haunted pretty swiftly.
We weren't word perfect in this one, though, and Arsenal maintained a threat, even when our goal tally was ticking upwards dramatically between the 14th and 45th minutes.
At half-time, the more cautious individuals near me in the Main Stand Upper opined that Arsenal could even find a way back into the game, if we continued to be generous with handing them space and possession.
Beware Strangers Baring Gifts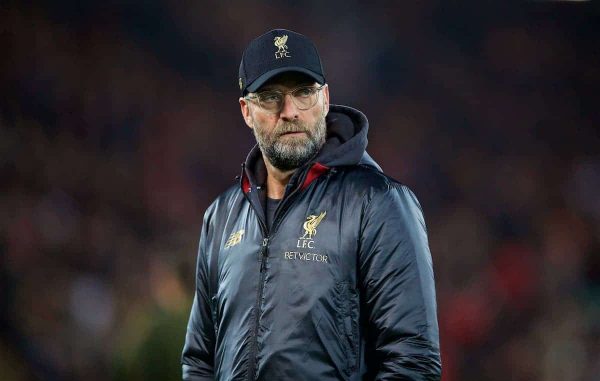 I think that this Main Stand agitation was caused by the suspicious nature in which our rivals for the Premier League title are currently capitulating.
The early promise that Chelsea showed has been largely unpicked, Man City had lost three of their last four in the league, while Tottenham Hotspur blew a 1-0 lead at Wembley, against Wolves, to lose 3-1.
It has left us sitting, wondering where the sting in the tail is.
This was the most impressive thing about defeating Arsenal. Handed the pre-match boost of potentially owning a nine-point lead by 7.30pm, many previous versions of Liverpool would have passed up on the opportunity we had been given.
Going 1-0 down, in the nature we did, would have created only anxiety in previous versions of Liverpool.
We, however, didn't blink, and within five minutes of falling behind we were 2-1 up.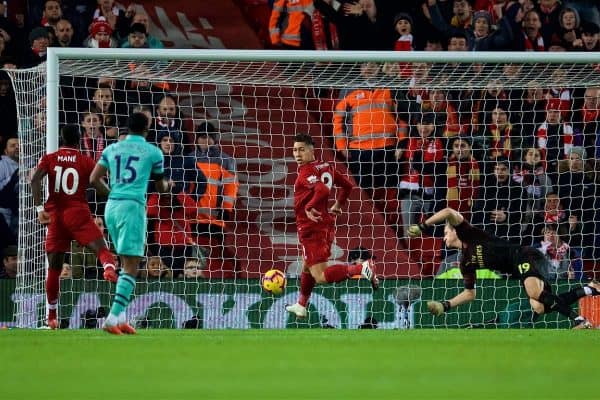 Roberto Firmino has come under increasing criticism of late. His riposte was a hat-trick in this one and a return of the no-look finish.
After the win against Newcastle, I suggested that you were a member of a mad set of bastards if you were having a pop at Firmino. In many ways, he's still like that really cool indie band that only a small number of devotees truly 'get'.
Firmino's fans are essentially members of 'a mad set of bastards' too. When it comes to Firmino, whether you subscribe to him or not, everyone seems to be a member of one mad set of bastards or another.
What is undeniable, though, is that if you can't find your inner-child when it comes to his second goal in this one, then you have no soul.
Just hand in your gun and badge and go home. Football is done with you.
Character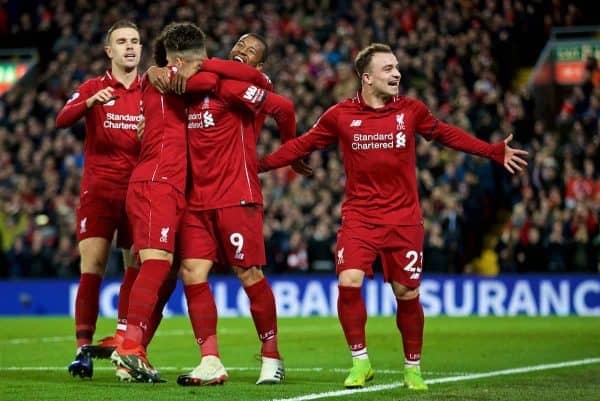 Be it standing up to Arsenal aggression when exiting the pitch at half-time, or Salah insisting that Firmino complete his hat-trick with the second penalty, when our Egyptian King has Harry Kane MBE to wind up in the top scorer stakes, or the imperious presence of Van Dijk, Robertson and Wijnaldum, or the under-applauded vision of Mane, this Liverpool team is dripping in character.
We've had 'chances' to win the Premier league title before. This is now starting to feel like we are obtaining the 'right' to win the Premier League title, however.
The character we are projecting is making believers out of doubters, whether those doubters are of a Liverpool, or non-Liverpool, persuasion.
Something special is rumbling and the only question now is can it be stopped?
There is still a long way to go. City have just proved that one month is a long time in football, when the wheels have started to wobble.
To Eastlands we go on Thursday, where we will need to show that the character we have generated is an unshakeable one.