While in recent seasons it has been one or the other for Liverpool, progress to the Champions League last 16 could aid their Premier League title hunt this time out.
It could have been 4-0, but it doesn't matter that it wasn't.
Losing 1-0 and seeing Alisson defy goalkeeping gravity in the final few seconds will sting in Naples a lot longer than a 4-0er would have.
Job Done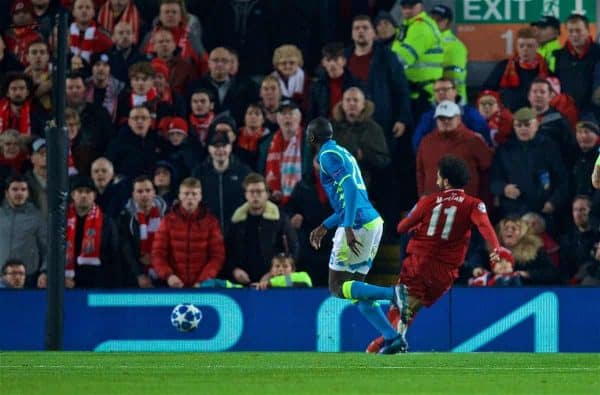 I like Carlo Ancelotti. He is an eminently likeable fella, but he has been associated with an absolute shower of football clubs since he left AC Milan almost a decade ago.
Chelsea, Paris Saint-Germain, Real Madrid, Bayern Munich and now Napoli. He deserves so much better.
He deserves somewhere like Anfield, except there is nowhere quite like Anfield other than Anfield, and we have Jurgen Klopp, so we don't need a Carlo Ancelotti, no matter how likeable he is. He needs to go back to the San Siro.
We are through to the last 16 of the Champions League. No Thursday nights for us in the new year.
This is an important development on two levels. Firstly, we remain in the competition.
Secondly, playing our European games on Tuesday and Wednesday nights, rather than Thursdays, means we won't be automatically playing after Man City in the Premier League on the weekends directly after a European midweek.
You are at a disadvantage domestically if you are always the team playing catch-up on games played.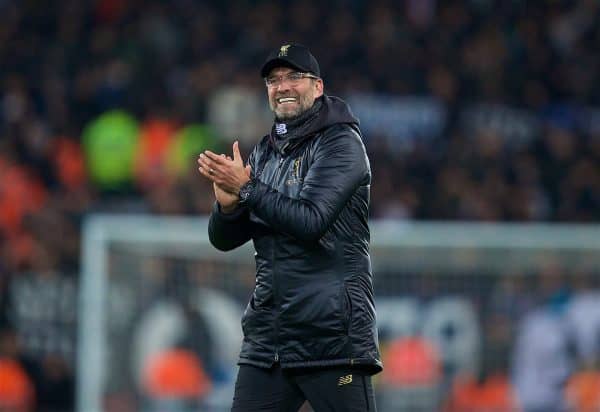 It's hard enough to be given the Premier League advantages as it is, without throwing the inconvenience of Thursday nights into the mix.
You think I'm talking bollocks?
Ask yourself this. Where is our chance this weekend to go four points clear at the top before City take to the field against Everton? Where is our chance to apply the pressure of a significant points gap opening up?
This in a week where it would make more sense for Liverpool to play Tuesday-Saturday, while Pep Guardiola's side plays Wednesday-Sunday. Just sayin', like.
It Almost Doesn't Matter If We Go out in the Last 16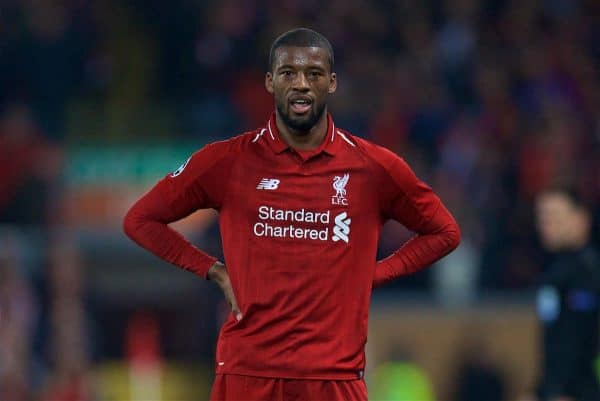 Of course, it does matter, but in the bigger title-chasing picture of the season, going through to the last 16 keeps our momentum rolling forward.
As mentioned, it keeps us playing on Tuesday and Wednesday nights and it burrows that little bit further under the skin of our detractors.
We also won't kick a ball in anger in the competition now for two whole months, which gives us the time and space to see if our unbeaten start to the Premier League season acts as the foundation to a real challenge for the title or not.
By February, we will either be watching with interest as the final stretch of a title chase looms upon the horizon, or we will be embracing the return of European competition like a long-lost sibling, to give us some continental highs to offset the disappointment of fading domestically through the winter months.
The Champions League in this respect will act as an insurance policy.
Mounted to the wall, in a little red box, encased by a thin sliver of glass, a small hammer attached to a chain will be in evidence, as will the instructions to 'Break in Case of Emergency'.
In the Zone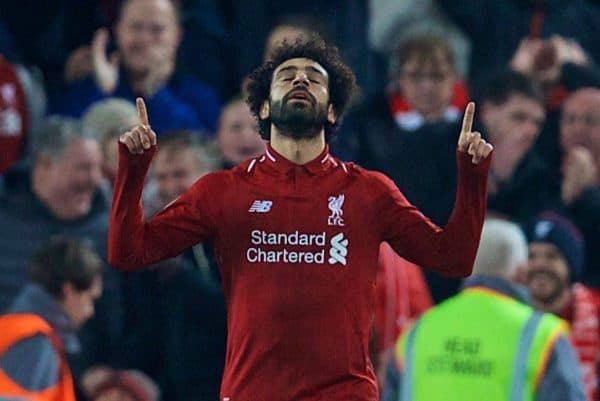 Mohamed Salah's goal was a thing of beauty. It offered skill and power in equal measure.
It doesn't seem to be to everyone's taste, but I'm liking the way in which Salah is celebrating his goals at the minute.
It is almost as if he is having an out-of-body experience. Bedlam is ensuing all around him, but he is calm, he is serene, he is tranquil.
In footballing terms, he is of another world. Maybe when he scores, his spirit is stood right next to us in the stands, as we go delirious.
Even when he stayed on his feet in the second half, instead of going to ground for a probable penalty, there was artistry in how he was perhaps 'too honest'. This man is special.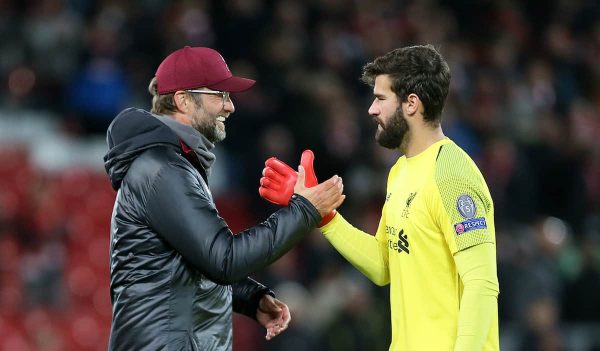 That save.
Alisson is that 'keeper who will claw wins from the jaws of draws, and draws from the jaws of defeat, he will make the difference between going through and not going through on many more European nights.
He is the type of 'keeper who insists his team win trophies by his sheer force of nature.
His saves are so good he should run off to the corner flag with a trademark celebration, in the same manner as our forwards do when they score a goal.
Between Salah and Alisson, we have robbed Roma blind. Throw in the fact that we once took the European Cup from under their noses and it almost makes you feel vaguely sorry for them, until you remember the Roman moped riders and their sharpened screwdrivers.
There were many other star performers at Anfield on Tuesday night, too.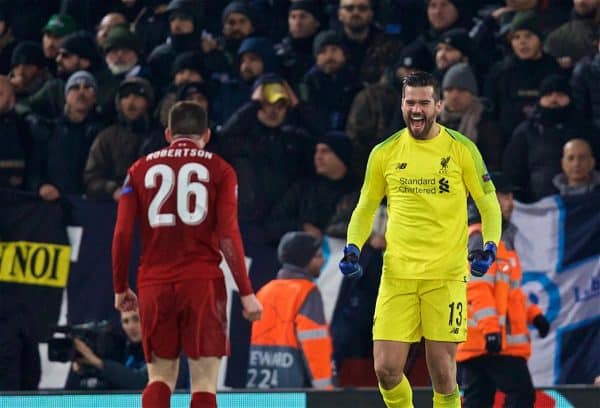 What more can you say about Andy Robertson? Napoli seemed to spend the first 20 minutes of the game targeting him, as if he had been 'identified' as a weak link. Imagine that?
The fear of some Reds prior to kickoff, due to us fielding a midfield of Jordan Henderson, James Milner and Gini Wijnaldum, only for them to boss the middle, was palpable. This was School of Science stuff.
Sadio Mane missed the chances that could have made it more comfortable. Don't be too cross with him, he will score a hatful on another day. Maybe even on Sunday.
Virgil van Dijk was a colossus, Bobby Firmino was Bobby Firmino, Joel Matip did the basics right and Trent Alexander-Arnold was busy and secure, before injury forced him from the field of play.
I don't want to be seeing Dejan Lovren covering right-back too often, though.
So many of our players ooze a presence that makes them feel like they are 10-feet tall. In turn, they make those players of a lesser stature seems eight-feet tall. We could possibly call it passive presence.
What about Christmas presence? 'Tis the season, after all?
Sunday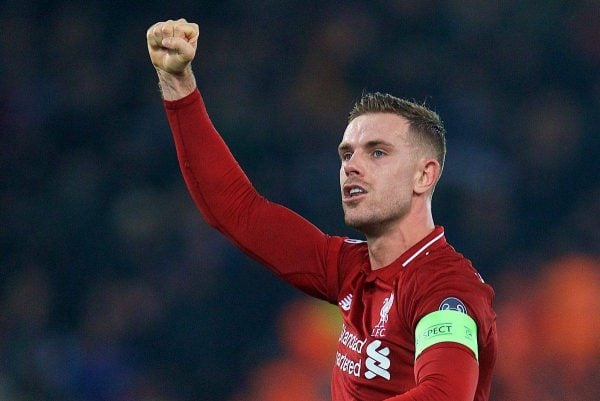 And now we have the visit of Jose Mourinho and Man United. Normally, we would be watching this fixture creep closer and closer from at least a four- or five-week distance.
We're too busy with other things now to be obsessing with the 'British Clasico' until it is upon us.
It is very nearly upon us now though.