Liverpool's Merseyside derby hero Divock Origi admits his added-time winner was one of the most crucial he has scored for the club.
The Belgium international, making his first appearance at Anfield since May 2017 after spending last season on loan at Wolfsburg, capitalised on Jordan Pickford's error to nod home from close range for a 1-0 victory.
It was his 22nd goal in 79 matches for the club but was so important in ensuring Premier League leaders Manchester City's advantage was kept at just two points.
"It was a crucial goal, one of the most crucial I have scored for Liverpool so it was special," said the 23-year-old, who has scored in three of his last four derbies.
"You could see the emotion of the fans and the coach and the players so we celebrated all together.
"It was special. Always (in) a derby it is a good feeling to win, especially to keep our stride going and to score the goal is special, I am happy."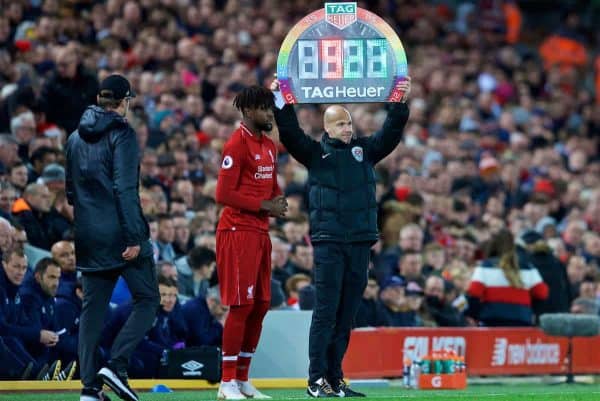 Prior to his 84th-minute entrance on Sunday, Origi had played just 11 minutes for Liverpool this season in one substitute appearance during the 2-0 Champions League defeat in Serbia against Red Star Belgrade.
After his disappointing loan spell in the Bundesliga it appeared his chances would be limited and he could have left the club in the summer but Liverpool received no acceptable offers.
However, he has tried not to let that affect him and his reward came by writing his name into derby-day history.
"I just try to focus on what I can control and that was just training well and shining my light," he added.
"I knew the rest I couldn't control so whatever minutes I got, I just tried to make the most of it and thank God, it turned out well so I am happy.
"I just to try to play my game, whatever role it is. It's on the pitch you have to do your talking and it is the coach who makes the decisions so the best I can do is show my best form.
"As a player you always want to play a lot of minutes but as a team we have a lot of goals this season and I just try to shine my light and see wherever it goes."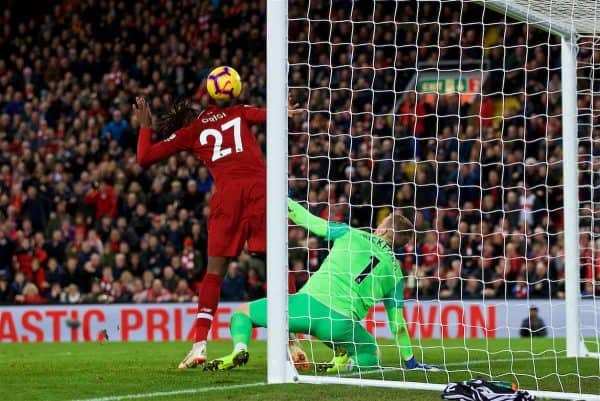 Origi looked like he had missed his chance to score the winner when he blazed a shot against the crossbar from Virgil Van Dijk's downward header minutes earlier.
The Netherlands defender made a point of telling Origi he should have done better and when the frame of the goal came to his aid moments later he did not make the same mistake.
Van Dijk's horribly-sliced attempt led to Pickford's error but the Dutchman, who turned away in disgust as the ball looped up, will not be claiming an assist.
"If you look at the footage I thought 'What am I doing?' first," said Van Dijk.
"I'm a defender so sometimes you need to think a little bit more as a striker when you are up there.
"But in the end it was fantastic it goes in like that. I think he should have scored the one before when I headed it to him.
"I told him but, you know, it's a special feeling to win the derby in the last minute."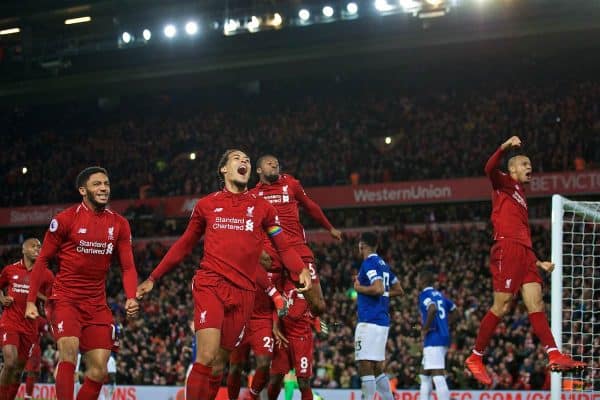 The win was vital to keep pace with City, who after their midweek trip to Watford head to third-placed Chelsea on Saturday, but Van Dijk insists they are not worrying about Pep Guardiola's side.
"We need to look at ourselves. We have no need to look at City," he added.
"We try to win all our games, that's how we go into every game, and that's the only way forward.
"We need to keep doing what we are doing, keep improving, and keep winning games – hopefully with good football."