The media praised the influence of Dejan Lovren and Mohamed Salah and feel the Reds lead the title charge after their 4-0 victory over Newcastle.
Liverpool established a six-point lead at the top of the Premier League with another vital victory against Newcastle on Boxing Day.
It meant the festive joy was prolonged as the Reds piled on four unanswered goals through Dejan Lovren, Mohamed Salah, Xherdan Shaqiri and Fabinho.
While Liverpool were far from their best the win cemented their position atop of the table—where the result was made all the more enjoyable after news of Man City's latest defeat.
The feel-good factor continues to rise around the club and here's how the media assessed the comfortable victory at Anfield.
The media feel Liverpool have been emboldened by their status as league leaders…

The Independent's Simon Hughes hailed Liverpool's growing "spirit" in the face of their new position as the hunted rather than the hunters:
"For Liverpool's players and for Jurgen Klopp, there is no immediate sense that leading the Premier League table is shifting the way they feel about the prospect of being a target. Instead a newfound status appears to be emboldening their spirit.

[…]

"Liverpool did not operate with the sort of precision they can find but they did not need to."
The Mirror's David Maddock highlighted Liverpool's "new found maturity and composure" as the key to the latest win and for the challenge which lies ahead:
"This wasn't their best performance of the season, hell not even the best performance of the week, but it was again a reminder of the new found maturity and composure of the Reds team.

"They look so confident now, know they will score and probably won't concede, and that is the stuff of champions. Of course, City have that too, but it is still admirable to see in a side clearly ready to challenge for the highest honours.

[…]

"What impressed the most, was the fact Liverpool never really felt they had to get out of second gear."
The Telegraph's Chris Bascombe believes the Reds' growing pragmatism stands them in good stead to succeed where others have previously failed:
"[Klopp's] team is more controlled than any led by his immediate predecessors, able to win games like this with flawed performances still liberally sprinkled with class.

"They were not at their best here. They did not have to be against a limp Newcastle."
Writing for the Liverpool Echo, James Pearce strongly feels "Klopp has found the perfect formula" for success as he explained how the Reds are capable of terrorising opposition defences while keeping their own under lock and key:
"Klopp has found the perfect formula. There is hunger and desire in abundance with no shortage of attacking swagger.

"But the Reds also boast a backline which is tighter than Ebenezer Scrooge. Unlike the last title challenge of 2013/14, this is a mission built on rock-solid foundations."
Reporters praised the influence of goalscorers Lovren and Salah…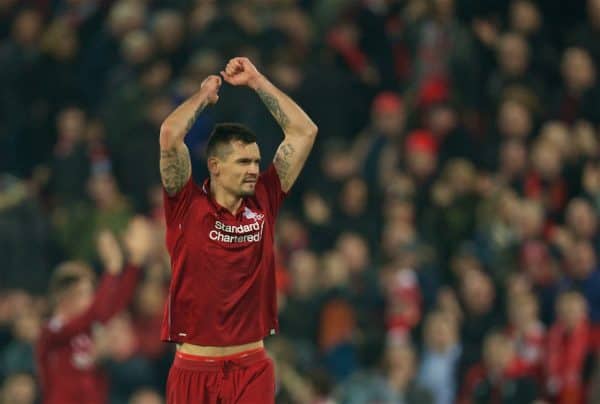 ESPN's Glenn Price is strongly of the belief that Lovren has proven his credentials as a centre-half capable of leading the club to a long-awaited league title:
"For all the ridicule Lovren receives whenever he commits an error, he is a centre-half with whom Liverpool can win the Premier League, something he proved when he stepped up during Liverpool's run to the Champions League final last season."
The Evening Standard's David Lynch feels the Croatian defender "deserves more credit from supporters" after he again showed his worth to the side for the second week running:
"It's two games, two wins, two clean sheets and one wondergoal for Lovren.

"He may not be every fan's favourite player, but the 29-year-old has done well alongside Virgil van Dijk in the absence of Joe Gomez and Joel Matip.

"He perhaps deserves more credit from supporters, no matter what he says."
Meanwhile, the Guardian's Andy Hunter heralded Lovren's goal as one which a host of the Premier League's legendary forwards would be proud:
"It was a finish that would have found approval from the onlooking Kenny Dalglish, Kevin Keegan and Alan Shearer, though not the defending obviously."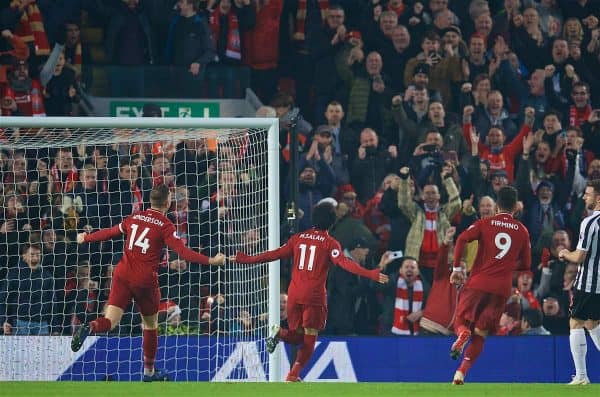 Reflecting on his team-mate further up the field, our own Karl Matchett feels Salah is "now fully integrated" to his new role, and noted his rising influence in recent weeks:
"He now has six goals in his last five games, and three assists in the last six on top of that.

[…]

"He's now fully integrated as the team's centre-forward and leads the line particularly well, even when space isn't afforded to him to run into, thanks to his close control and ability to pick a pass."
Hughes assessed the Egyptian winger as "the outstanding player on the pitch" as he failed to give Newcastle a moment of respite:
"Newcastle's five-man defence could not handle the movement and perseverance of Mohamed Salah, the outstanding player on the pitch."
And Maddock instead looked further afield as he reflected on how difficult it will be for Klopp to rest Salah in the second half of the season as he is integral to the way "Liverpool control games":
"If there is a concern for the Reds though as they enter the second half of the season, it is that there is no real option to rest Mo Salah.

"He is the Premier League's top scorer, perhaps the best finisher in English football right now, and a player who is vital to the way Liverpool control games."
Certain reporters reflected on the options at Klopp's disposal as the congested fixture list continues…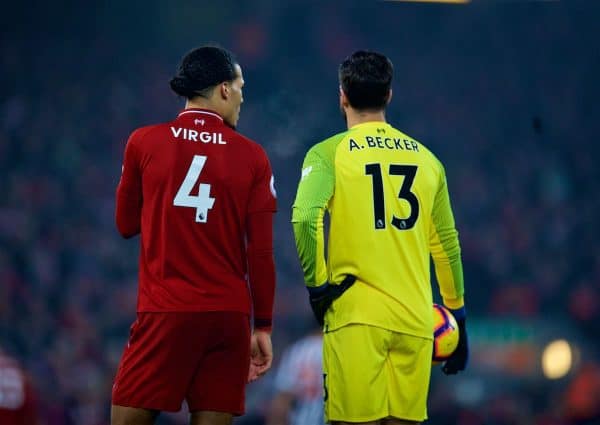 Maddock was encouraged when assessing Liverpool's ability to rotate in the coming weeks as options in midfield and attack have been further bolstered by Fabinho's increasing prominence and Shaqiri's scoreboard impact:
"For Jurgen Klopp, perhaps the most encouraging thing as he looks at the crowded festive fixture list, is that fact he can now rotate in many areas without weakening his side.

"Fabinho was a case in point here. He's been perhaps the best midfielder performer in recent weeks, but he was rested to allow Wijnaldum—the most consistent this season—to come in.

"Keita provides options too, along with Shaqiri, and when there is a game every three days, it's huge to be able to reduce the workload, without reducing the effectiveness of the side."
Matchett, meanwhile, praised Klopp's rotation policy against Newcastle as a strong starting side allowed substitutions for key personnel to be made as soon as the game had been signed, sealed and delivered:
"Klopp utilised a different approach: Work up a lead, then make changes before the energy-sapping final 20 minutes.

"Often we've seen the boss delay changes, sometimes infuriatingly so, but here two changes were made between 60 and 70 minutes, giving significant rests to Gini Wijnaldum and Roberto Firmino."
Lynch on the other hand felt Liverpool's rotation, which saw the inclusion of Shaqiri, led to a lack of control in midfield as he urged Klopp to identify a solution whereby the Swiss attacker could line up alongside the regular front three without unsettling the balance of his side:
"Liverpool were found wanting in terms of midfield control in the first half in particular.

"The loss of an orthodox midfielder at the expense of Shaqiri looked to be playing a big part in that, even if it would be unfair to lay the blame entirely at the Swiss' door.

"If he wants to select his new 'Fab Four' together on a regular basis, Klopp must work out how to avoid upsetting the balance of his midfield at the same time."
Reporters also highlighted the ever-growing belief stirring within the depths of Anfield…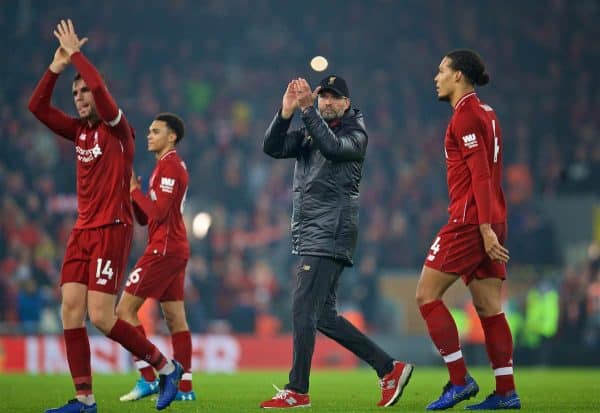 Joyce feels that belief is spreading throughout the club with each passing win as he noted the stunning disparity between the current side and that of the 2011/12 season:
"There's no doubt that belief is growing both in the dressing room and among the fanbase with every passing week.

"They have reached the halfway stage with 51 points—the highest total in the club's 126-year history. Put into context, Liverpool only collected 52 points in the entire 2011/12 season."
And Bascombe anticipates the welcoming of the team bus to make its long-awaited return, but explained that the Reds' next challenge will be to remain "composed" as they look to maintain their current level of form:
"They will be welcoming the team bus to the Premier League games again soon, just as they did when Brendan Rodgers' side came so close in 2014. Enjoying the ride.

"Klopp will shield himself and protect his players from the hysteria as his side collect records but this noise is inevitable. Remaining composed in the midst of it will be as challenging as generating and maintaining the form that has put Liverpool into this position."
The Mail's Dominic King believes Liverpool are "now in the best position" for an assault on the league title after refusing to accept the notion of being the closest challengers:
"Having been viewed as the plucky challengers, who nobody really believed would be able to lay a glove on City, Liverpool are now in the best position after a Christmas period that has exceeded Klopp's expectations."
Matchett credited the growing sense of belief to performances like this, where Liverpool's desire to pummel "teams into submission" sets them apart from the rest:
"We see a team full of confidence and wanting to keep doing what they do best: attacking, creating, scoring. Two wasn't enough. Three wasn't enough. Liverpool kept going even had chances to score more goals after that late flurry.

"It's exactly what we want to see: not just winning matches, but utterly and furiously pummelling teams into submission."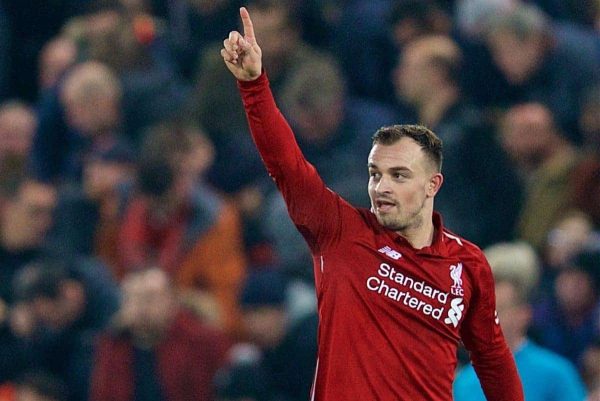 Lynch focused on the feeling which emerged around Anfield once news of City's latest demise filtered through as he echoed the sentiment that there is a real belief that this team is the one to end the 29-year wait:
"There was a period of 10 minutes following Leicester City's second goal against Manchester City where the Anfield atmosphere was a match for any great European night.

[…]

"Reds supporters have been hurt so many times before, but they are finally starting to believe the league title might be coming to Anfield."