Liverpool strode to the top of the Premier League table with a convincing 4-0 win at Bournemouth, ahead of the Reds' biggest week of the season so far.
The past week or so has been excellent as far as results and performances go for Jurgen Klopp's team, who followed up the late Merseyside derby win with a comeback victory at Burnley and now this demolition job at Dean Court.
Heading into a week where they face Napoli in a crunch Champions League tie, then Man United domestically, it couldn't leave Liverpool in better shape or confidence.
Mohamed Salah might take the headlines for a brilliant performance and a hat-trick, but there's no doubt this was a team-wide display which saw the Reds dominate from the first whistle to the last.
This is Anfield's Karl Matchett (@karlmatchett) spoke to Joanna Durkan (@JoannaDurkan_) and Brian Irvine (@btirvine) to get their thoughts on the key issues at Dean Court and how the Reds should line up in midweek.
The good…

KARL: Well, Salah as the No. 9 was pretty good! He was afforded a lot more space by Bournemouth than other teams have opted to, and he made it count.
In turn, we must also acknowledge the supply line was there: lots of quick passes forward, a much more influential performance from Firmino and both full-backs doing their bit too.
Robertson was absolutely superb, and Milner wasn't far behind in my eyes. Neither of them stopped running all game and we'll need our full-backs to be just as good next week.
JOANNA: Where else to start but with Salah?
From the off you could tell this would be his game, he looked supremely confident and it rubbed off on those around him.
He was back to his ruthless best and Liverpool needed him firing on all cylinders heading into a defining run of fixtures.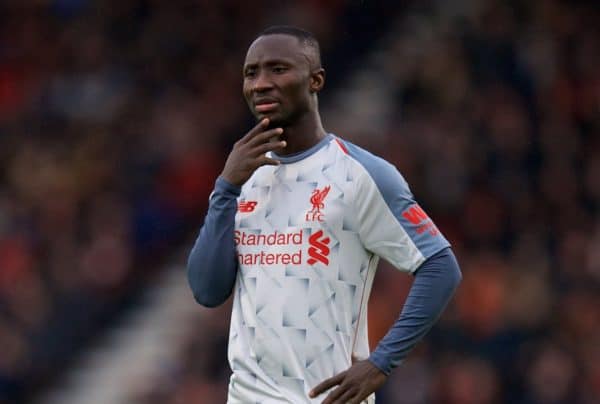 Fabinho and Keita starting in midfield together was the first real look at what is to come, and I want it more often from hereon out.
They offer the perfect balance for one another and for the first time in a long time I was not concerning myself with the disconnect between the defence and attack.
All in all from front to back Liverpool were impressive and it was easily one of the best performances of the campaign.
Bournemouth have been in fine form so far this season, but we hardly gave them a look in and it's yet another convincing win on the road.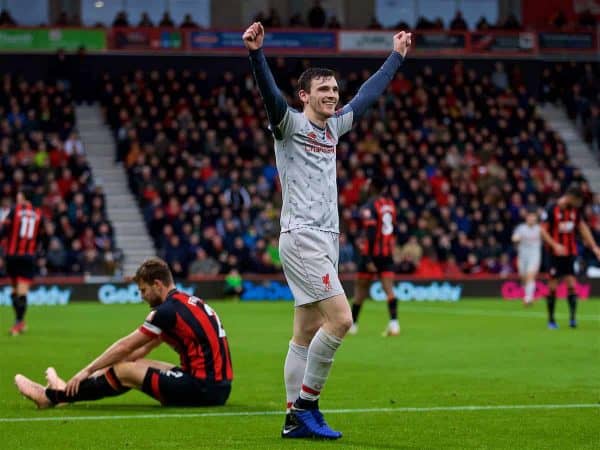 BRIAN: I think overall this was the most like the Liverpool of last season we've seen so far this year.
The midfield seemed more dynamic and bridged well with the forwards.
The usual plaudits for Salah, of course, but that man at left-back, Robertson; what a class act and only showing signs of getting better and better.
After slugging it out so far the Reds are starting to purr—hopefully, this will be just the first game where we've seen all the pieces fall into place.
The bad…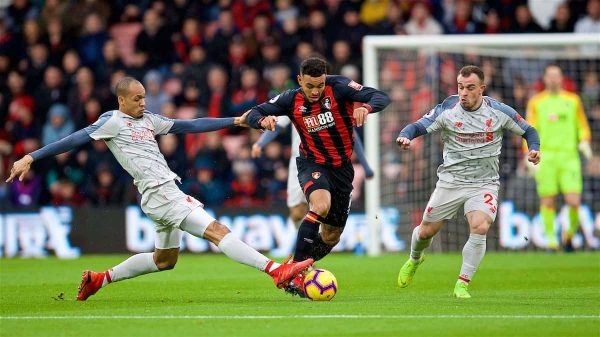 KARL: Honestly, there wasn't much to moan about—this was a complete and dominant display.
Once or twice I think Shaqiri made it much easier for his man than he should have done, allowing a run from Stanislas once and a couple of crosses far too easily.
Perhaps that was a product of the game, and Shaqiri not needing to work as hard as he sometimes has done.
Maybe a few crosses were poor too, once or twice our headed clearances we didn't react to the second ball fast enough…
That's being picky, though, very Rafa Benitez of me!
Beyond that, not much: good substitutions, very controlled performance, plenty of goals and top of the league!
JOANNA: There can be no real complaints from that result or performance, but if I were to pick at anything it would be Liverpool allowing Bournemouth back into the game when we had just gone one goal up.
There was little to worry about in the second half, but small margins will determine how the rest of the season pans out and so the Reds will need to ensure they remain defensively disciplined, regardless of the scoreline.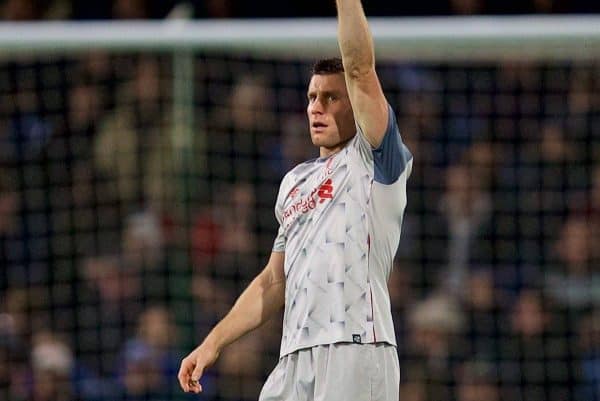 BRIAN: Not too much to complain about following such a professional performance!
I'd perhaps have some reservations over Milner, as solid as he was, starting at right-back in the next game against Zielinski at Anfield.
It's partly regarding recovery pace. I think the Napoli game could be something of a swashbuckling performance, the type we saw last season but not so much this time around.
My fear would be committing too much and getting caught on Napoli's counter.
I think Trent would be the better all-round option in both scenarios. Yet, that said, it's picking a minor point out of a great performance from Milner.
…and how should the Reds line up against Napoli?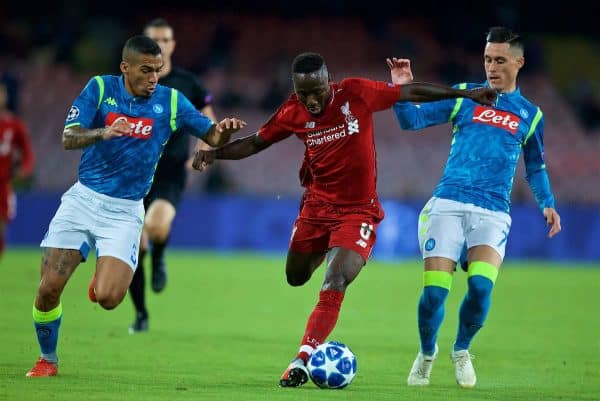 KARL: I think Klopp will be sticking with the 4-2-3-1 this time, rather than venturing back to 4-3-3 as he has done for a couple of the big games recently.
The Reds have to win and that's how we've been playing, and getting results, of late.
As for the lineup I think the win at Bournemouth gave plenty of clues: Keita starting left side and Mane coming on down the right, not his usual left—they are going to be the outlets against Napoli, with Bobby in the centre and Salah staying up top.
Elsewhere it should remain mostly the same: Trent back in for Milner at right-back, Matip partnering Virgil at the back and the Gini-Fabinho double-pivot continuing centrally.
That should leave reasonable options in Sturridge, Milner, Shaqiri and Henderson off the bench as required.
Alisson; Trent, Matip, Van Dijk, Robertson; Wijnaldum, Fabinho; Mane, Firmino, Keita; Salah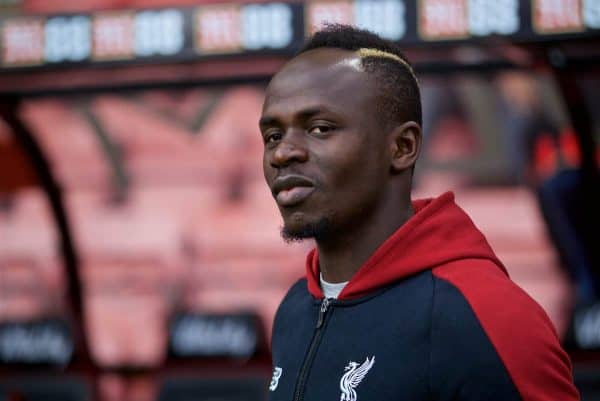 JOANNA: I would be tempted to keep the side very similar to the one who played against Bournemouth, with the exceptions being Trent and Sadio replacing Milner and Shaqiri.
If Lovren is fit he also comes into serious contention. Confidence is high, so let's keep it that way.
Alisson; Trent, Matip, Van Dijk, Robertson; Wijnaldum, Fabinho, Keita; Firmino, Salah, Mane
BRIAN: The back four and goalkeeper picks itself for me.
With Trent coming back into the side for width, along with Robertson, and more recovery pace than Milner.
Not the most glamorous of midfield duos in Wijnaldum and Fabinho but there's plenty of industry to make up for it.
I'm including Shaqiri to operate in behind our regular front three.
Alisson; Trent, Lovren, Van Dijk, Robertson; Fabinho, Wijnaldum; Salah, Shaqiri, Mane; Firmino