Liverpool finished 2018 with a bang by thumping Arsenal 5-1 on Saturday, with very few negatives to take from the latest Premier League victory.
Jurgen Klopp's men have opened up a nine-point gap at the top of the league, following a majestic showing at Anfield.
Tottenham's shock 3-1 defeat at home to Wolves gave Liverpool even more incentive and they outlined their title credentials in style.
Ainsley Maitland-Niles opened the scoring to stun the home crowd, but in the space of five minutes Roberto Firmino's double turned the game on its head.
Sadio Mane added a third from close range and Mohamed Salah fired home a penalty before the break, with Firmino completing his hat-trick from the spot in a more low-key second half.
The Reds are perfectly primed for the trip to Man City on Thursday—a game that could potentially be season-defining.
This Is Anfield's Henry Jackson (@HenryJackson87) spoke with Taintless Red (@TaintlessRed) and Joel Rabinowitz (@joel_archie) to discuss the positives and negatives from the game and the Reds' starting lineup against City.
The good…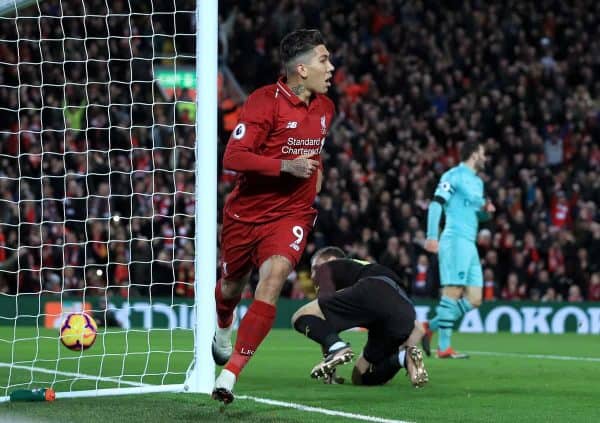 TAINTLESS: Every game brings new challenges and every game this Liverpool team finds solutions to overcome them.
Arsenal boasted the Premier League's then-top scorer Aubameyang but he hardly had a sniff, marshalled brilliantly by Van Dijk and Lovren.
Torreira was Man of the Match in the reverse fixture at the Emirates, but he was a peripheral figure chasing shadows most of the game.
Arsenal scored an early first-half goal, but only five minutes later they were losing 2-1 to a resurgent Liverpool and the visitors conceded three more still.
In previous seasons Klopp always preferred the 4-3-3 system against the big teams, but now his players have had so much experience with the 4-4-1-1—or you can call it 4-2-3-1 or 4-4-2—system that the manager is more confident picking the extra attacker.
It reaped rich dividends, just as it did against United only a few games ago. Liverpool are hitting form at the right time.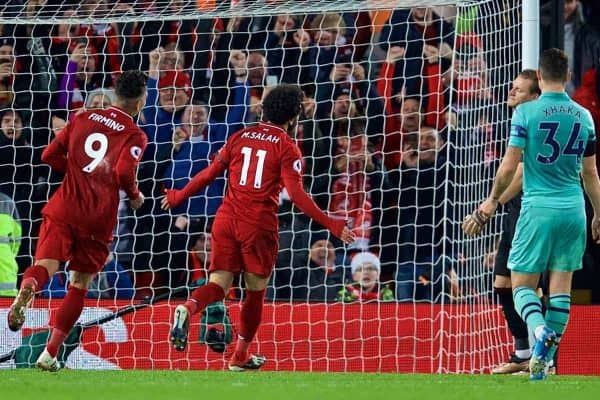 JOEL: We're not at all used to seeing Liverpool 1-0 down in games this season, but the mentality of the team to respond to the early setback like they did was magnificent.
There was a slice of good fortune with the equaliser, but it was as if they were angered by Arsenal's goal and that really drove them to show just how superior they are.
Liverpool have come an awfully long way since the fixture at the Emirates back in early November and it was evident here just how much they've grown as a team.
I was delighted for Firmino to get his hat-trick—it was a lovely touch from Salah to let him have the penalty—as it's been a difficult season for him so far.
He's been much more like his usual self in recent weeks and here he was at his dazzling best—the second goal in particular was pure magic.
Overall, to dispatch a decent side like Arsenal so consummately without ever having to truly get out of second gear is hugely impressive.
You couldn't possibly ask for a more perfect end to 2018 and a better platform to kick on in the New Year.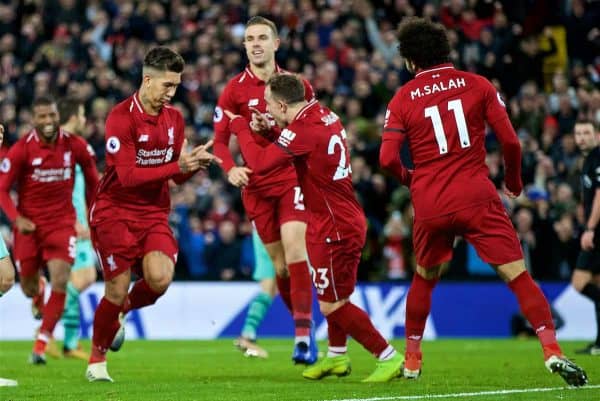 HENRY: It was yet another fantastic day at the office for Liverpool, who are racking up wins at an astonishing rate.
The way in which they responded from going 1-0 down felt really significant, with Reds teams of the past more than capable of wilting in that situation.
In terms of individual performances, Gini was the man who stood out most.
The Dutchman was truly exceptional in the middle of the park, shining in all facets of his game and earning a richly deserved standing ovation when he was substituted.
Firmino was also superb, not just because he scored a hat-trick, and Van Dijk was yet again imperious at the back.
To be nine points clear going into January—it will probably be seven points once Man City have likely beaten Southampton on Sunday—is beyond our wildest dreams.
The bad…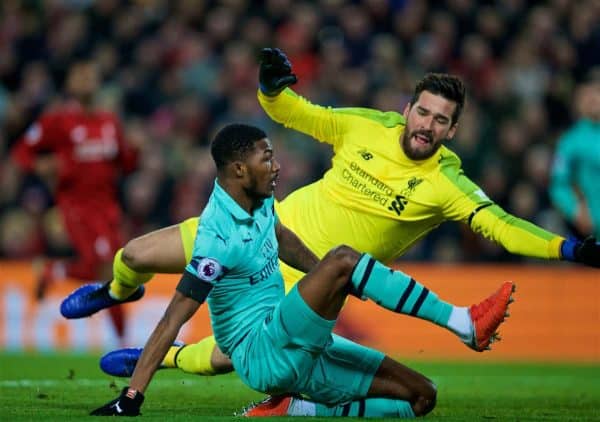 TAINTLESS: It's a strange situation where you can thrash a top-six team 5-1 and still say our passing wasn't as good as it could be.
It's hard to criticise after such a great result, but Klopp himself was frequently screaming at his players when passes were going astray.
Maitland-Niles punished one such situation but in general Arsenal could not convert these counter-attacks into big chances.
Liverpool can't afford to give City the same opportunities.
JOEL: The rare sight of Liverpool actually conceding a league goal, especially at Anfield, is something we don't really expect these days.
The Reds started on the front foot but Klopp will have been annoyed in the first half by several moments of sloppy play, giving away possession in dangerous areas of the pitch, similar to the first half against Wolves.
There was a really loose ball by Fabinho prior to Arsenal going 1-0 up and it clearly gave them some confidence.
Another lazy ball by Lovren was easily cut out and led to the opener by Maitland-Niles, which caught everyone by surprise.
The manner of Liverpool's response was, of course, exemplary, but if we're looking for any slight negatives in another fantastic victory, it would be a slightly complacent start to the game.
Liverpool can definitely still improve in that sense, which can only bode well heading into the second half of the season.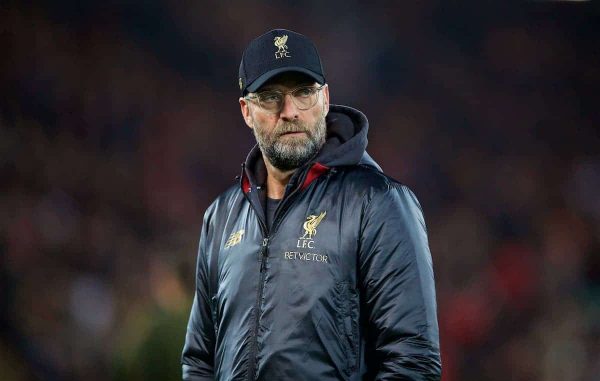 HENRY: It's hard to find negatives when Liverpool have won 5-1, but as the others mention, there was a sloppiness to their play at times.
Klopp vented his frustration at a number of individuals and it wasn't the perfect display that the scoreline suggests.
That being said, the Reds were still largely excellent.
I'm likely in the minority here, but I think Trent is struggling a little at the moment, with his final ball erratic and his defensive work not always the best.
He is a phenomenal talent but you do wonder if someone like Moreno would be getting criticised if he was playing to the same level.
Fabinho had a poor start to the game but recovered impressively, and it really is difficult to be negative on such a thrilling night.
…and what should Liverpool's XI against Man City be?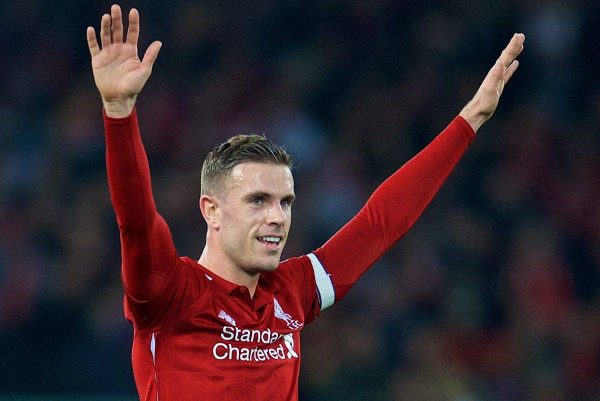 TAINTLESS RED: The biggest decision is whether to revert to the 4-3-3 formation, with Salah wide right and Firmino through the middle, or to stick with the 4-4-1-1 system with Salah and Firmino central.
The former has worked well against City in the past but the latter has seen Liverpool's fluidity and goalscoring prowess return.
I'd be tempted to stick with the 4-4-1-1, particularly as Fernandinho is still not fit and if Stones plays as the defensive midfielder Firmino will be able to pressurise him from his No. 10 position.
Fabinho also performs far better in a double pivot—a "double six" in Klopp's terminology—than when he plays as a lone No. 6.
Wijnaldum being substituted may indicate he will start at the Etihad. With four days until the City game all the players should have sufficient rest so I would start the same XI that put Arsenal to the sword.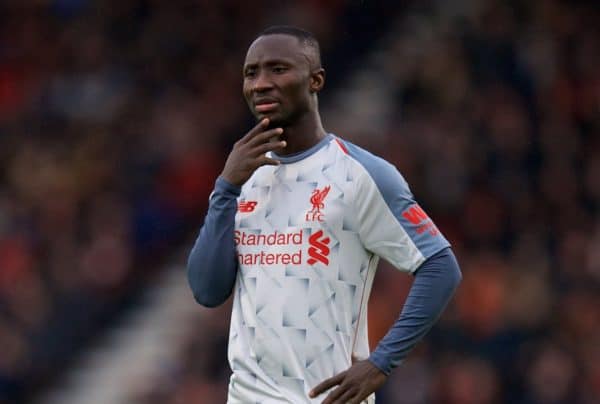 The only possible alteration would be if Klopp wanted Mane to face up against City's third-choice left-back, as Mendy is injured and Delph is suspended.
Then it's possible Keita would play on the left as he did against United, with Mane on the right to attack Zinchenko.
But the beauty of this Liverpool squad is that Klopp can make a few changes and the team is still very strong. Bring on City!
(4-2-3-1) Alisson; Trent, Lovren, Van Dijk, Robertson; Henderson, Wijnaldum; Shaqiri, Firmino, Mane; Salah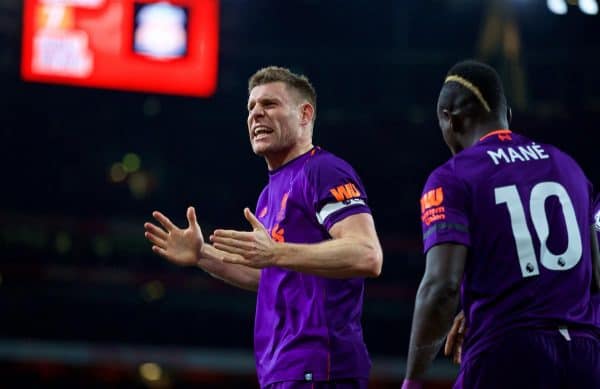 JOEL: Liverpool have an extra day of rest over City and I expect Klopp will ask his main men to deliver for him again before earning a well-deserved break ahead of the FA Cup third-round tie against Wolves.
That means going with an unchanged back four and of course Mane, Firmino and Salah.
The midfield is the trickier one to predict given the options at Klopp's disposal. Given the context of the league table, the onus is very much on City to go all out for the win and I suspect Klopp will go for some extra solidity in the midfield.
I expect Shaqiri will drop to the bench and Wijnaldum must retain his place after his phenomenal showing against Arsenal.
I think Henderson is more or less nailed on to start, which leaves one more space. If Milner is fit, I think he probably gets the nod, as we know how much Klopp trusts that trio in the big games.
If not, then Fabinho keeps his place, or we could see Keita come in and offer a more creative threat.
I think Klopp will obviously be looking for the win but would be content with a draw, so I don't anticipate many risks in the team selection.
(4-3-3) Alisson; Trent, Lovren, Van Dijk, Robertson; Wijnaldum, Henderson, Milner; Mane, Firmino, Salah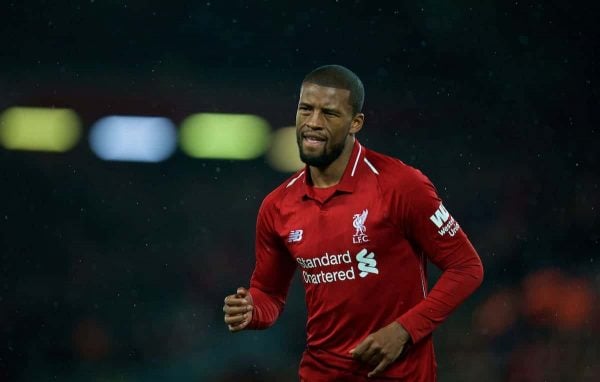 HENRY: It is never easy predicting a Klopp starting lineup, given the options at his disposal these days.
Alisson and the back four picks itself, however, while Mane, Firmino and Salah are also shoo-ins to start.
I think Milner would normally start a game of this ilk, but he will be returning with a lack of match fitness, so bringing him in feels like a risk.
I would go with Fabinho, Henderson and Wijnaldum in midfield, making the team more robust in a match Liverpool don't have to win.
Shaqiri and Keita can be strong impact substitutes.
(4-3-3) Alisson; Trent, Lovren, Van Dijk, Robertson; Fabinho, Henderson, Wijnaldum; Mane, Firmino, Salah