Liverpool centre-back Virgil van Dijk has spoken to the media on the challenges facing the team as they take on Napoli in the UEFA Champions League.
The Reds have enjoyed a tremendous defensive record this season domestically, and keeping a clean sheet at Anfield on Tuesday would go a long way toward helping them secure passage to the last 16 in Europe.
Van Dijk has been critical to that improvement in 2018, but first took time to applaud partner Joe Gomez—who was injured last week, but signed a new contract on Monday.
The young Englishman deserves it, Van Dijk told reporters, before adding "he can only get better and I'm delighted he signed a new deal."
On facing Napoli, the Dutchman was questioned on whether recent domestic form should stand the Reds in good stead, but for Van Dijk it's simply about performance on the night.
"It's going to be a very tough game; we should be confident, ready for [the game] and believing in ourselves that we can do it and progress," he said.
"I'm definitely confident in my team and the players but we need to show it.
"It's going to difficult, that's how they play but we need to play our game. We're ready to do what we've been doing almost the whole season.
"We have plenty of quality to score and defend them but it's about showing it on the pitch."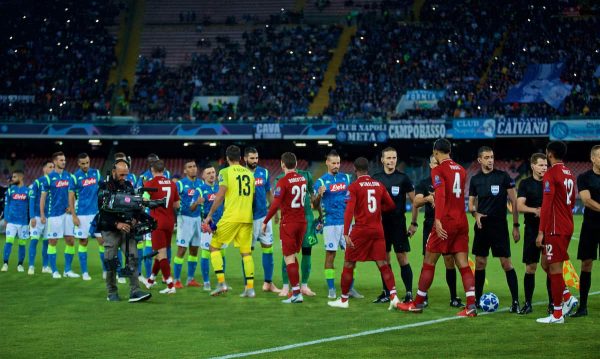 With the Reds needing to win either 1-0 or by two goals, Van Dijk says it's a special one-off occasion, more akin to a knock-out than a group stage game.
"It's a totally different situation tomorrow, basically like a final for us and we need to win, hopefully we don't concede," he explained.
Van Dijk could well be in line to captain the Reds, with competition for midfield places looking fierce and the return to action of Naby Keita and Sadio Mane potentially leaving both Jordan Henderson and James Milner on the bench.