With six goals and three assists so far, Xherdan Shaqiri is proving his worth as a bargain signing for Liverpool; a cult hero and genuine game-changer.
We all love Xherdan Shaqiri don't we? We loved him even before he came off the bench to put the final nail in Jose Mourinho's coffin. I mean, what's not to love about him?
His cheeky little face. His brilliant arms folded goal celebration. His freakishly huge calves. That thumbs up gif from the day he signed…he's just got 'cult hero' written all over him.
He's actually my dad's favourite player, but then to be fair he loved Shaqiri even when he was at Stoke.
When it was announced that we'd signed him, the first thing I did was ring my dad as I knew he'd be buzzing. When Shaq scored his first goal at Anfield earlier this season, I looked at my dad and he wasn't even celebrating, he was just stood there beaming with pride. That's his boy.
I've done alright for myself, relatively speaking, and I know my dad is proud of my limited accomplishments, but never as proud as he was when Shaq jinked his way into the box at the Kop end and rolled it past the Cardiff 'keeper.
That's OK though, I'm not jealous because I love Big Shaq too.
I'm an only child but if I had a kid brother I'd want him to be Shaqiri and I wouldn't care if he was my dad's favourite, because if I was in his shoes he'd be my favourite too. I love that little guy, he's boss.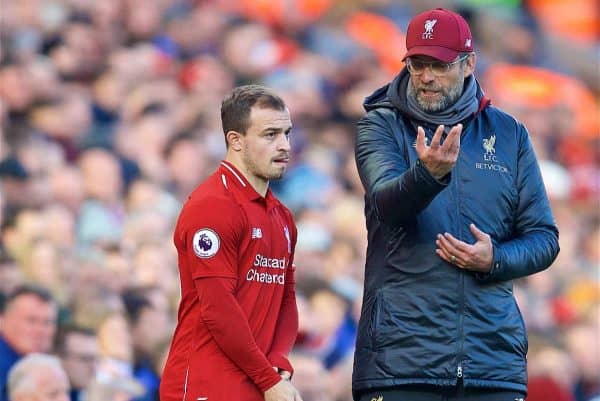 He's obviously not going to be one of the true Anfield greats like a Dalglish, Barnes or Gerrard, but there's every chance he'll be remembered as one of the more popular players we've had in recent years.
A Swiss Luis Garcia perhaps? A mate of mine once said that "anyone who doesn't like Luis Garcia doesn't like puppy dogs or Christmas." Same applies to Shaqiri.
I had always thought he was a talented little player, but good enough for this Liverpool side? I wasn't 100 percent sure but for £13 million he was definitely worth a look.
Worst-case scenario was that he wouldn't quite be up to scratch and we'd double our money on him in a year's time. It was the proverbial no brainer really and the only surprise was that we didn't face more competition to get him.

It was clear more or less from the start that Shaqiri was going to fit right in and thrive with the talent around him, and he announced himself as a Liverpool player with a spectacular overhead kick against Man United. Only pre-season, but still, that's how to make an impression.
It wasn't just the goal though. It was the vision, the creativity, the enthusiasm, the talent. Combine that with the speed and skill we have up front and it looked like a match made in heaven.
We needed a replacement for Coutinho and although they are different players, Shaqiri does bring many of the same qualities as the treacherous, going-on-strike Brazilian defector.
One of the most valuable things he's brought though is the ability to lift the crowd as soon as he steps on the pitch. That might not sound like much, but it's actually quite a rare gift. There are loads of really good players who can't do it.
For instance, Daniel Sturridge has been quite an effective substitute and has made some valuable goalscoring contributions off the bench. He doesn't lift the crowd like a genuine 'supersub' though.
It's partly about body language and style. Shaqiri looks busy and purposeful. He'll get on the ball and immediately look to play a forward pass. When he's in possession you think something is going to happen and there's a noticeable change in the atmosphere when he comes on.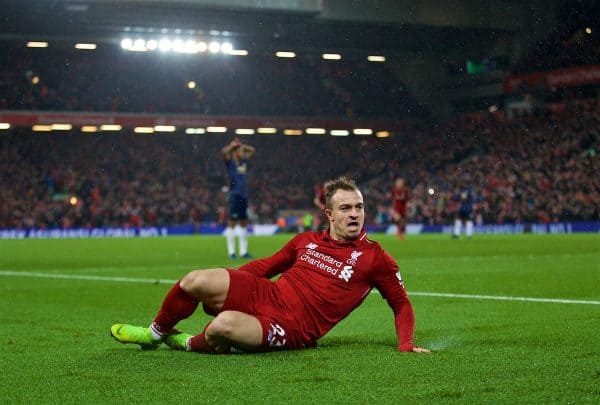 I'm a little too young to remember David Fairclough so Ronny Rosenthal is probably the best 'supersub' I've seen. You knew as soon as Ronny came on the pitch he was going to do something and the crowd always responded to that.
If the game is flat, you throw in a Rosenthal or Shaqiri and it's like a bath bomb effect. Fizzing all over the place.
Rosenthal is portrayed as someone who was never as effective when he started games as he was when he came off the bench.
That's not really fair. Ronny had some brilliant games when he started too. He was a very good player but he was a truly world-class sub.
Shaqiri is different. He's a top-class player whether it's starting or coming off the bench, but in our current situation the greater impact from him over the coming months might well come as an impact sub.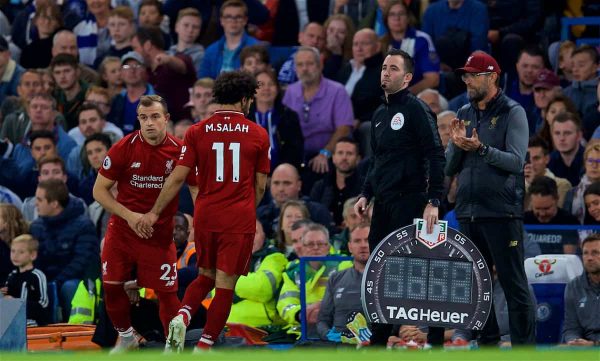 Don't get me wrong, I'm not suggesting that Shaqiri can't play from the start. He can, he should, and I could probably make a good case that he hasn't been given the chance to do it as often as he's deserved.
The main problem for Shaqiri currently seems to be that Jurgen does not yet trust him to play in his midfield three. If he plays it's either in place of one of the front three or Klopp changes the system to 4-2-3-1.
Perhaps in time that will change. I hope so, as Shaq in a midfield three could be sensational. He's never going to give you what James Milner or Gini Wijnaldum will, but then they can't do the things that Shaqiri does either.
If Coutinho could play in Klopp's midfield three then why not Shaqiri? He'd need to learn the position and as Alex Oxlade-Chamberlain explained last season, the intricacies of the pressing game takes some time to become completely familiar with.
Realistically though, how often do we really get to play like that with the high press against passing teams? Most opponents we face, particularly at home, are far too scared to play any football in their own half or even in midfield.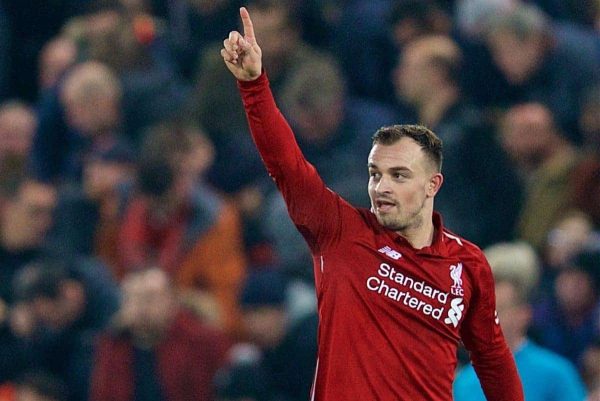 It's in those games that our midfield can struggle, usually because we've gone with three grafters who are all a bit 'samey'. That's when you need something different; that bit of magic, whether it's a defence-splitting pass, a 25-yard screamer or a dribble to create space for others.
That's what Coutinho gave us when he played in midfield and that's what Shaqiri could do too. If he's ever given the chance to play there.
There's a time and a place for it though. It would be daft to throw Shaqiri into the midfield three at Man City or against any top-quality opponent, and with the front three set in stone the likelihood of Shaq starting in those games is fairly remote. What a weapon to have coming off the bench though.
That might be his main role between now and May and if it is then he should embrace it rather than be frustrated by it. All the signs suggest he will, and his comments after the United game did him great credit I thought.
Yes, he was disappointed not to start but he watched the game closely from the bench to see where the space was and how he could use it.
It spoke volumes for his mentality. That's what you want in your squad: players who are about the team first and who can put their own frustrations to one side.
Whether the Arsenal game was an outlier remains to be seen, but for now Klopp's tried and trusted 4-3-3 would appear to give us the best chance of success against higher quality opponents. We have a style and system that good teams hate playing against, so there's no point messing with that formula.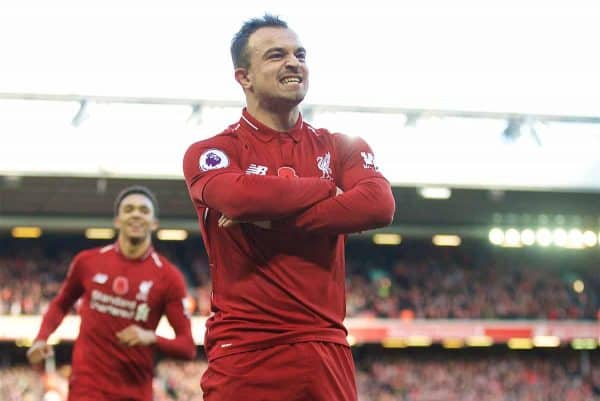 Putting Shaqiri in would mess with it, simply because he's so different to the other players we have. Certainly not because he's "lazy" and "doesn't track back." What a steaming pile of Zlatan that is.
The only thing "lazy" about Shaq is the narrative that follows him around thanks to the Neville brothers and Charlie Adam. He's never going to be Dirk Kuyt but he's no Dimitar Berbatov either.
Shaq will have a dual-purpose between now and May. Firstly, he should be starting certain games against the teams in the bottom half who don't want to attack and who will just be hoping to somehow hold out for a point.
He could be equally important though as a game-changer off the bench in the bigger games when he doesn't start.
Those games invariably open up after an hour or so and more space appears between the lines. That's where Shaq does his damage. Just ask United.
Whatever his role though, he's already shown he was one of the most inspired signings made by anybody last summer.