Bayern Munich winger Arjen Robben believes Liverpool were the "worst possible draw" for his side in this season's Champions League round of 16.
The Reds host Bayern in the first leg of their knockout clash at Anfield on February 19, having scraped through Group C despite losses to Napoli, Red Star and Paris Saint-Germain.
Their fragility in Europe this season ensured the draw for the last 16 was a difficult one for Jurgen Klopp's side, and certainly a familiar one for the manager, who made his name at Borussia Dortmund.
But after reaching the final last year, Liverpool can still be confident of progressing to the quarter-finals at Bayern's expense.
And speaking at a press conference on Tuesday, Robben described it as their "worst possible draw," but insisted Bayern are still hopeful of victory.
"Liverpool are doing well again, just like last year when they made it to the final, and I also see them as a favourite for the Champions League victory this season," he explained.
"For us, it was perhaps the worst possible draw, but it's going to be a great challenge, we have to look at ourselves, keep working hard and improve ourselves.
"If we have a good day and play the way we want, I'm sure we'll make it very difficult for Liverpool."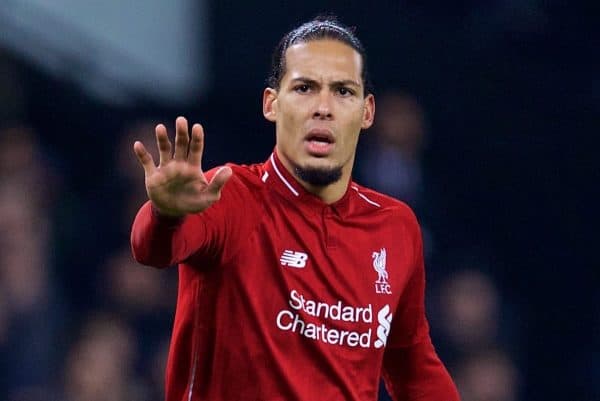 One player who won't be available for the first leg is Robben's compatriot Virgil van Dijk, with suspension ruling the Dutchman out after picking up three yellow cards in the group stage.
He has been widely, and rightly, lauded as one of the best centre-backs in world football this season, but Klopp will be forced to field two of Joe Gomez, Joel Matip and Dejan Lovren, if fit.
Robben, who retired from Netherlands duty in 2017 having played alongside Van Dijk four times, gave his take on Liverpool's No. 4, refraining from hyperbole but highlighting "great strides" as fellow alumni of FC Groningen.
"I do not know if he is the best defender in the world, but other people are allowed to judge that," he said.
"But I'm happy for him. He has made big strides lately, just look where he comes from.
"He has grown as a player, but also as a personality, I am happy for him, where he is at the moment.
"He is a key player at a gigantic club, and he is the captain of the Dutch national team. He deserves all the compliments."
The 34-year-old missed Bayern's last six games before the winter break through injury but has remained a regular starter this season, and will no doubt welcome Van Dijk's absence if he returns to action for the first leg.