The media thought Liverpool's 4-3 win over Crystal Palace was a throwback to bygone days and lauded their character to grind out the victory.
The Reds came out on top of a crazy contest at Anfield to claim a result that was a throwback to the 2014 title charge.
An incredible second-half display inspired the win, with a brace from Mohamed Salah alongside strikes from Roberto Firmino and Sadio Mane restoring a seven-point lead on Man City.
Crystal Palace deserve full credit for playing their part, but thankfully goals from Andros Townsend, James Tomkins and Max Meyer ultimately counted for nothing.
Here's how the media reflected on the Anfield goal-fest.
Reporters assessed it as a "throwback win" and one that will be huge for Liverpool's confidence…

The Telegraph's Chris Bascombe was one of several reporters to evaluate it as a game won in the manner of those in the 2014 title push:
"It was just like the old days at Anfield. The title bid of 2014, that is, rather than the glorious 70s and 80s."
Writing for Goal, Neil Jones assessed it as a throwback to Klopp's early Liverpool with a return of "heavy metal" football:
"Anfield had forgotten what a Jurgen Klopp rollercoaster felt like, but they got a thrilling, terrifying reminder here.

"This was a throwback to days gone by, heavy metal football, organised chaos and all that."
Meanwhile, ESPN's Glenn Price feels that such a triumph coming through adversity will only add to Liverpool's growing confidence:
"This was another example of Liverpool coming through moments of adversity with three points.

"This win will have Liverpool and their supporters continuing to believe that it really could be their year to win the title."
And the Independent's Simon Hughes thought it was a big mental hurdle overcome, which will benefit the Reds should similar situations arise throughout the title race:
"An outrageous game with ridiculous goals, but another challenge hurdled for Liverpool, this one mental."
The media were impressed by Liverpool's hunger and how the Reds found solutions and a way to win…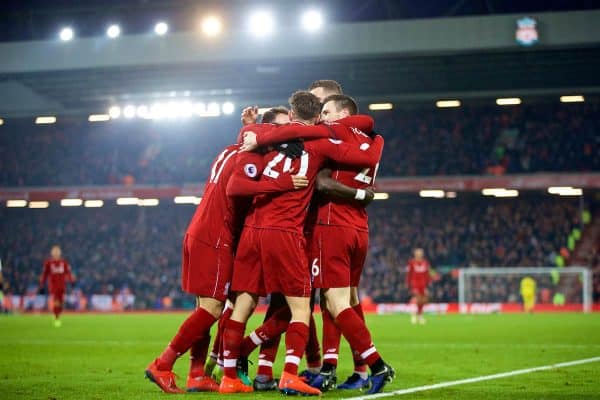 The Liverpool Echo's James Pearce praised Klopp's men for rising to the challenge and believes that the Reds' character is now just as impressive as their quality:
"When the pressure was cranked up, they refused to buckle. Instead they stood tall and showcased their powers of recovery.

"The character and hunger of this side is just as impressive as their quality and work ethic."
The Evening Standard's David Lynch was impressed by how Liverpool constantly found solutions to respond and claim victory on a day the usually reliable defence struggled:
"But, no matter how many blows they landed across the 90 minutes, Hodgson's men could not extinguish their hosts' belief, or their desire to claim another crucial three points.

"Liverpool's watertight defence has been crucial to their brilliance this season but, when that failed, they possessed the character to find another way to win. That bodes incredibly well for their chances of sustaining a title charge until May."
Hughes discussed the "luck" involved in some of the goals, but rightly assessed that Klopp's side made their own through applying relentless pressure:
"To some degree, each of Liverpool's goals involved mishap and fortune. A favourable assessment would say this is what happens where there is incessant pressure, causing opponents to yield."
Reporters discussed where the Reds initially struggled and how the turnaround came about…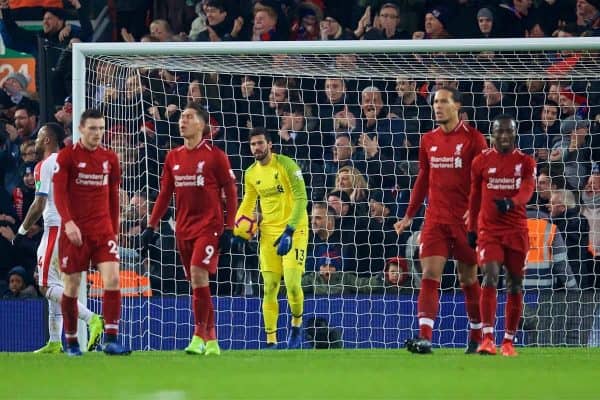 Price bemoaned that the Reds' usual control and maturity was "painfully absent":
"Liverpool never appeared to have any sense of control on this game; Palace always felt they had a chance of snatching something, which left manager Jurgen Klopp furious on the sideline.

"The maturity that Klopp's side have displayed in abundance this season was painfully absent here."
Also discussing Liverpool's lack of control on proceedings, Lynch put this down to the absence of Gini Wijnaldum in midfield:
"Although Crystal Palace deserve great credit for that fact, it would have been interesting to see how big a difference the injured Georginio Wijnaldum would have made.

"The Dutchman has been the Reds' best midfielder so far this season, and his ability to both win the ball and keep it moving seemed to be a big miss as the visitors ran riot."
Our own Karl Matchett thought Liverpool's pressing game was out of sync, explaining how the "extra-aggressive" press left the Reds too exposed to Palace's counter-attack:
"On this occasion, against Palace, an extra-aggressive version of it didn't work—and left the Reds wide open.

"Five or six attackers attempted to win the ball back outside the Palace box, but the control and angles they found on their passes should be applauded."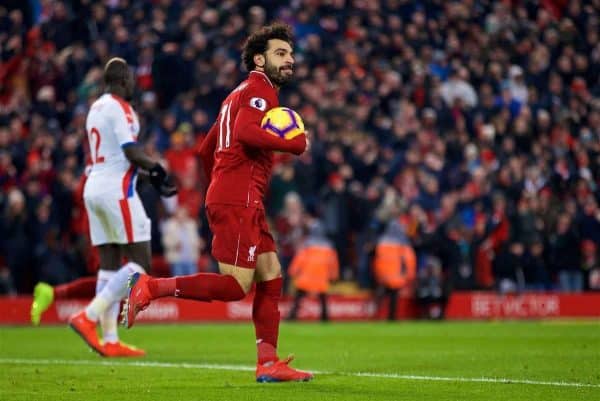 Turning focus to how Liverpool transformed the game, the Independent's Jack Watson put it down to Klopp's half-time work and an improvement in movement off the ball:
"Whoever led the speech at the interval, and it was presumably an animated Klopp, deserves all the credit for Liverpool's latest win.

[…]

"The passing in the second half was slick and the movement more purposeful from Liverpool as they worked their way back in to the game that threatened to evade them if they did not improve their performance."
Price thought Liverpool playing at quicker tempo and with greater bravery in possession was key:
"They raced out of the blocks as the second half started, taking more risks and becoming more of a threat."
And Matchett thought the Reds' increased patience in and around the box with intricate one-twos was key to breaking through Palace:
"Palace, like most teams, couldn't live with Liverpool once they resumed the quick passing, the one-twos, the intricate angles of their own to dominate possession and shift around the defence."
Reporters lauded Salah's game-changing impact but were less impressed by some of the Egyptian's antics…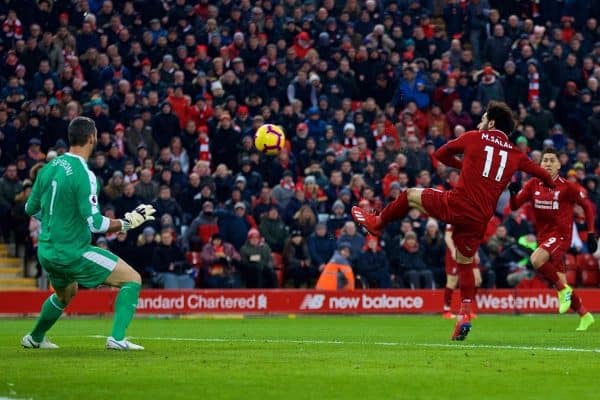 The Mirror's Steve Bates lauded Salah's ability to make the difference at any moment and believes it makes "anything possible" for Liverpool in the pursuit of silverware:
"When you have Mo Salah in attack anything is possible—even on the off days.

"It's hard to think of fresh superlatives for Salah who is back to his best and making the decisive contributions just when Liverpool need him most."
Lynch raved about Salah's ruthlessness finishing and believes the Egyptian has now proved himself to be an elite, out-and-out striker:
"That owes much to the fact that, as well as being utterly ruthless in front of goal, Salah also possesses that unteachable knack of finding himself in the right place at the right time over and over again.

"The days of describing him as a winger must surely be over—Liverpool's No. 11 is a striker through and through."
The Mirror's Mark Jones discussed Salah's first-half dive and feels the No. 11 is in danger of carving a negative reputation which may come back to haunt him:
"There is a difference between drawing enough contact to topple you over and outright looking for it, and Salah did the latter when he went down in the vicinity of Mamadou Sakho.

"It wasn't a penalty, it was a dive, and just served to make Salah look foolish."
The watching journalists offered verdicts on the star performers and strugglers…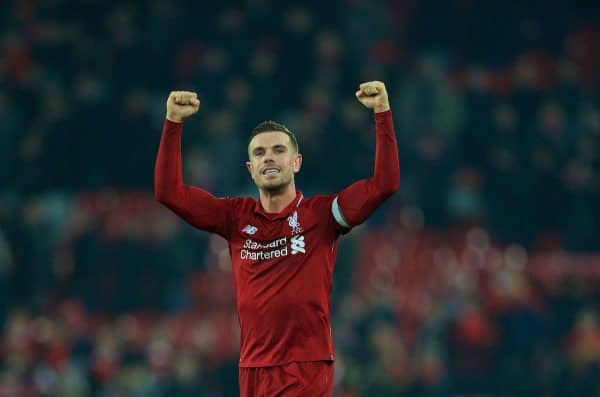 Mark Jones labelled Fabinho the "the standout performer" of the game and noted how the Brazilian's influence continues to grow:
"Liverpool were frustrated by Palace during the first half, but one thing that was clearly apparent was the influence of Fabinho.

"The Brazilian is growing into this side and is a key player in the title challenge, and without Gini Wijnaldum in the centre he really was the standout performer in there before going off injured late on."
This Is Anfield's Henry Jackson was impressed with Jordan Henderson's performance, labelling it one of the skipper's "best of the season":
"The skipper was one of Liverpool's best players on the day, with his tenacity and quality fantastic. One lovely threaded early ball summed up his positive approach and his physicality and fitness were too much for Palace's midfield to handle.

"One of Henderson's best performances of the season—he and Fabinho look good together."
Mark Jones thought Naby Keita endured another poor afternoon and feels Xherdan Shaqiri should be starting ahead of him:
"The Guinean may have started his Liverpool career impressively—with his best performance probably coming in the 2-0 win at Selhurst Park in August—but since then he's been too often on the fringes of games, hoping to make an impact in them but never convincing you that he will.

[…]

"Liverpool are a better side when Xherdan Shaqiri plays at the moment."
Finally, Neil Jones reflected on what is now a nicely timed break for Liverpool thanks to no cup football in comparison to the relentless schedule Man City face:
"City will play four times, twice in the league and twice in the cup, by the time Liverpool return to action against Leicester on January 30.

"Klopp says they will use the time to train and to recover, and he will hope to have at least a couple of his injured players back for that clash with the Foxes."