Jurgen Klopp has dismissed the notion that Liverpool are under more pressure as Man City will play before them in eight of the next nine Premier League games.
The Reds have often had the luxury of taking to the field safe in the knowledge that victory would push them further away from their main title rivals.
But now, as the final third of the campaign approaches, City will often be given the opportunity to close the gap before Klopp's side kick off, ensuring that three points are likely required to restore the lead.
This will be the case before Wednesday night's clash with Leicester, with the champions playing Newcastle 24 hours before, and then for seven of the next eight league fixtures.
Speaking at his pre-match press conference on Tuesday, however, Klopp rejected the suggestion that City now have an advantage over Liverpool.
"We said if we win the game we are not interested in other results and stuff like that, how can we change the approach then in this situation?" he said.
"I've said it a few times, I expect City to win every game.
"It makes sense that you think like this; I would expect them to beat Newcastle. But I will still watch the game, because we play Newcastle as well.
"I don't sit in front of the television and [flinch] when they score or whatever, it's not like this.
"I really believe that you have to do your own work, your own job, if you want to have something.
"Don't be concentrated on other teams, it doesn't make sense and doesn't help.
"Whatever happens tonight, I'll expect to be one point ahead before the game and that doesn't bother me."
Liverpool & Man City's Next 9 League Games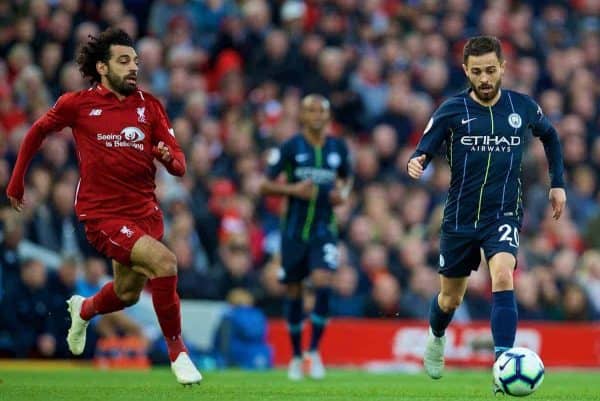 Newcastle vs. MAN CITY – January 29, 8pm
MAN CITY vs. Arsenal – February 3, 4.30pm
West Ham vs. LIVERPOOL – February 4, 8pm
Everton vs. MAN CITY – February 6, 7.45pm
MAN CITY vs. Chelsea – February 10, 4pm
MAN CITY vs. West Ham – February 27, 8pm
LIVERPOOL vs. Watford – February 27, 8pm
Everton vs. LIVERPOOL – March 3, 4.15pm
MAN CITY vs. Watford – March 9, 5.30pm
LIVERPOOL vs. Burnley – March 10, 12pm
Fulham vs. LIVERPOOL – March 17, 2.15pm
Fulham vs. MAN CITY – March 30, 12.30pm
This is, of course, the right approach for Klopp to take, and the hope will be this is one shared by his squad, as they look to keep their focus in the hunt for the title.
So far, that has proved to be the case, as the players have consistently stressed that they are not only taking this one game at a time, but also keeping their mind on their fixtures alone.
Nevertheless this will be a big challenge as Liverpool look to prove their mettle and ensure the trophy comes to Anfield in May.