Jurgen Klopp remained upbeat after his Liverpool side fell to a tough 2-1 defeat to Premier League title rivals Man City on Thursday.
The Reds began on the back foot, gained control after going behind, then eventually fell flat as an embattled City side fought for the three points on their home turf.
After Sadio Mane's effort bounced off the post and somehow not back in via Ederson and John Stones, Sergio Aguero put the hosts ahead in the first half, before the introduction of Fabinho changed the game, albeit briefly, for Liverpool.
A tactical switch allowed Trent Alexander-Arnold, Andy Robertson and Roberto Firmino to combine for the equaliser, only for Leroy Sane to break hearts and a long unbeaten run soon after.
Liverpool stay four points clear at the top of the league, with this a crucial point to remember, and one clearly in Klopp's thoughts as he conducted post-match media duties.
"[It was] pretty intense. Both teams [have] a lot of respect for each other," he told reporters.
"We played better football in other games. City had more moments where they controlled the game. They are used to that much longer than we are.
"Post in, or post out can make a big difference and we witnessed that today!"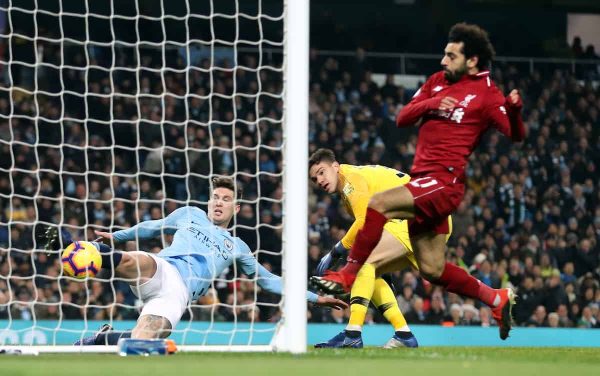 Mane's failed effort in the first half stayed the focus for Klopp as he highlighted how fine margins can prove costly in big-game clashes such as this one.
"It's the result we didn't like, but we have to take it," he continued.
"It was unlucky. Post out. They blocked twice against us on the line in the second half."
But the manager stayed positive as he assessed the first 21 games in a campaign that has his side stay four points clear of City in second.
"I have so much faith in my players," Klopp added.
"If someone would have told me, after both games against Man City, we would be four points ahead, I would have paid so much money for that."
Perhaps unfortunately, next up comes an FA Cup third-round tie at Wolves on Monday night, but after that comes an opportunity to respond in the league, with a trip to a Brighton side who have won just once in their last six.