Two Liverpool greats of the 1990s joined forces once more to answer fans' questions about their time at the club for this video from BT Sport.
Robbie Fowler and Steve McManaman were a double act which terrified defences around the Premier League in the mid-to-late 90s.
Primarily under Roy Evans, the duo worked in tandem in the Reds' attack, producing scintillating performances and no shortage of goals: Macca the schemer-in-chief, Fowler the goalscorer.
Indeed, McManaman captained the side and played 364 times for the Reds, before departing for Real Madrid.
Fowler, meanwhile, earned the nickname 'God' from fans for his consistent ability to plunder goals, hitting 183 across two spells with the club—and making just five appearances more, all told, than his great pal.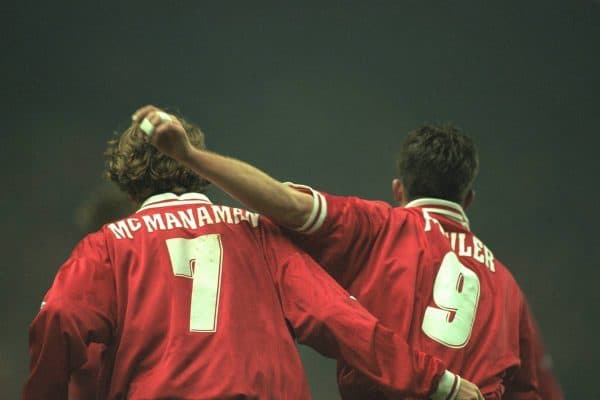 In this great video, they offer insight into their playing days at Anfield, fielding questions including their favourite goal, what that Liverpool side needed to become league champions and whatever happened to those infamous white suits!
Fowler also reveals how he ended up on a Real Madrid celebration bus tour, while both opt for each other as their greatest team-mates.
There's also a noticeable lack of diplomacy on show when one fan asks them to judge the playing career of fellow BT Sports pundit Robbie Savage!
Fowler and McManaman were iconic stars of that particular Liverpool era and it's clear that both continue to hold the club in enormous regard.