Jurgen Klopp has confirmed he will field a rotated Liverpool side against Wolves in the FA Cup third round, and this is paramount to their success this season.
'Jurgen Klopp must win a trophy this season'. How often have you heard that said? Umpteen times? Every other day? More often than your average Mancunian chants about the Reds?
I've heard it twice today just sat in the office. And I work alone. So the chances are you've been hearing such assertions all season and may even have uttered those very words yourself.
Three-and-a-half seasons without winning a trophy is far too long for any Liverpool manager. Right?
So if that's how you see it—and you're well entitled to given every other manager since Bill Shankly has been judged on trophies (apart from Roy Hodgson, who was sacked before he could've won one, and Sir Kenneth Dalglish, who was sacked for winning one)—then at least it saves any arguing about what kind of starting XI Klopp should field against Wolves in the FA Cup on Monday night.
Klopp must play his strongest available XI. Alisson, Alexander-Arnold, Robertson, Van Dijk, Lovren, Salah, Mane, Firmino and whichever three midfielders you think are his best (there's more chance of seeing Nabil Fekir in a white Mercedes on West Derby Road than you all agreeing on which three from Henderson, Milner, Fabinho, Wijnaldum, Keita and Shaqiri should be first choice).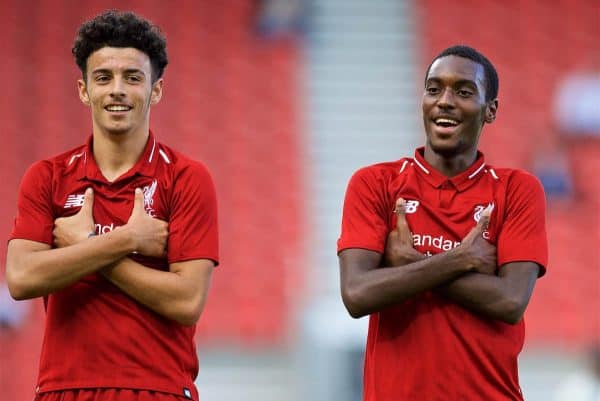 Forget resting any of them ahead of next weekend's Premier League game at Brighton. Forget giving Mignolet, Moreno, Lallana, Sturridge and Origi a game or providing Curtis Jones, Rafa Camacho, Adam Lewis or Ki-Jana Hoever with opportunities.
Anything less than his best XI for Wolves away is too risky. Klopp must win a trophy this season and the FA Cup is a trophy.
Imagine if he doesn't. Imagine if Man City close the gap and pip us to the Premier League title. Imagine if Barcelona or Real Madrid extend their half-decade domination in the Champions League.
How will it then look if Klopp fielded a second-string lineup against Wolves in the FA Cup and got knocked out?
In a season when Klopp must win a trophy he'd have ended up with no silverware (even Everton have Silvawear in the form of the manager's suit) again and after three-and-a-half years that's not good enough for Liverpool. Right?
Regular readers will know I've made this point before, but the start of Liverpool's FA Cup campaign following our first Premier League defeat of the season is the right moment to reemphasise it again: anyone who thinks Jurgen Klopp must win a trophy this season and therefore should be replaced if he doesn't is two slices short of a pizza.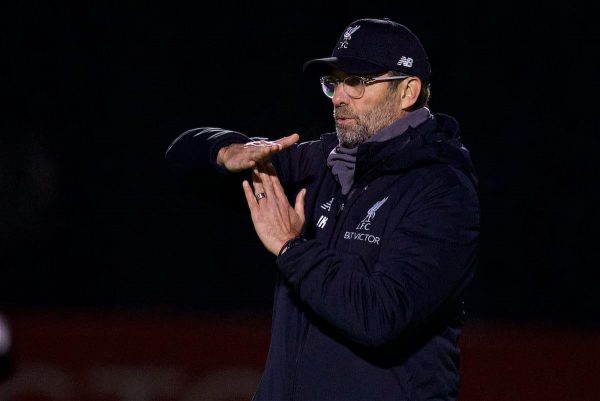 I've always been uncomfortable at Liverpool managers making wholesale changes for FA Cup ties, mainly because 96 Reds lost their lives and countless others suffered physical and mental injuries loyally following their team to Sheffield for an FA Cup semi-final in 1989 so it feels disrespectful not to treat it seriously.
But ever since Fenway Sports Group sacked Kenny Dalglish despite winning the League Cup in 2012 I've been of the opinion it is a competition the club no longer cares about winning. So why should the manager?
Like it or not, modern-day owners of the big clubs don't judge their managers on what happens in either domestic cup competition, only how the team performs in the Premier League and Europe.
It's different for supporters—we all want cup final days out and to see silverware lifted—but the reality is finishing second and winning nothing is now perceived as a better achievement than finishing sixth and winning two trophies.
Ask Jose Mourinho what winning the League Cup and UEFA Cup in 2017 did for him.
Therefore, given Liverpool's current league position and qualification to the last 16 of the Champions League, I not only fully expect Klopp to rotate his squad for Monday's FA Cup third round clash at Molineux but would quite happily see him do so to give the likes of Van Dijk (assuming there's anyone else fit who can play at centre-half) and the front three a much-needed breather.

Liverpool may have to be almost faultless to win the Premier League. It may even take 48 of the remaining 51 points available to win it, as City proved last season they can rack up 18 league victories in a row so who's to say they won't take maximum points from their final 17 matches?
If that's the (unprecedented) level of second-half-of-the-season form it's going to take for Liverpool to end a 29-year wait to be champions, then Klopp must give his players the best opportunity to play at their maximum level in the Premier League.
That may well mean a few sacrifices are made elsewhere along the way, starting with the FA Cup, whether you think he must win a trophy—any trophy—this season to keep his job or not.
---
Chris McLoughlin writes for This Is Anfield each Friday; he's also senior writer for the Official LFC Matchday Programme and LFC Magazine. You can order copies of both here.