Liverpool winger Xherdan Shaqiri has described the two key attributes the Reds' squad needs to lift the title—as he has done at previous clubs.
The Swiss international won two Super Leagues in his homeland with FC Basel, before switching to Bundesliga giants Bayern Munich, where another two league titles followed.
Now he's a key part of Jurgen Klopp's squad aiming to do the same in the Premier League and he says the boss does his best to shoulder most of the pressure—but the players must also take the initiative.
Speaking to LFCTV's LFC Later programme, Shaqiri highlights the "winning mentality" as an absolutely pivotal trait that the entire squad, not just the starting XI, must share.
"Obviously the coach tries to take the pressure always out of the players, that's pretty normal, but if you see you have a chance to go through to win something then you have to take this mentality in you and to bring it on the pitch," he said.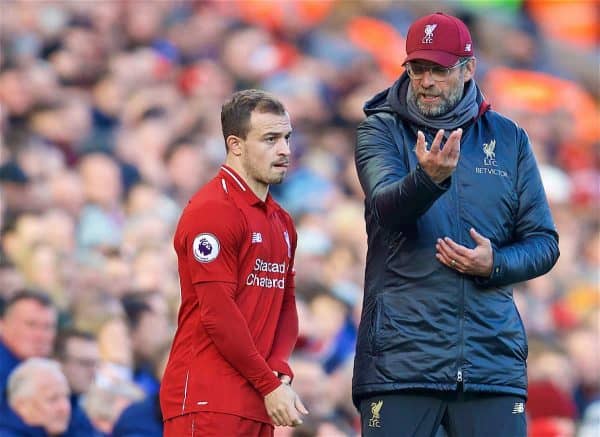 "Until now, how we worked was very, very good and everything [was] top, but we have to keep going until the end. That's the difficulty.
"I think the mentality, every single player here has to have the winning mentality.
"Even if you don't play you have to believe this and to make a winning mentality in the dressing room. First of all to win games and to go on the pitch and say 'we just want to win this game, nothing else', that is very important."
As well that iron-clad will to win, Shaqiri explains how being the team at the top means lower sides will do anything to stop the Reds.
Teams sitting in with massive numbers behind the ball has been a regular theme over the past few seasons, and Shaqiri is often the one called upon to help break them down.
Even off the bench he has done this to great effect against defensive-minded sides, most notably against Man United when he came on to net a brace.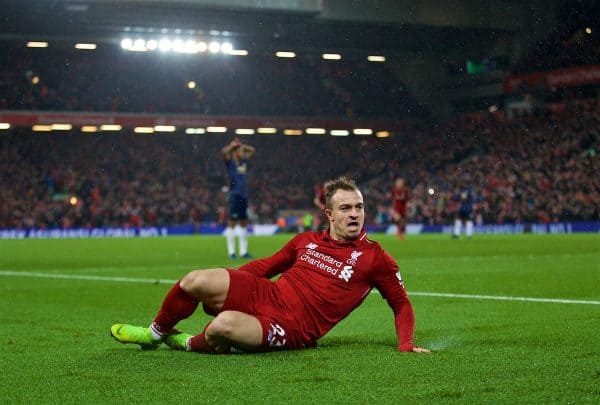 That's all part of the game, says Shaqiri, and the Reds cannot afford to panic and lose the flow of their playing style.
"You also have to be patient sometimes [like we were in] many games we had this season. You can see how mature the team is because you learn a lot from these type of games.
"Until now, we did very, very good, but there is a long way to go."
Shaqiri has six goals and three assists thus far in his first season at Anfield, following a summer switch from Stoke.
His impact has been impressive and he's playing an ever-growing role in the first team; now his experience at other clubs and in lifting titles could prove invaluable too as the Reds fight for a first league championship title since 1990.