Jurgen Klopp has given Liverpool supporters a big lift by announcing that three injured stars are firmly on the comeback trail.
The Reds are heading into the final 11 Premier League matches of the season, as well as a last 16 second leg against Bayern Munich in the Champions League, and need as many fit bodies as possible to play their part.
For a spell at the beginning of the year there was a real shortage in the squad, with injuries, illness and suspension hitting hard.
But now there's massively positive news on that front as Klopp confirmed that three absentees are looking good for returns to action next month.
Central defender Joe Gomez should be back to full fitness after the international break, after recent surgery proved extremely successful.
Fellow defender Dejan Lovren is also close to returning and could even be available after the Merseyside derby.
And, finally, Alex Oxlade-Chamberlain has been given the go-ahead to step up the intensity of his training as he looks for a return after almost a year on the sidelines.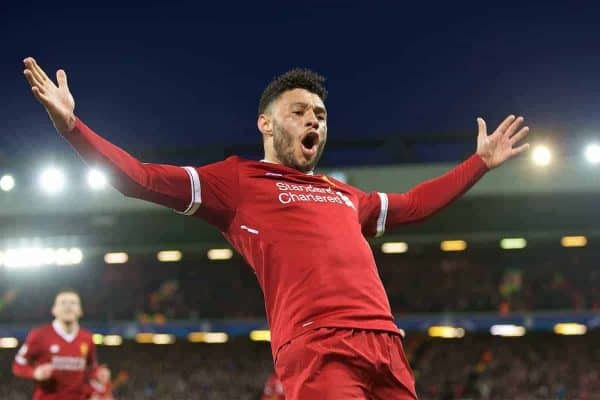 The Reds face five games in March, to follow after Wednesday night's Anfield encounter with Watford.
In defence, Klopp has been forced to play with a succession of non-regulars over the past two months.
Fabinho has played centre-back on multiple occasions, while James Milner has filled in at right-back.
The return of Dejan Lovren, then, will give the boss greater options to rotate when necessary—or to fill in when one of Joel Matip or Virgil van Dijk are unavailable, as was the case in the first leg against Bayern.
"Dejan is looking good and now starts proper training. He could be ready again after Everton," said Klopp.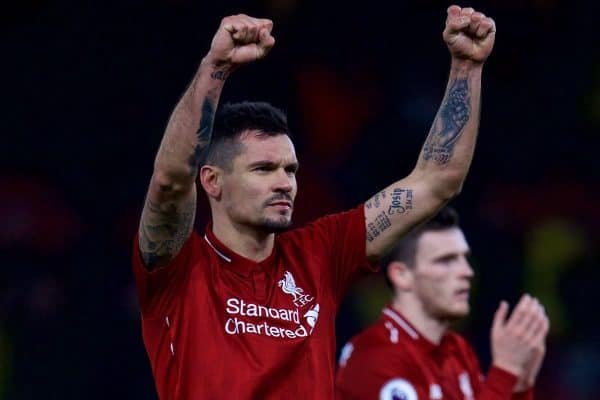 With 10 days between Everton and Bayern, it could be that the Burnley game is seen as an opportunity to rotate one or two—though that may depend on the two league results between then and now.
It is Gomez's return, though, which might fill the fans with the greatest excitement, with the No. 12 one of the Reds' best players in the first half of the season and forging an impressive partnership with Van Dijk.
Klopp said he'll have a real selection dilemma when Gomez returns—assuming no further injuries—but Oxlade-Chamberlain will continue to be monitored for now, with appearances at U23 level likely before he returns to first-team action.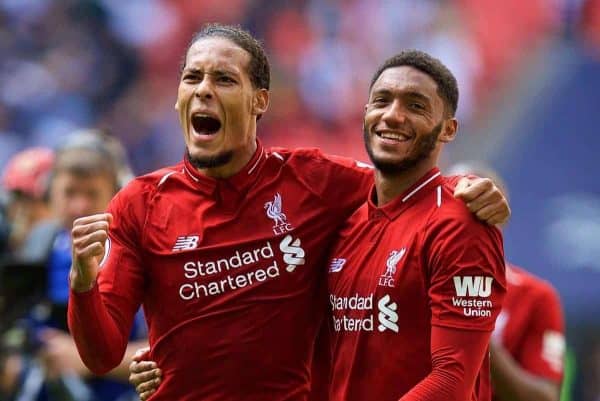 "If nobody gets injured before [the international break when Gomez returns] we'll have a proper choice. Joe is doing his rehab and looks good, big steps, outside running and all these things.
"Ox is doing 70% of team training.
"He trains full but not as much as the others. Then he leaves a bit early to do something else and the things he needs.
"Everyone is always looking for a reaction but nothing has happened yet. We have to prepare him for his entire career, not just one particular game. When he's in training it looks very nice."
Klopp also allowed that Rhian Brewster is not quite as far along in his recovery as Oxlade-Chamberlain, but he would not be closing the door on a potential debut for the young striker for this season.
With the Reds heading into the final stretch of the campaign still with a great chance of winning major honours, having players coming back to full fitness could prove crucial.
Here's hoping that each suffer no further setbacks in their quest for action and that Klopp can use the added options to inspire greater performances from those in the team.