Bayern Munich manager Niko Kovac's explanation of Javi Martinez's role in their 0-0 draw at Anfield shows how much the Bundesliga champions fear Liverpool.
After the stalemate in their Champions League last-16 first leg, Jurgen Klopp spoke of the "respect" between the two sides that led to an often cagey display.
The Reds arguably dominated the game, despite Alisson and his back line requiring some impressive last-ditch defending to deny the likes of Serge Gnabry, Kingsley Coman and Robert Lewandowski.
And in fact, Bayern were seen visibly time-wasting from midway through the second half, with seemingly little ambition to score a vital away goal ahead of next month's return clash at the Allianz Arena.
This, Kovac has admitted, included Martinez feigning cramp in the 86th minute, shortly after Manuel Neuer denied Sadio Mane in one of the biggest chances of the night.
"We all know the drill: it's close to the final whistle and you try to waste a bit of time," the Croatian told Sky Sports.
"Javi has good performance data, meaning he couldn't have even had a cramp. That's all a bit of acting.
"Recently [in the 3-2 win over Hertha Berlin], Kingsley Coman also pretended to have a cramp but he didn't.
"We have to bring calmness in the game. They do it well, they have the experience for that."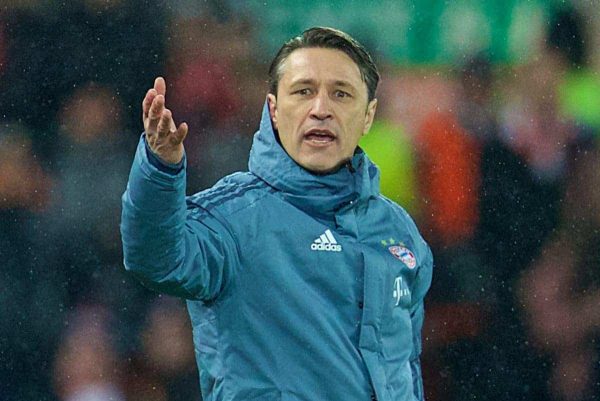 This is nothing new, and Liverpool have lacked a less-admirable game management in recent years, but it does serve as testimony to Bayern's 'respect' for their hosts.
In other words, the European heavyweights feared a Reds winner, and had long before set up to frustrate Klopp's side, rather than push for a more positive result.
The second leg comes on March 13, and it is likely to be a much different affair as Bayern need to be on the front foot, and should come up against a visiting side eager to attack.
Liverpool cannot underestimate Kovac's players when they head to Munich, but they can take encouragement from their need to time-waste on Merseyside as they eye a place in the quarter-finals.