When Liverpool appointed a 'throw-in coach' last summer it had sceptics talking. Here, Chris Pajak from The Redmen TV explains all about Thomas Gronnemark and how the job came about.
Over the last nine years of doing The Redmen TV there have been some absolute highlights. This is one of them for me.
Is Thomas Gronnemark as big an interview as say the captain of this great club, or getting to play with one of your idols like Jamie Carragher? Maybe not, but for me it's definitely up there.
First off, I'm a fan like any other. I love going the game above all else. I love to get lost in the moment. I love the stories, the personalities the ups and downs, but once that 90 minutes of footy is up for the week then I fill the gap with rewatching the game and looking for tendencies, glimpses of understanding. I do this in a few ways. I read. A lot. I learn (or at least I try to). I try and look at the match how I think a coach would and finally, I watch tape.
When I found out I would get the chance to talk to Thomas I was buzzing. I knew exactly what I wanted to ask, and I knew how I'd like the interview to turn out. Sometimes that's how it plays out but more often than not conversation ebbs and flows.
It's this thinking and adapting on the fly that makes talking to people from different walks of life a genuine pleasure. That is exactly what talking to Thomas was. He's a gent. An incredibly passionate, sometimes self-deprecating person who uses humour like a lot of Scousers do.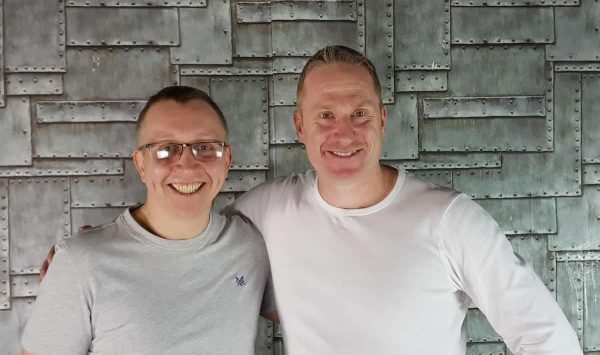 He does things because he loves them. He puts his heart and soul into everything he does. Right now, he's put 15 years of hard graft into becoming a throw-in coach. Some people may laugh at that (I'm thinking of you Mr. Gray) and some people will be interested as to the benefits of a throw-in coach. I like to think of myself as the latter.
Dedicated
I sat down with Thomas in Liverpool on the day of the Leicester match, a day after Rafa's Newcastle side beat Man City. He'd been diverted through Newcastle because of the snow. I could tell you about the type of person he is again, but this is what he tweeted when he got to Newcastle.
180 Danish Liverpool fans have landed in Newcastle!
Some would say it was because of bad weather… but we just landed to say THANKS ???#LivLei #LiverpoolFC #thanks #NEWMCI #YNWA pic.twitter.com/iViI9QhZF6

— Thomas Gronnemark (@ThomasThrowin) January 30, 2019
That tweet sums him up. He loves the club and has done since a young age. He's a Red like you and I and he was incredibly thankful to Rafa for his efforts.
I'll be honest, I was shitting myself when I saw that tweet. I thought there was no way he'd be in Liverpool in time for our interview. I was gutted. I messaged him and he said he should still be there in time. It would have been so easy for him to have cancelled but that's not him.
If he puts his mind to something, he does it. This man was a footballer who turned his hand to sprinting, before joining the Danish Bobsleigh team – all this before his now 15-year career as a specialist coach.
When we arrived to set up, Thomas headed over – he's a big guy. Bigger than I expected, and his hands were bloody massive. We started speaking off camera and I warmed to him straight away. It's hard not to. I wonder if that's how Klopp felt?
The story of how he ended up at Liverpool is one I should let him tell you:
How would you react to that call? My bet is it'd be just the same way Thomas did. Swerve over into a field and lash the family out the car. Sound. Thought so. Told ya.
The 'LFC' of Throw-Ins
When I sat down, I had my agenda in front of me. I wanted to do his back story first, but we got straight down to throw-ins (which is hardly surprising). He lives and breathes them.
Seriously, I love what I do but this is on another level. He's studied it. He's spoken to people. He learnt. He tried. He did. He's the World Record holder and he knows his stuff.
He wasn't saying things like the record was between 38-39 metres he was quoting the distances to two decimal places. He did this every time he said a number. He knows his craft, and this is what I was here for. He coaches three types of throw in: Long, Fast, and Clever. (Notice the acronym?) The long throw is the one that gets the attention but with 40-50 throw-ins a game the others are just as, if not more, important.
Throw-ins to Thomas are opportunities; opportunities to keep possession; opportunities to craft a chance; opportunities to catch them off guard and opportunities to score.
There'll doubtless be sceptics. What type of improvements can he really make? Well, one of the lads he coaches at AC Horsens in Denmark has got 10 throw-in assists in 18/19.
Yep. 10 assists from throw-ins. That is no lie. Now, are we gonna become that side? I doubt it.
That is why the fast and clever throws will be a big part of what he coaches at Liverpool. But will I be surprised if Gomez gets an assist or two over the next year? Na, not at all. He's got it in his locker, we saw that at Leicester early in the season.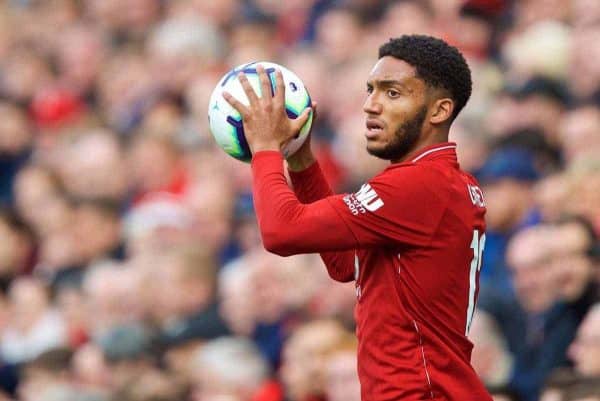 One player has spoken about Gronnemark's involvement and that's Andy Robertson. Here's a couple of quotes from him.
"We are switched on when it comes to throw-ins—everyone is in better positions that we are finding easier, and the lads' techniques have got better.

"We have all bought into it and we are all improving and are a lot more accurate. I think it is a positive thing and it has definitely worked for us."
Just from these quotes you can tell it's made a difference to him. Gronnemark himself mentioned Robbo to me. Have a watch of what he said:
As a part-time coach Thomas is over in Liverpool for one week per month. The other three weeks he's analysing, documenting and trying to get better.
Thomas is freelance so he works with a few clubs; two in the Danish league, one in the Bundesliga and now one in the Premier League.
I was reminded of something I'd read by Ted Knutson when I was speaking to him – "One of the big rules of conducting sports analytics inside a team is that when you find an edge, you exploit the hell out of it. And you never talk about it in public."
As he spoke, I knew he wouldn't reveal his secrets. He's a professional who's paid by Liverpool and it's this professionalism that will ensure he doesn't let something slip. He'd never tell me his secrets, and nor would I want him to.
More than 'marginal gains'
As I said earlier, I'm a fan. A Liverpool fan and to be honest if he'd said anything revealing I'd probably have cut it out because I wouldn't want our rivals knowing the things that my team are working on. All that being said, once done, I felt illuminated – like I knew how hard Klopp and the lads are working.
We may not have the money of some of our rivals. We may not have the biggest squad or the biggest wage budget but we've got the right man in charge who is doing everything in his power to get us back to the top.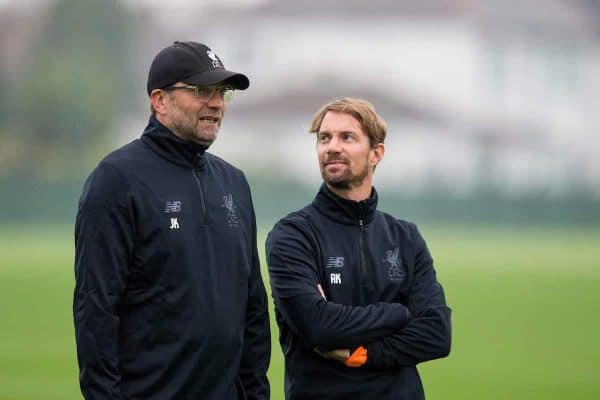 If that means gaining an advantage by using a throw-in coach, then sound. Klopp's on it.
Dave Brailsford has talked marginal gains for years in pro cycling. This isn't marginal gains. This is bigger. This has gone from a team losing possession on over 50 per cent of their throw-ins to keeping possession on every single throw in against Palace in the 4-3 win.
The throw in may not be sexy but it's a huge part of the game. Klopp wants us to improve in every area and he'll do what needs to be done to keep getting better. Whether we win the title or not this year it won't be for a lack of trying.
* Now, if you want to listen or watch the whole interview it's available now, in full here it's a fiver a month but you get the first month free. Take advantage. Sign up. If you like it, keep it. If ya don't, sack it off. Nice one. Up the Reds!