Jurgen Klopp has taken a big gamble with a more conservative approach against both Man United and Everton, which puts pressure on Liverpool to deliver now.
After a 0-0 draw with Bayern Munich which saw the Reds respected as favourites, the past week was set up as a pivotal one for Klopp's side in the Premier League.
With trips to United and Everton sandwiching a home clash with Watford, it served up a major test of Liverpool's title credentials, against two sides with added motivation to dent their hopes.
A week on, and while five goals were scored and none conceded, boosting Alisson's chances of a Golden Glove debut in England and Virgil van Dijk's claim for Player of the Year, only five points were won from a possible nine.
Drawing at United posed the question of whether it was a point dropped or two gained, but the mood surrounding Sunday's stalemate at Goodison Park is resoundingly negative.
But while the Reds now sit a point behind Man City at the top of the table, there is cause to argue that this was perhaps part of the plan for Klopp.
If that is the case, however, the manager is taking a big risk for the final two months of the season.
After the weekend's draw with Everton, the Evening Standard's David Lynch posed the worthwhile question as to whether Klopp felt he should have "gone for the jugular" more with his substitutions.
Roberto Firmino and James Milner replaced Divock Origi and Gini Wijnaldum on the hour mark, while Adam Lallana took Sadio Mane's place with six minutes to play, leaving Naby Keita, Xherdan Shaqiri and Daniel Sturridge unused.
Tactically, these were all like-for-like changes, with Jamie Carragher among those to express concern over the lack of a gung-ho approach as Klopp opted for stability over creativity.
Lynch, formerly a club journalist, was dealt with a prickly response from Klopp, who said he was "really disappointed" with the inference that Liverpool could "play PlayStation" and throw attackers on in pursuit of a win.
"We have an offensive team, that's absolutely OK, and we take risks, no doubt about that," he explained.
"But it's not like that, it's not the moment where we say 'come on now, throw everything in that direction'. You cannot play in the Premier League like that."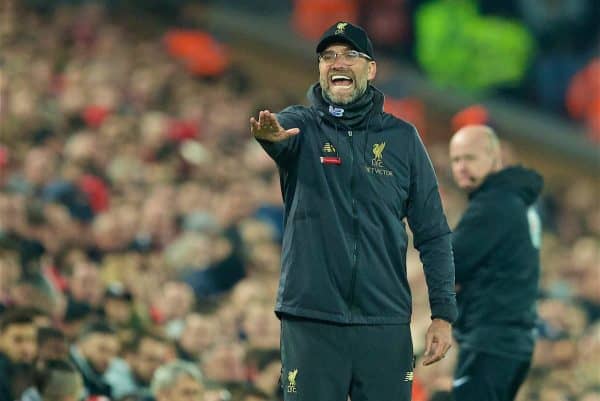 His disappointment may have stemmed from working closely with Lynch during his time at Liverpool, but the evaluation of his approach served as a broader declaration.
Klopp added that "we play Burnley next week, if we play only offensive they get us in the counter-attack, 100 percent," and this 'only offensive' stance perhaps recalls the earlier days of his reign.
As has been noted frequently throughout the campaign, and evidenced by the concession of just 15 goals in 29 games—at least five fewer than any other team—Klopp has opted for pragmatism this season.
The Reds are still the second-highest scorers in the league, with 64, and their goal difference is not far removed from the end of last season (+46 in 2017/18, +49 now), but there are fewer risks being taken this time around.
In the two clashes with United and Everton, this was highlighted by the use of Fabinho, Gini Wijnaldum and Jordan Henderson as a midfield trio.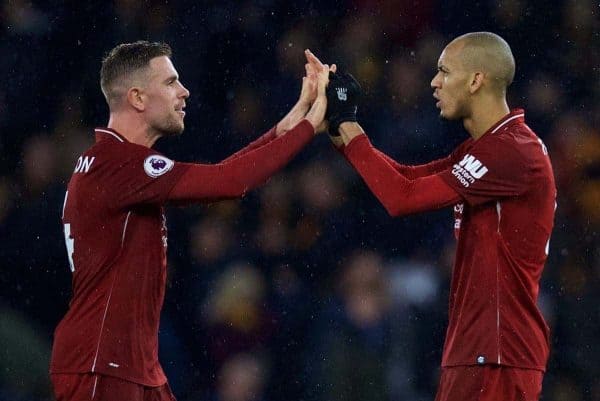 At Old Trafford, this was the first time the trio had lined up alongside one another, and while there has been skepticism around Wijnaldum, Henderson and James Milner being fielded together, the addition of Fabinho sacrifices further creativity.
When used in a midfield role this season, Milner has averaged 1.8 key passes per 90 minutes in the league, which is at least double that of Fabinho (0.9), Wijnaldum (0.7) and Henderson (0.5).
That they were restored to the starting lineup at Goodison Park, having created one chance between them against United, saw Klopp's conservatism come to the fore.
To their credit, they doubled this tally of chances created against Everton—including Fabinho's brilliant through ball for Mohamed Salah in the first half—but with the result in the balance Klopp still looked to maintain structure.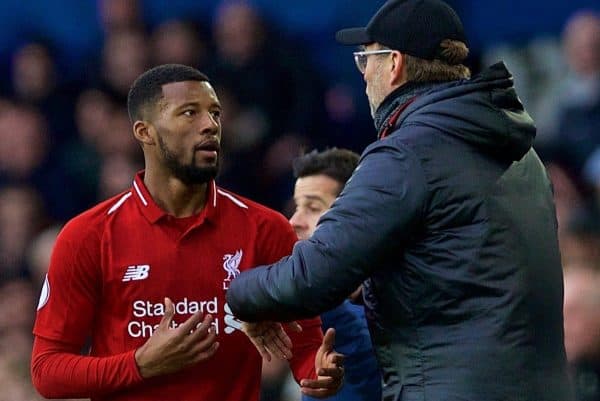 The introduction of Milner for Wijnaldum and Firmino for Origi saw Klopp effectively switch candidates for the No. 8 and No. 9 role, keeping faith with the 4-3-3 system, which Carragher believes may have been a flaw.
"Bringing Firmino on, play him as a No. 10 and have two central midfield players," he told Sky Sports.
"Instead of having three central midfielders, put one behind [Everton's midfield]. Even when Lallana came on, he came on as part of the front three."
The only 'upgrade' that came through Klopp's substitutions on Sunday was the return of Firmino to attack, and in the decision to field Lallana on the left wing with victory still to play for there was a sign the manager was content with a point.
Klopp told BBC Sport after the game that he chose not to send on Keita as he did not wish for him "to experience these really difficult circumstances for the first time."
But this still ignores two proven match-winners on the bench in Shaqiri and Sturridge.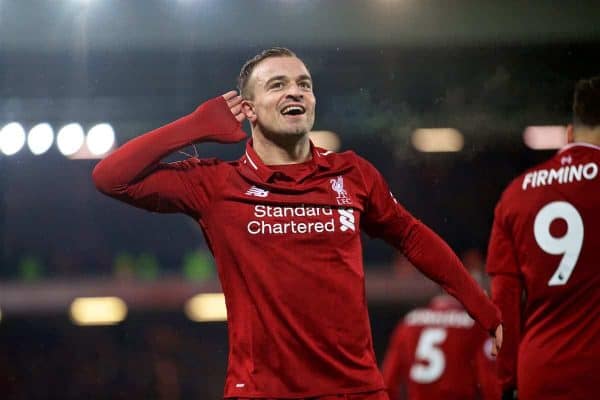 Shaqiri in particular can feel hard done by, having played just 18 minutes in these two 0-0 draws despite scoring more goals (six) than Fabinho, Keita, Wijnaldum, Henderson and Lallana combined this season (three).
For further context, Lallana's last goal for the club came on the final day of the 2016/17 season, while Henderson's came in September of 2017.
It may be that Klopp does not trust the Swiss to show the defensive diligence required in the 4-3-3, but it is perhaps more telling that there was no switch to a 4-2-3-1 at Goodison, against a fierce Everton side, unlike in the closing stages against an injury-ravaged United.
Does Klopp truly see these as two points gained for Liverpool, rather than four dropped in favourable positions for his side?
It is possible, as his delivery to Lynch—that "you need the right things in the right moment"—suggests, that the manager preferred not to risk defeat against either United or Everton, with the plan to focus on more 'winnable' games.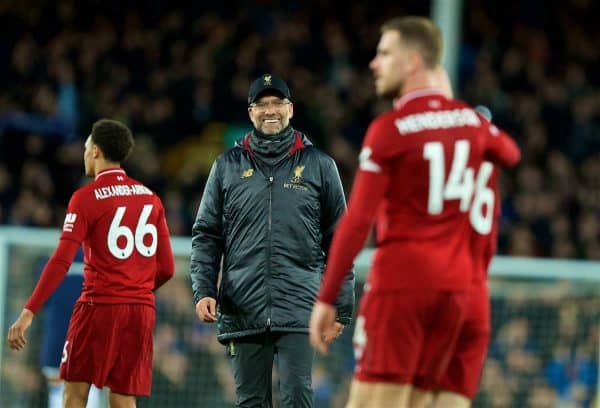 This may jar with supporters, and rightly so given the clamour for a first Premier League title, but the Reds now play Burnley (H), Fulham (A), Southampton (A), Cardiff (A), Huddersfield (H), Newcastle (A) and Wolves (H) among this final nine-game stretch.
There are also home clashes with Tottenham and Chelsea, but the key difference between these two games and those against United and Everton is Anfield, a factor which Klopp feels holds considerable sway.
Liverpool proved they can go all-out for victory with the 5-0 mauling of Watford, and Klopp could be hedging his bets in these tougher games in the belief that City will, too, drop points in the months to come.
More will be revealed in upcoming games, and most importantly for now against Burnley on Sunday, but regardless, this is a gamble Klopp needs to pay off.