Virgil van Dijk has rejected the suggestion he has been the driving force of Liverpool's defensive upturn, insisting it has been a product of the collective.
Van Dijk's influence on the Reds since his move from Southampton last year has been immeasurable, and he is rightly considered one of the best—if not the best—centre-backs in the world.
The Dutchman has made 60 appearances for the club so far, losing just 10 with a win ratio of 65 percent, and has had a hand in 28 clean sheets during that time.
But while his colossal frame has been a clear defining factor in Liverpool's improvement at the back, speaking to the club's official website, Van Dijk showed his leadership by praising his fellow defenders.
"In my position when things are going well it's pretty easy to say that I'm sort of the guy that fixes everything," he argued.
"But if things are going bad then I'm the one that gets all the blame. In the end, we all do it together.
"If you look at the way we play, defend and attack, it starts up front. The amount of work they do is unbelievable.
"In the back as well, obviously Alisson has come in, but look at Trent, Robbo has been outstanding.
"Dejan, Joel and obviously Joe before he got injured was amazing. I think everyone has played their part in it.
"It's not about one player. But it doesn't change the fact that I'm feeling pretty good."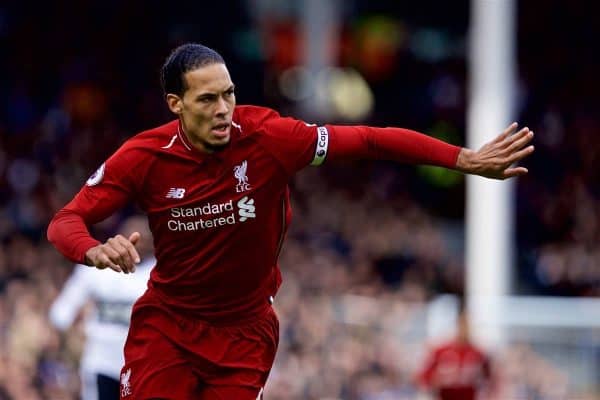 Van Dijk is right to show confidence in his abilities, and this comes at a crucial juncture after a rare error in the 2-1 win over Fulham last time out, but his focus on the team effort is admirable.
It would be remiss to overlook the efforts of any of Jurgen Klopp's back line, and both Alisson and Fabinho directly behind and in front of them.
As Van Dijk says, "it's not about one player," and though he deserves to be named PFA Player of the Year next month, this further showcases the authority that makes him so important.
He continued this in discussing "the ultimate thing" for him being "winning something with Liverpool," and there is a big opportunity to do so this season.
His simple message to the rest of the squad only furthered his claim as one of Klopp's biggest leaders: "The most important thing is to enjoy it.
"We have to give it our all and make sure we have no regrets at the end of it."