Jurgen Klopp has insisted Liverpool will prepare for a tough game on Sunday, despite Burnley sitting 14 places and 40 points below the title-challenging hosts.
Sean Dyche's side have struggled for consistency this season after qualification for the Europa League playoffs saw them start poorly in the Premier League.
Liverpool, meanwhile, have been in excellent form throughout the campaign, and are just one point behind leaders Man City with nine games to play.
Sunday will be a vital clash as they look to boost their title hopes, but speaking at Melwood on Friday, Klopp was eager to praise the Reds' opponents, who have won six of their last 12 games, losing just three times.
"Our only problem this weekend is Burnley, actually," he said when asked, again, about the title race.
"That's enough. We have to be really good to beat that team, because what Sean Dyche is doing there is just amazing.
"Because since I'm in [he has worked], always I would say, not with the best circumstances in the league.
"But keeping that club in the league constantly, with a difficult start this season and now being again I think five points ahead [of the relegation zone].
"[They] had a good run the last couple of weeks—the last couple of results maybe not that good.
"So we know it will be tough, and that's what we prepare for."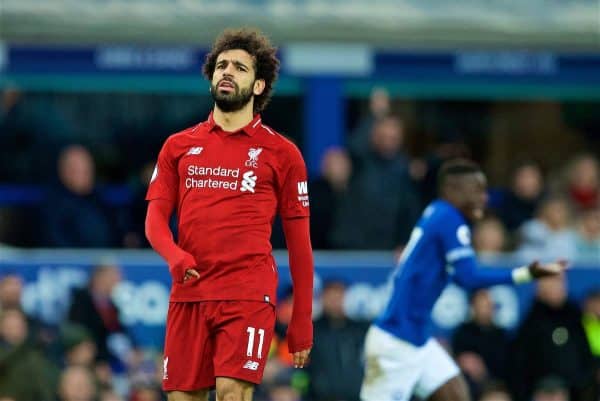 Unsurprisingly, much of the focus after Liverpool's 0-0 draw with Everton was on Mohamed Salah, whose failure to score sees him unable to beat Alan Shearer's record for fewest games to reach 50 Premier League goals for a single club.
But Klopp played down suggestions of frustration with his star striker, though Salah will no doubt be desperate to equal Shearer's 66 games with a goal against Burnley.
"We have very often talks and everything, of course when you're a striker and you have chances you want to score," the manager added.
"But as a manager I'm more than used to that. Players don't score all the time, that's how it is.
"He has an unbelievable record, his goals brought us where we are—not only that, he was a big part of it.
"We didn't speak about it, because it's completely normal.
"In a difficult game against Everton, we had four or five proper chances. We had less than that in games when we won against Everton, to be honest.
"This game, always one Everton leg was in between us and the goal, or Pickford. That's the situation, nothing else."