Jurgen Klopp described Naby Keita as a "complete midfielder" who had his "best game" for Liverpool so far as he scored in the 5-0 win over Huddersfield.
Keita joined the Reds after a year-long wait last summer, but after a bright start to the campaign struggled for fluency as injuries and the form of others kept him out of the side.
The Guinean is now truly hitting his stride, however, and has now scored three goals in his last five games, including one after 15 seconds on Friday night—Liverpool's fastest in Premier League history.
It is Keita's efforts off the ball that are more valuable, though, according to Klopp, who told Sky Sports after the game that he had "shown his best game in all defensive situations" and was "so difficult to deal with."
And in his post-match press conference the manager elaborated further, with it clear his patience is paying off.
"People expect you pay money for a player and you come in and from the first day and show everything you are able to do," he explained.
"That would be nice if it was always that easy—it's not.
"No, he needed time, we gave him the time and now he was there, and it was for sure his best game tonight, in a lot of departments.
"He was calm in the right moment, very, very positively aggressive in the right moments, winning balls, blocking balls, closing gaps, passing balls, being safe with the ball, turning and creating in that moment.
"It was just a brilliant game [for Naby]."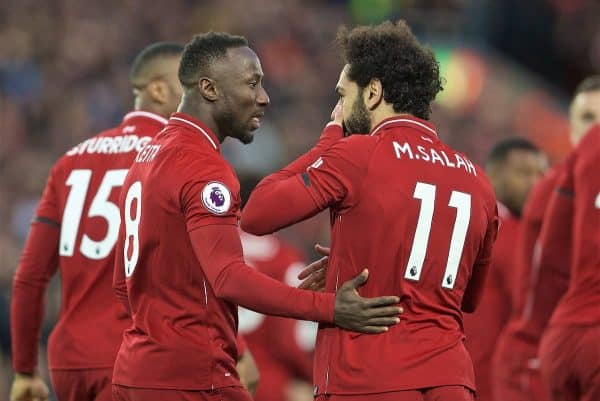 As with Gini Wijnaldum's opener at Cardiff on Sunday, Keita's strike was the product of a conversation between players and staff, as Klopp's analysts highlighted the situation as a flaw for Huddersfield.
The No. 8 had started his press before Jonas Lossl had played the pass out to Jon Gorenc Stankovic and within seconds had forced the ball off the Slovenian.
Mohamed Salah played it back to Keita whose right-footed finish beat Lossl and found the bottom corner, and Klopp praised his £52.25 million signing for being alert enough to put the plan into action.
"It was something we analysed before the game, these passes, if you can put pressure [on]," he revealed.
"You saw the distance of Naby in that situation was pretty big actually, but with two or three really quick steps he was there.
"I was surprised. How could the Huddersfield player not be surprised that there is somebody? Because a second ago nobody was around.
"It was a brilliant situation from Naby and then the gaps are open."