Jurgen Klopp has superbly outlined how he views the transformation of Liverpool's fortunes since as manager, with togetherness at the club key.
Klopp has now been in charge of the Reds for three and a half years, during which time he has taken them from languishing in 10th place to one of the best sides in Europe, reaching two European finals and (at least) another semi-final.
When Brendan Rodgers was dismissed in October 2015 there seemed so much wrong both on and off the pitch at Anfield, but all those issues have been eradicated with Klopp at the helm.
Speaking in a brilliant interview with Soccer AM, the boss sought to answer what it is he has changed, saying improving relationships among players and staff has been particularly important:
"I came in and found a sleeping giant. People were in a good mood but not in the best mood.
"I didn't change a lot in the beginning, I just wanted to learn about the club – what happened so far? Why didn't it work out before?
"Everybody sees what a brilliant manager Brendan Rodgers is, so it was clear that it wasn't about him, which meant there was something else.
"That's what we tried to understand and then changed step by step.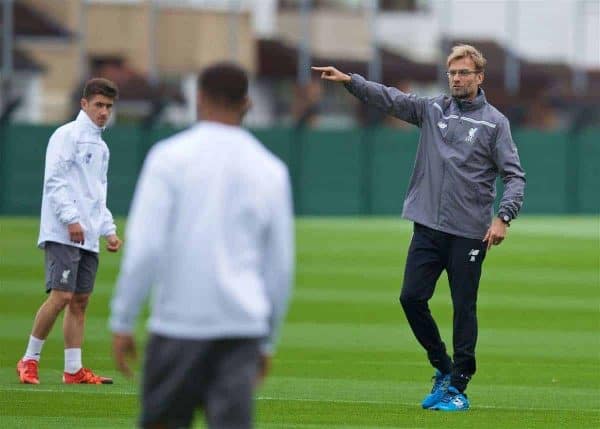 "Since I've come in, the biggest change is the atmosphere at Melwood – we love, love, love coming here in the morning!
"The club gave us such a wonderful opportunity when they made a training camp in Tenerife with a couple of players during the international break, and all the staff and their families came, too.
"We are so close here, we know everything about each other so it's really nice. The basis for us every day is to go and fight for ourselves and these people as well, and for the families and fans.
"That's a starting point, apart from that it's about football. Everybody knows I'm not a genius, it's just the better the players are, the better we can play football.
"We already had really good players (when I arrived) and brought in a few new players – we all love the situation at the moment and it's not even halfway finished.
"We feel in a proper way but there is still a lot to come and I'm really looking forward to it. I don't know what I transformed but we love what we do and that's a good basis for everything."
While Klopp is yet to deliver silverware at Anfield, you'd have to be foolish not to realise the progress and overall transformation of the club that has taken place while he has been in charge.
Credit should also go to the club's owners, the sporting director and all those behind the scenes, but it is Klopp who has been the changing force for Liverpool's very bright future.
The Reds are perilously close to enjoying a historic season, but either way this campaign ends, this is the start of something special on Merseyside.