Liverpool are reportedly set to agree a long-term kit deal with Nike that would exceed the record income set by Man United's £750 million Adidas agreement.
The Reds' current terms with New Balance are due to expire at the end of the 2019/20 campaign, and talks have been underway regarding either an extension or an alternative.
Given the club's commercial success and their improvements on the pitch under Jurgen Klopp, the ambition has been to surpass the Premier League record set by United when they signed with Adidas.
They are currently earning £45 million a year with New Balance, but according to ESPN's Mark Ogden they could switch kit providers from 2020/21.
Both Puma and Adidas are said to have been involved in talks with Liverpool, but Nike are "leading the battle" due to "their readiness to put the club in the same earnings league as United."
The two parties are "deep into negotiations," Ogden claims, and this could earn them over £75 million a season.
Nike's current biggest kit deal is with Barcelona, which earns the Liga giants £100 million a year for 10 years, while their largest in the English top flight is with Chelsea, at £60 million a year for 15 years.
Liverpool would reportedly command a larger fee than the Blues as a result of "the rarity value of their kit deal becoming available," but they are "unlikely to clinch a package of the same magnitude as Barca."
Adding to this news, the Independent's Simon Hughes explained that New Balance are "unwilling to go beyond £75 million [a year] to sign a new one," but "Nike can."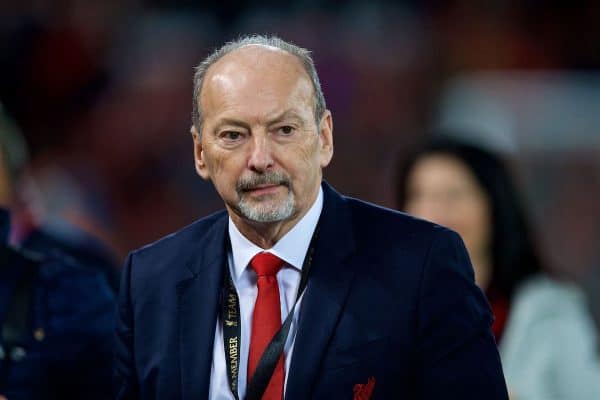 Speaking in January, CEO Peter Moore confirmed the club were "entertaining offers" away from New Balance, with their aim to "build upon what we already have."
"It's an important part of our overall commercial makeup," Moore explained.
"Not only for the revenue it brings, but live-and-die soccer fans [care] about their kit manufacturer and designs as part of how they show themselves as fans," he explained.
"We think we are uniquely placed right now to build upon what we already have with New Balance…we think it's a great opportunity to build on our global distribution."
This would be the first time Liverpool's kit has been provided by Nike, who also currently manufacture kits for Tottenham, Brighton and Man City. The champions' deal expires in 2019, after which they change to Puma.
For Liverpool, a deal for this amount would signal their return to the top status among European clubs, however, some fans are concerned at Nike's somewhat generic kit designs at other clubs.
One area that New Balance have been good at is producing good, unique kits for Liverpool.