Eden Hazard appears to have hit peak form at a timely stage as Chelsea head to Liverpool, and Jurgen Klopp is wary of ensuring his side have a plan to stop him.
Hazard has scored seven and assisted two in his last nine games for club and country, and produced a stunning display as the Blues beat West Ham 2-0 last time out in the Premier League.
The Belgian has long been a thorn in Liverpool's side, with six goals and eight assists in his 17 appearances against Sunday's opponents, including four goals at Anfield while with Chelsea.
It will be difficult to keep him quiet regardless, and Klopp is aware of that, but speaking at Melwood on Friday the manager insisted he would have a plan.
"We'll take 13 players this time, and two of them play only against Eden!" he joked.
"No, the best way to try to make sure he cannot shine as he is able to is to avoid passes to him, react a little bit better than maybe other teams did.
"I'm really not saying it's easy, because when he has the ball it's already pretty much too late.
"We have to try to read the game, read the passes and stuff like that, a couple things to do.
"But in a one-on-one situation you can't defend him, you should [get] help from somewhere else.
"I like footballers like this, so if he plays his best game we'll have to deal with that.
"If we make sure they cannot play as well as they usually do maybe then it's good for us, so we will see."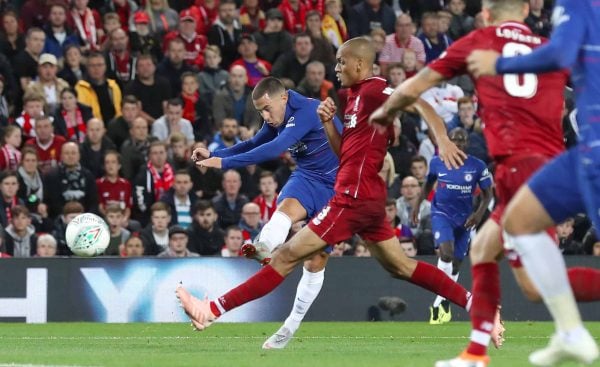 Klopp did not hide his admiration for the 28-year-old, who scored in the last meeting between the two sides in the 1-1 league draw in September, describing him as one of "the world's best."
"On his day he can be the world's best, immediately, that's how it is," he said.
"He had a brilliant career so far, 100 percent, it's not over yet.
"He has a lot of things I really like in football, I like his joy, he's kind of cheeky as well, strong, quick—he's a good player!
"But like all good players, they have to play against us as well, and we have to try everything to deny at least a couple of his skills. That would help us, obviously."
Hazard was left out of Chelsea's starting lineup for Thursday's 1-0 win at Slavia Praha, although he came off the bench to play 31 minutes in Prague.