The media praised Liverpool's resilience as well as the tactical use and performances of the Reds' full-backs after the late 2-1 win over Tottenham.
In a season of dramatic wins, the Reds added another to the collection with a remarkable last-gasp victory to move back to top of the Premier League table.
Just as it seemed two points would be dropped in a costly draw, Toby Alderweireld's own-goal in the last minute of the 90 gifted Klopp's men a truly priceless three points.
Spurs will feel hard done by to have left Anfield with nothing, but another decisive moment at the death going Liverpool's way once again will only increase belief that this could well be our year.
Six finals remain for the Reds, starting at Southampton on Friday night, but before attention turns to that huge game here's how the media assessed a crucial win over Spurs.
The media lauded Liverpool's relentlessness in the title hunt after another late show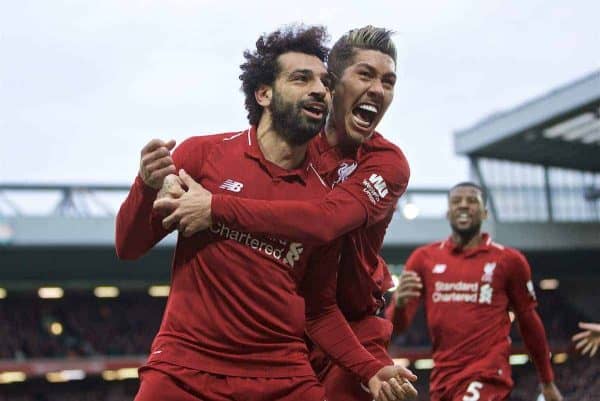 The Independent's Miguel Delaney credited the Reds for holding their nerve under and thought it was a win that highlighted the importance of Liverpool's resilience.
That was the extra pressure of this pulsating, wild match that they do deserve extra credit for.

[…]

They had mostly been the better side, but that will only add to the sense of vindication and resilience in Liverpool.
ESPN's David Usher thought the "fight and resilience" was the best aspect of the performance and insists this spirit "is something every Liverpool fan should be proud of":
The fight and resilience of this team is something every Liverpool fan should be proud of.

At 1-1 they looked in trouble and Spurs had chances to win it, but Klopp's men dug deep and found a way to get the three points.
The BBC's Phil McNulty praised the Reds for maintaining belief to overcome morale damaging set-backs through the course of the game:
And yet credit to Klopp's side. Just as they did by winning 2-1 with a late penalty at Fulham in their last league game, they refused to lose the belief that they could win.
The Mirror's Andy Dunn complimented the Anfield crowd for playing their part in driving the team forward, noting how this gave Klopp's side an added force:
They made this game feel like a final, like a title decider, they will make every game here between now and the end of the season feel exactly the same.

And that is the sort of lift a team can only appreciate. That is who it should be.
Reporters praised Klopp's use of Andy Robertson and Trent Alexander-Arnold and their respective displays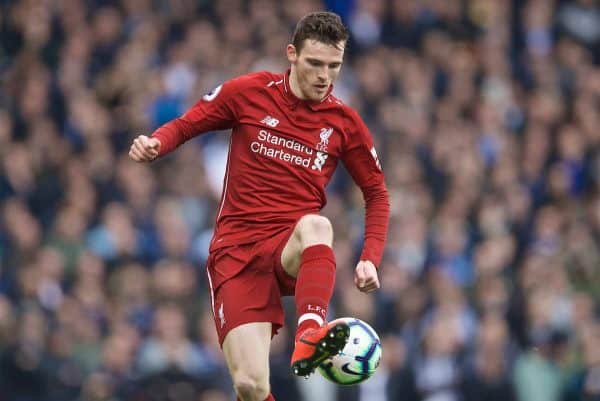 The Independent's Simon Hughes assessed the full-back duo as key to Liverpool's play and breaking Tottenham down, explaining how their distribution is crucial:
Though Liverpool were fortunate, they did still keep going: knocking balls into the box and putting pressure on Tottenham's defence. The winner came from a cross by Trent Alexander-Arnold and their opener was delivered by the other full-back in Andy Robertson.

Throughout, the deep passes into the channels from both full-backs helped wear their opponent down, turning defenders towards their own goal and testing their legs as well as concentration. Maybe the drain of this explains why Alderweireld couldn't adjust his legs quickly enough in those dying seconds, securing Liverpool's victory.
The Telegraph's Chris Bascombe explained how the athleticism of Robertson and Alexander-Arnold allows them to do the job of two players, thus bringing the best of Sadio Mane and Mo Salah:
Without Robertson completing the job of two players on the left, Sadio Mane would not have the independence to drift inward.

Likewise Salah, whose development as a wide striker is only possible because of the confidence tracking back is easier with Alexander-Arnold completing 100 metre sprints to Olympian standard.
Our man Karl Matchett felt the defensive pair won the battle up against Tottenham's wing-backs:
It was Spurs who started with a back three and thus, by name at least, wing-backs—but it was Liverpool's full-back duo who were the more advanced more scheming, more important and more effective.
Discussing the respective individual performances, TIA's Henry Jackson assessed Robertson as Man-of-the-Match:
The Scot's wonderful cross allowed Roberto Firmino to head the hosts into the lead and he now has nine assists in the Premier League this season – only Eden Hazard and Ryan Fraser have more.

Defensively he was also strong, making a massive block to deny Christian Eriksen, although struggled to get forward as much in the second half after Spurs' half-time change in shape.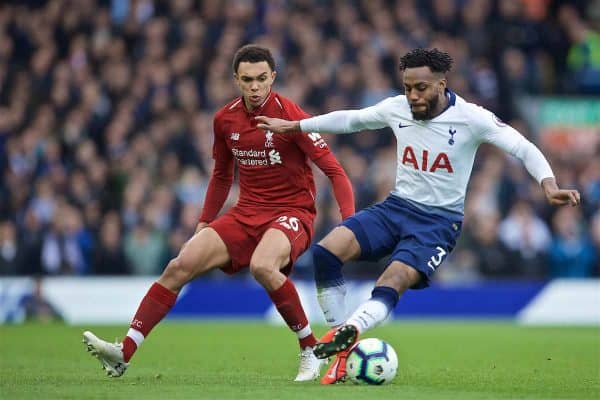 Football365's Steven Chicken focussed on Alexander-Arnold's influence and feels it's no coincidence" that the Reds' January wobble came while the right-back was out:
It's no coincidence that Liverpool's nano-wobble in January and February came when Trent Alexander-Arnold was out injured.

The three draws against Leicester, West Ham and Manchester United all came in his absence, and that's because in the absence of a number 10, he and Andrew Robertson are so often the creative heartbeat of this Liverpool side.
Away from the full-backs, the Liverpool Echo's Ian Doyle took time to reflect on Virgil van Dijk's breathtakingly good piece of defending which saved the game:
But Van Dijk was aware Son had the better opportunity and gambled on Sissoko demonstrating why he has scored precisely one goal in three years.

[…]

But there will not be a more intelligent, composed piece of defending seen in the top flight this season.
And reflecting on the match-winning moment up the other end, Standard Sport's David Lynch thinks Mohamed Salah's involvement in the winner could reignite the Egyptian's form:
But the Egyptian still deserves huge credit for forcing the error by producing an on-target header from a back-post cross that initially looked to have been overhit.

[…]

Yet his involvement in what could be such a vital moment in the title race could well provide a route back to goalscoring form for the usually prolific winger.
The watching journalists were slightly less impressed with Liverpool's midfield display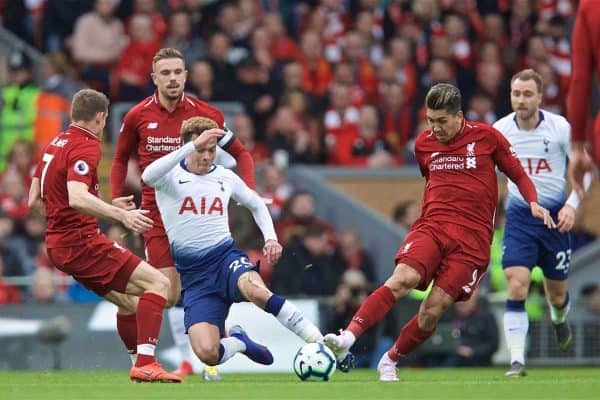 Jackson thought Klopp didn't have his best afternoon tactically and questioned the decision not to start Fabinho:
Klopp deservedly earns endless praise for the job he is doing, but he got away with one on Sunday.

The German's decision not to start Fabinho was a head-scratcher and it so nearly proved fatal, with the midfield not up to speed.
Matchett labelled it "not an impressive match in the centre of the park", explaining how the central trio struggled both on and off the ball:
Ball use all game long was largely poor from both James Milner and Jordan Henderson, but neither offered any kind of movement beyond Spurs' own midfield line either.
Gini Wijnaldum did early in the second half, a few times, and then later when stationed out on the right flank, but this was not a controlling performance borne of central dominance.
However, Hughes disagreed and praised the selfless role Liverpool's midfield play in allowing Robertson and Alexander-Arnold to flourish:
To understand the contributions of Robertson and Alexander-Arnold, perhaps, is to appreciate the energy and concentration of the midfield.

[…]

Liverpool's vision instead comes from the wide areas where Robertson and Alexander-Arnold are permitted to stream forward and in the interest of balance and protection, this justifies the German manager's preference particularly for Wijnaldum and Milner who are able to help with the space left behind whenever that happens.
Matchett also felt Fabinho's impact showed why the Brazilian should be a mainstay in Liverpool's midfield:
On the plus side in midfield, the game changed radically and entirely after Fabinho's introduction.

Immediately he brought more aggression, more intent to regain possession and a far greater athleticism in closing, tackling and stopping Spurs' momentum. There can be no reason remaining, other than injury, to leave him out of the lineup going forward.
After another key weekend in the title race, reporters discussed the differing approaches to the run-in between the Reds and Man City

First of all, writing for Goal.com, Neil Jones explained how Liverpool have come through their toughest remaining fixture and feels pressure is now on City to do the same:
They'll need to improve on this showing but, in theory, they have negotiated their toughest remaining test. Not many sides will play as well as Spurs did here.
ESPN's Mark Ogden explained how raw emotion of being so close to glory is driving Liverpool on:
Liverpool simply don't know how to play in a lower gear.

[…]

It seems like they only have one speed — fast — and the emotional element, which fuelled the win-at-all-costs football that proved their downfall in the 2013-14 title race under Brendan Rodgers, is a huge part of Liverpool's DNA under Jurgen Klopp.
And Ogden then discussed how this contrasts with a more business-like approach from Pep Guardiola's side, which he attributed to City's previous success:
Man City are hardly blowing teams away in the title race, but the champions appear to be in control of their destiny.

[…]

Perhaps it is because they have a squad of players who know how to win titles that there is no sense of chaos with Guardiola's team.
The Liverpool Echo's James Pearce thinks the Reds' ability to win without being at their best is crucial, and explained how this late victory will have been a "body blow" to City:
The race remains in City's hands but the sight of yet another Liverpool late show will be a body blow for the champions. Crucially, it means they have no margin for error.

One slip up during a gruelling April schedule as they continue to challenge on three fronts and suddenly Liverpool will be masters of their destiny as long as Klopp's men continue to take care of their own business.
But Ogden later questioned whether Liverpool's emotional style and lack of control, is sustainable in a title race:
When Salah wheeled away celebrating Alderweireld's own goal, the Egyptian forward knew how big a moment it could turn out to be, but can Liverpool continue to play like this over the final six games?

Can they continue to be so reckless against the likes of Chelsea and Wolves, who are still to visit to Anfield?
Finally, after seeing another freak moment with Alderweireld's own-goal fall Liverpool's way, Hughes thinks the necessary luck may well be with Klopp's side:
Liverpool had not deserved to lose to City but victories over Everton and Tottenham were secured when draws would have been much fairer, an illustration of pure luck coming a team's way when it really, really matters. You do wonder… how will this end up?