Sixty-two percent of MPs in a recent survey have backed the introduction of safe standing in the Premier League, and clubs are said to be already making plans.
Currently, all-seater stadia are required for clubs in the top two tiers of English football, as a product of the Taylor Report in the wake of the Hillsborough disaster.
With clear evidence of the success of safe standing and in particular rail seating at clubs both in Europe and in Scotland, however, there have been increased calls for a change in the laws of late.
In August of last year, the Football Association were said to be in favour of this proposal, while in a YouGov survey this week it has been found that the majority of MPs asked were of a similar mindset.
The Press Association report that 62 of 100 taking part in the survey voted in favour of safe standing, with only 22 against as the remaining 15 were undecided.
This figure rose to three-quarters when asking those who "consider themselves football fans," which is on par with the findings of a study of 2,000 adults.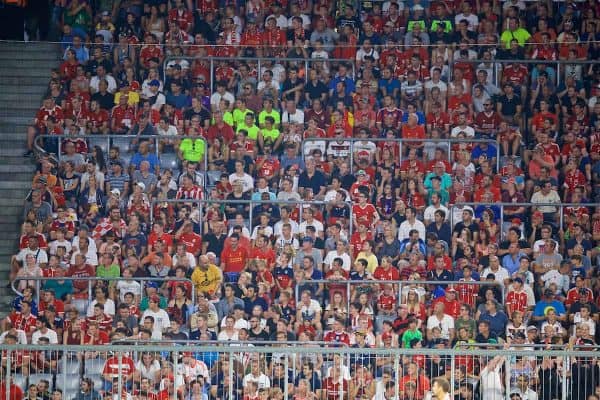 Clearly, there is firm support of the introduction of safe standing, with question marks over the safety of all-seater stadia given many supporters prefer to stand regardless.
And according to Michael Burnett, managing director of fixed spectator seating experts Ferco Seating, a host of clubs in the Premier League are looking into installing rail seating in time for next season.
"There are two aspects to it. Firstly, it produces the right crowd experience and secondly it might even provide additional revenue for the clubs," Burnett explained.
He referenced the instalment of rail seating in Tottenham's new stadium—despite the inability to utilise it for football games—as proof of the government "nearly admitting that they want to change something."
When asked which clubs Ferco Seating had spoken to, he simply stressed that they were "not in the relegation zone."
Molineux will be one of the first @premierleague grounds to pilot a selection of seating options that could be used for safe-standing should legislation change.

— Wolves (@Wolves) 28 January 2019
In January, Wolves became the first Premier League club to test rail seating when they installed a series of options at Molineux.
"As a club we are keen to be at the forefront of innovation and progression," Wolves' managing director Laurie Dalrymple said.
"So the opportunity to install these examples of potential safe-standing solutions was one that we were very happy to explore
"Whilst the seats themselves will not be operational or used at matches, we are now able to give our Fan's Parliament group and local authority the opportunity to view all the options before some of these solutions become commonplace in UK stadiums."
In 2017, 88 percent of nearly 18,000 Liverpool fans voted in favour of rail seating in a poll conducted by Spirit of Shankly.