The media praised Liverpool for exorcising ghosts of 2014 and delivering such a dominant performance under pressure in the 2-0 win over Chelsea.
The Reds produced a stunning response to Man City's earlier win at Crystal Palace with a fantastic three points to regain top spot.
A blistering second-half display saw Sadio Mane score a header and Mohamed Salah almost break the Kop end net with one of the goals of the season to earn the crucial victory.
It was a superb performance from every single player, roared on by an incredible atmosphere at Anfield, and Liverpool are going nowhere in this final sprint for the title.
Here is how the media assessed the victory.
The media reflected on a great win and thought the Reds proved they are a "different beast" to 2014…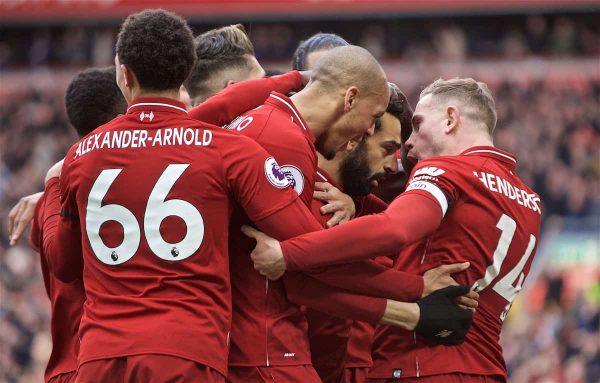 Following up on the narrative of the game, the Mirror's Rich Jones was one of many who wrote how the Reds "banished the ghosts of 2014":
"Despite taking time to find their opener, Jurgen Klopp's side were patient, controlled and assured as they avoided any slip-ups this time around.

"They banished the ghosts of 2014 still haunting those involved with their infamous late collapse and there will now be a renewed hope things will end differently this time around."
The Liverpool Echo's James Pearce lauded how this Reds side can keep their nerve and display resilience at key moments:
"The class of 2018/19 proved they really are a different beast.

"This lot possess nerves of steel. There's inspiration and perspiration in equal measure. There's resilience, balance, maturity and composure in abundance."
Writing for Goal, Neil Jones applauded Liverpool's composure despite the increasing pressure, and explained that Klopp's side have the belief of a title-winning side:
"As the tension grows, Jurgen Klopp's side are keeping their heads. They're comfortable where they are, comfortable with who they are. They look like they believe."
The Mail's Ian Herbert thinks Klopp is managing the title race better than Brendan Rodgers did, by keeping expectations in check to relieve pressure on the players:
"What is happening this time feels materially different.

[…]

"Klopp is so averse to raising expectations that talk of a title has become tantamount to slander in his court and this was the day when an ice cold equanimity truly told."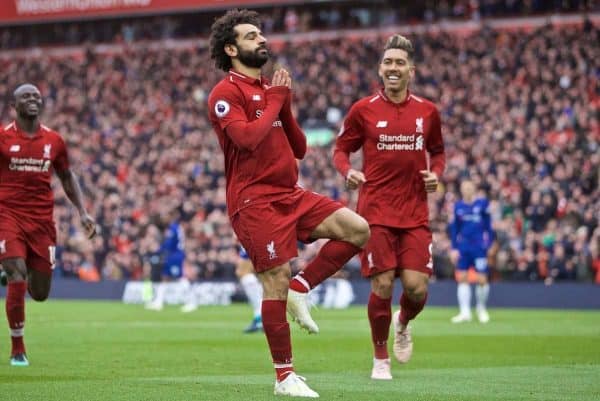 Discussing the contrasts between the current title push and that of five years ago, BBC Sport's Alistair Magowan explained how the attitude of the Anfield fans has developed to help the team for the better:
"There are many ways in which this Liverpool team is different to the 2014 one, not least in terms of experience, but the approach of fans and the club has changed too.

[…]

"For home games, they surrounded the team bus down the Anfield Road approach to the stadium, lending matches a carnival-like atmosphere. Being in the hunt for this year's Premier League appears more normal. Of course the club are desperate to end their long wait, but with Manchester City two points behind with a game in hand, there are no premature celebrations."
ESPN's Mark Ogden was one of the only reporters to discuss the impact of the result on the title race, and he thinks City will eventually buckle under the pressure of chasing the quadruple:
"In short, City have no margin for error and although they have won 12 of 13 league games in 2019, the pressure on them to keep winning is becoming more and more intense.

"Their energy levels, both mentally and physically, are being drained by the heavy fixture demands of chasing the Quadruple and they must somehow beat both Spurs and United in their next two games to tilt the title race back in their favour."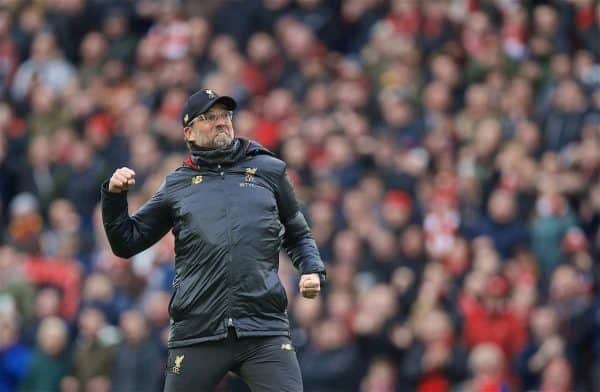 On a weekend full of tedious narrative, the Liverpool Echo's Ian Doyle made the best point, writing that Klopp's side is "writing its own history":
"This, in particular, was a huge victory for the Reds, burying the ghosts of five years previous and providing further proof this team, as Klopp has insisted, is writing its own history."
Reporters were impressed with Liverpool's dominance of such a pressurised fixture…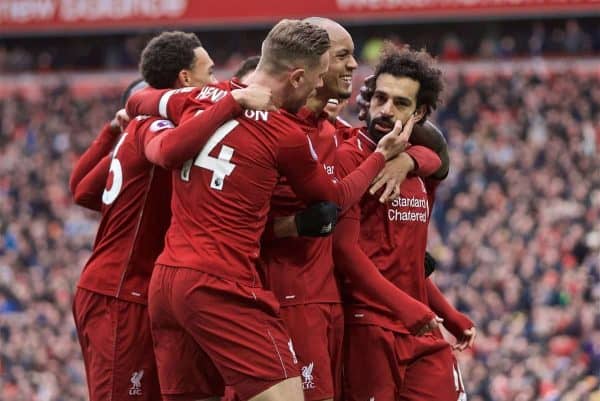 Our own Karl Matchett lauded a "performance of consummate poise":
"Sunday evening, Anfield, it was the latter: the Reds were in control throughout and rarely looked troubled, save for 10 minutes after going two up.

[…]

"This was a performance of consummate poise, a confident, deliberate and absolute domination of a supposed rival."
The Independent's Mark Critchley was most impressed by Liverpool's composure to deliver such a second-half display given the frustrating first 45:
"Liverpool, though, did not allow themselves to be overcome by either.

"A team in their position could easily have allowed the first goalless 45 minutes of this game to rattle them. Their response was to all but win the game eight minutes after the re-start."
The Mail's Dominic King thought the most impressive aspect was how the Reds were clinical and removed emotion from the occasion to play with such control:
"Salah might have produced a goal for the ages but the bedrock for this performance was hard work and a refusal to panic; they were clinical and removed from the emotion, staying in control during a first half the resembled the tentative early rounds of a heavyweight fight."
And discussing Liverpool's controlled displayed, Magowan feels a key reason to the Reds being better placed for glory this time is the greater tactical flexibility of Klopp's side:
"Klopp's side now, like Rodgers' then, are arguably the best attacking team in the league, but they are more tactically flexible and also know when to bide their time rather than getting frustrated if they cannot score early."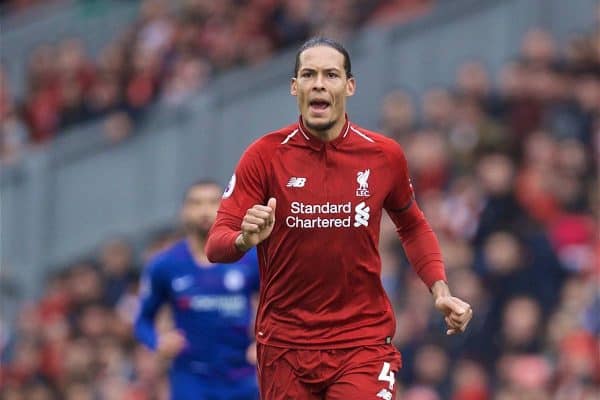 Following that point, the Evening Standard's David Lynch praised the Reds for not getting sucked into the game Chelsea wanted, and said that Liverpool's patience showed how this team are better than 2014:
"This time, however, Liverpool refused to fall into the trap, showing the patience and quality that eluded their predecessors at the vital moment five years ago.

[…]

"If there was ever any doubt about the fact this team is far superior, today's game served to completely end the debate."
Lynch also praised Klopp's work in ensuring the Reds kept control by making shrewd subs introducing James Milner and Gini Wijnaldum:
"Once Wijnaldum and Milner arrived, the visitors struggled to get near the Liverpool goal as common sense possession and intelligent positioning in the middle effectively ended the game as a contest."
The watching journalists were in awe of Salah's goal and praised his excellent recent form…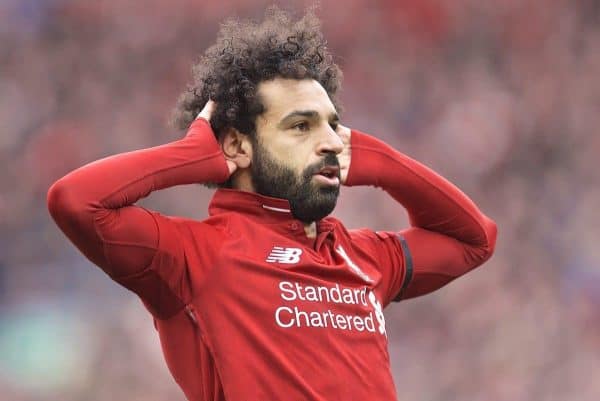 Our own Henry Jackson labelled it "of the great Kop end strikes":
"Liverpool's No. 11 always looked like making things happen and his outrageous goal, Liverpool's second of the day, will go down as one of the great Kop end strikes."
Ogden thinks it's a goal that epitomises the belief of Klopp's side and one that could prove decisive in bringing the title to Anfield:
"It was a moment that showed Liverpool are playing with the confidence and freedom to try such audacious efforts on goal and, unless Klopp's team slip over their final four games, it could be the one that goes on to define this title race."
Magowan praised Salah for producing such a stunning goal at a decisive moment in the heat of the title race:
"And the shot that doubled the hosts' lead will live long in the memory as one of Anfield's great goals. Not only was it sublime in its execution, but it was hugely significant in the title race, showing Liverpool are not the same side as five years ago."
Lynch analysed the changed technique of Salah's strike and thought that the goal was the Egyptian's best for Liverpool:
"The Egyptian has scored some memorable goals since joining Liverpool, but usually opts for a deft curl or gentle sidefoot in sending the ball into the back of the net.

"In going for pure power this time, however, Salah scored arguably his best strike since moving to Anfield in the summer of 2017."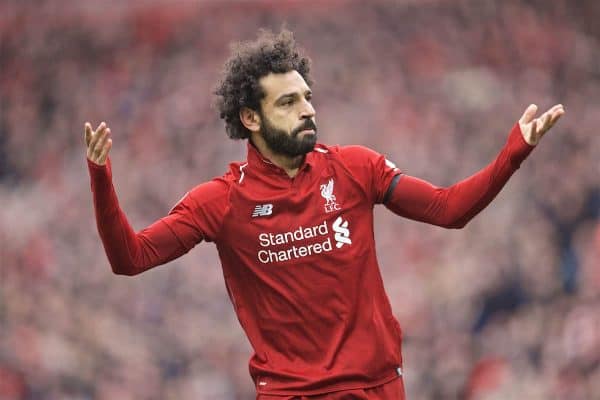 Doyle reflected on the big, match-changing moments Salah has delivered in recent games which have guided the Reds through a tough period:
"Liverpool have now come through the toughest period of the run-in unscathed.

"And Salah has been integral, forcing the late own goal against Tottenham Hotspur, netting the crucial second against Southampton and then conjuring this astonishing goal of the season contender."
The media can't get enough of Liverpool's new-look midfield after watching another dominant display…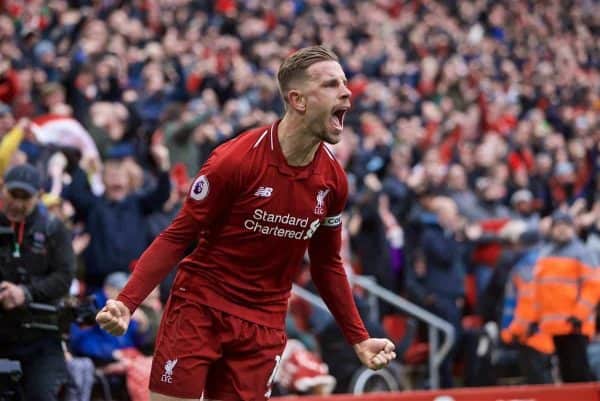 Lynch thinks the Fabinho-Keita-Henderson trident makes for a "perfectly balanced" midfield and says that this should be Klopp's first-choice unit for the rest of the season:
"A midfield of Naby Keita, Jordan Henderson and Fabinho has energy, creativity, nous and steel – the ingredients of a perfectly balanced engine room.

"And for that reason, fans should expect to see those three players in the starting lineup together regularly until the end of the season."
Herbert singled out Fabinho for praise, lauding the Brazilian's work in nullifying Eden Hazard:
"Standing in the Gerrard space was Fabinho, a player who epitomized the Liverpool team's composure as much as any. The headlines will be taken today by Mohamed Salah and Roberto Firmino, a quite outstanding contributor in the second half, but the Brazilian was key to the shackling of Hazard."
Critchley thinks that Klopp's prolonged use of Henderson as No. 6 is the German's biggest error of his tenure, but feels it's fitting the captain is having such an influence after missing the 2014 run-in:
"Is the biggest single mistake Klopp has made as Liverpool manager playing Henderson as a No. 6 for two-and-a-half years?

[…]

"His absence from the Chelsea game through suspension that year was seen as decisive by many, not least Rodgers himself. How fitting, then, that Henderson should be the one to force the opening here."