Following Liverpool's comfortable 2-0 win over Porto, we discuss the key aspects from the Reds' latest Anfield triumph.
Jurgen Klopp's side rarely had to get out of second gear on Tuesday, easing their way to a win that puts them in pole position to reach the Champions League semi-finals for a second successive season for the first time since 2010.
Naby Keita and Roberto Firmino scored Liverpool goals in the first half, but the match petered out somewhat after the interval.
It was never the most spectacular European night on Merseyside, but it was a mature showing that again showed how far this side has come under Klopp.
After the game, Henry Jackson (@HenryJackson87) was joined by fellow This is Anfield regulars Joel Rabinowitz (@joel_archie) and Matt Ladson (@mattladson) to pick out the positives and negatives from the match, and to discuss the midfield personnel against Chelsea on Sunday.
The good…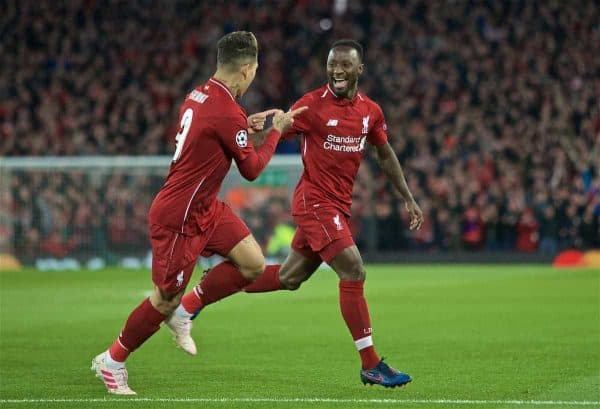 JOEL: The result puts Liverpool in a really strong position for the second leg, and keeping the clean sheet was massive.
It means Liverpool only have to score once in Portugal and Porto would need four goals without reply.
It was never going to be as straightforward as last season, but this was a professional job, even though there's still work to do.
Individually, I thought this was Naby Keita's best display in a Liverpool shirt. He has scored in consecutive games now and looked much more confident in his own ability, both on and off the ball, which was really encouraging to see.
Jordan Henderson also excelled and I would like to see more of him in that advanced midfield role, where I think he's best able to showcase his strengths.
Virgil van Dijk was typically magnificent, but then he always is.
HENRY: It was a really professional win, which I loved. Liverpool have had too many dramatic games of late for my liking.
It felt as though they could find another level if they fancied and they have put themselves in a great position to reach the semi-finals.
I agree with Joel in his assessment of several star performers.
I thought Keita was excellent, particularly in the first half, and there are definite signs that he is starting to play with more confidence.
Henderson also looks a man possessed in more attack-minded midfield role, biting into tackles and producing a lovely in the lead-up to the second goal.
Van Dijk and Roberto Firmino were the other standouts, although Mohamed Salah also did well, despite not scoring.
To win a Champions League quarter-final in such routine fashion shows how far Liverpool have come.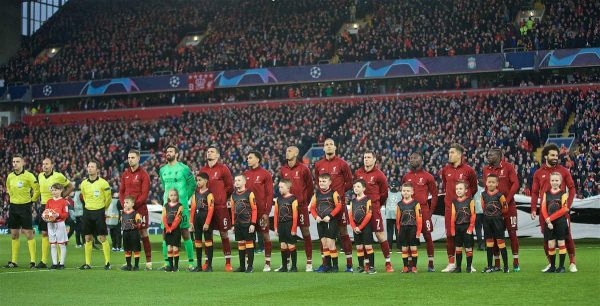 MATT: I fully expect us to score in the away leg, so the tie *should* be done. However, another goal last night would have meant we could have rested a player or two next week. Not to worry though.
But resting players was another positive for last night, with Robertson, Wijnaldum and Matip all getting a needed break.
Keita always looked like a player who need that first goal to get his confidence going and now it's finally arrived we'll hopefully see more of his best attributes – if only he'd scored earlier in the season!
I thought Firmino was superb, while Fabinho was just tackling effortlessly in the middle there – a true 'DM'!
It was 'good' to go to a game without feeling like the world would end if we didn't win…!
The bad…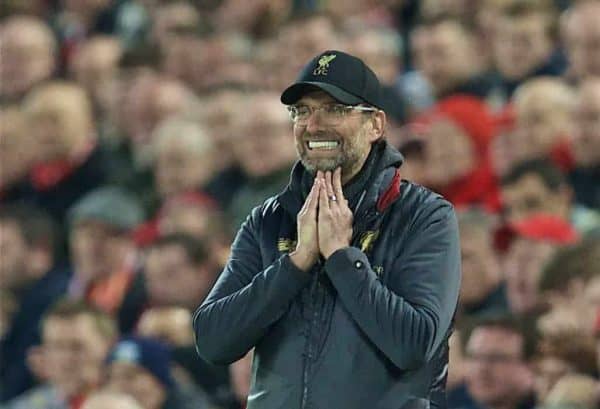 JOEL: While the result was pleasing, the performance was a little ragged at times and Porto did cause a fair few problems for Liverpool.
Were it not for a couple of vital interventions from Van Dijk and Alisson, Moussa Marega could have had a couple for them and the scoreline may have looked rather different.
The Reds were a touch fortunate with a few VAR decisions as well – I didn't think the Trent Alexander-Arnold handball was a penalty, but the Mohamed Salah tackle could feasibly have got him sent-off.
That would have been a major blow, but thankfully it went unpunished.
I would like to see Liverpool control the game a little better than they did and not allow as many opportunities.
HENRY: This was no Champions League classic, and like Joel says, the performance was a little lacking as the minutes passed.
That may have been deliberate, preserving energy ahead of the Chelsea game, but Liverpool did ride their luck a little at the other end.
Marega looked a real threat, and without the presence of the colossal Van Dijk and a big save by Alisson, it could have been a different story.
It was hard to find many negatives, though, and not one player performance even close to poorly.
MATT: The artic wind! Seriously, Jurgen spoke pre-match about it being sunny and spring was here, the world is great… it's sunny as we arrive then it turns absolutely baltic!
Away from the weather… Can't really grumble about anything. A third goal would've been nice, but then the tradeoff was being able to play at a lower tempo in-match which probably helps us more over this massive month ahead.
And should Gini Wijnaldum return to the midfield on Sunday?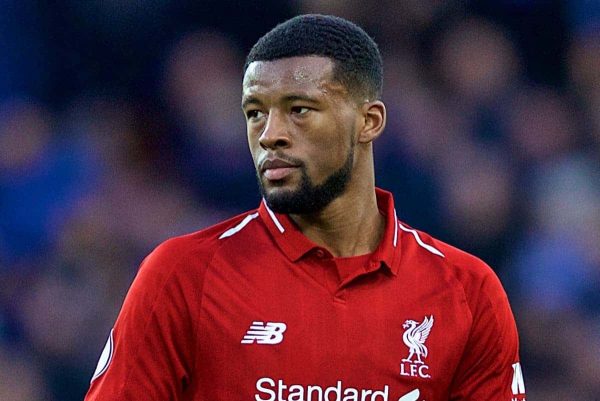 JOEL: This is a tricky one.
He has been well off the pace lately – hardly surprising given the amount of football he's played this season.
I thought the midfield against Porto worked really well together as a unit, with a nice balance of skill sets between Fabinho, Keita and Henderson.
I would be tempted to play the same trio against Chelsea, although I suspect Klopp will probably pick one of Milner or Wijnaldum and leave Keita as a game-changer on the bench if he needs him.
I think the manager will want a little extra defensive cover against Chelsea, especially given the form Hazard is in (and the fact he always puts in a 10/10 performance at Anfield).
HENRY: This is such a tough call because Wijnaldum has been Liverpool's best midfielder this season overall.
But he has fallen off a cliff by his high standards of late and the performances of Keita and Henderson will have given Klopp real food for thought.
My heart says to stick with the midfield that started against Porto, but I'm going to be a bit cautious and replace Keita with Wijnaldum.
That is desperately harsh on Keita, but he cannot be 100 percent trusted just yet, in terms of his off-the-ball work, and Sunday's game is just too big to take that risk.
Henderson has shown how important he is over the last two games in that No.8 role and his leadership skills will be vital in arguably the biggest game of the season so far.
Keita can be a great impact substitute if required, and the pressure will be massively on Wijnaldum to perform and not be ghost-like.
MATT: I say yes, more so because he's been rested here in midweek.
Like Joel says, he's played a lot of football – far more than any other midfielder, especially with always playing the full 90 for the Netherlands.
It's also Chelsea – and Hazard – so I'd be more inclined to go Fabinho-Wijnaldum, Henderson in order to protect the full back areas.