Jurgen Klopp praised the impact of his two 59th-minute substitutes and Liverpool's fighting spirit as they battled to win 3-1 at Southampton on Friday.
The Reds looked set to endure a miserable setback in their title fight after Shane Long's first-half strike at St Mary's but Naby Keita restored parity with a back-post header.
With the game gridlocked as the hour approached Klopp introduced Jordan Henderson and James Milner and the game changed from there, as Mohamed Salah scored the winner with his 50th Premier League goal for the club.
Henderson put the finishing touches on the win late on after great work from Roberto Firmino, and speaking after the game Klopp described the deciders as "world-class goals."
"The mentality, eh? It's brilliant. We come here and we know Southampton are a really different side since Ralph is in," he told reporters.
"And we know everybody expects that we need three points, and we knew how difficult that is.
"You saw it, the setup was 5-4-1—you can say it as 3-4-3, but it was 5-4-1—and that means you play against nine [defenders].
"Our problem was that we didn't push up high enough in the last line, so we left Fabinho around Long or Redmond instead of the two centre-halves.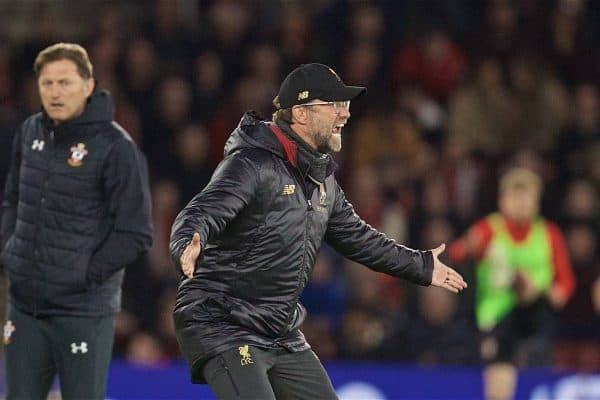 "They scored that goal, deserved, but after we adjusted a little bit to the situation that we wanted from the boys we were there, we won balls back, could play in better spaces, had our chances and scored a goal. Game on again.
"Second half they started again pretty lively, then I think they felt a little bit of the intensity of the first half.
"We could bring two very motivated and lively boys [on], I would say! That helped a lot.
"They push the whole team: they did it in the dressing room and they do it on the pitch.
"It was good to see the influence of the two, and then we scored these two world-class goals. What can I say?"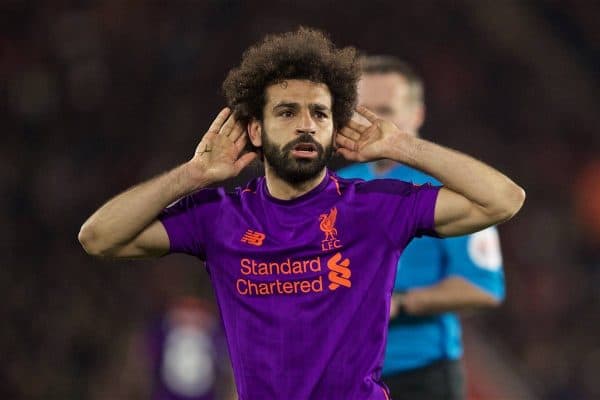 Klopp was asked about the significance of Salah's strike, coming after eight games without one and being his record-breaking 50th in 69 league outings for the club, and his answer was emphatic.
"It was never in doubt about [Salah] being a great player, from my side," he insisted.
"It was goal No. 50 for Liverpool, that's an incredible number.
"Of course as a striker you have chances, but each striker is a human being, maybe they have better moments and less-good moments.
"He is pretty consistent, very consistent in that the physical things are always there, but it's normal that you have to adapt to the situation.
"He always stayed calm to deal with the situation. It's only around us that it's a big thing; we don't really care about it.
"But it's a nice moment, for the first goal after a while. A really good moment."