Liverpool ran out final-day winners by two goals to nil against Wolves—but it wasn't enough to win the Premier League on a bittersweet day at Anfield.
Liverpool 2-0 Wolves
Premier League, Anfield
May 12, 2019
Goals: Mane 17′, 80′
---
Sadio continues to lead from the front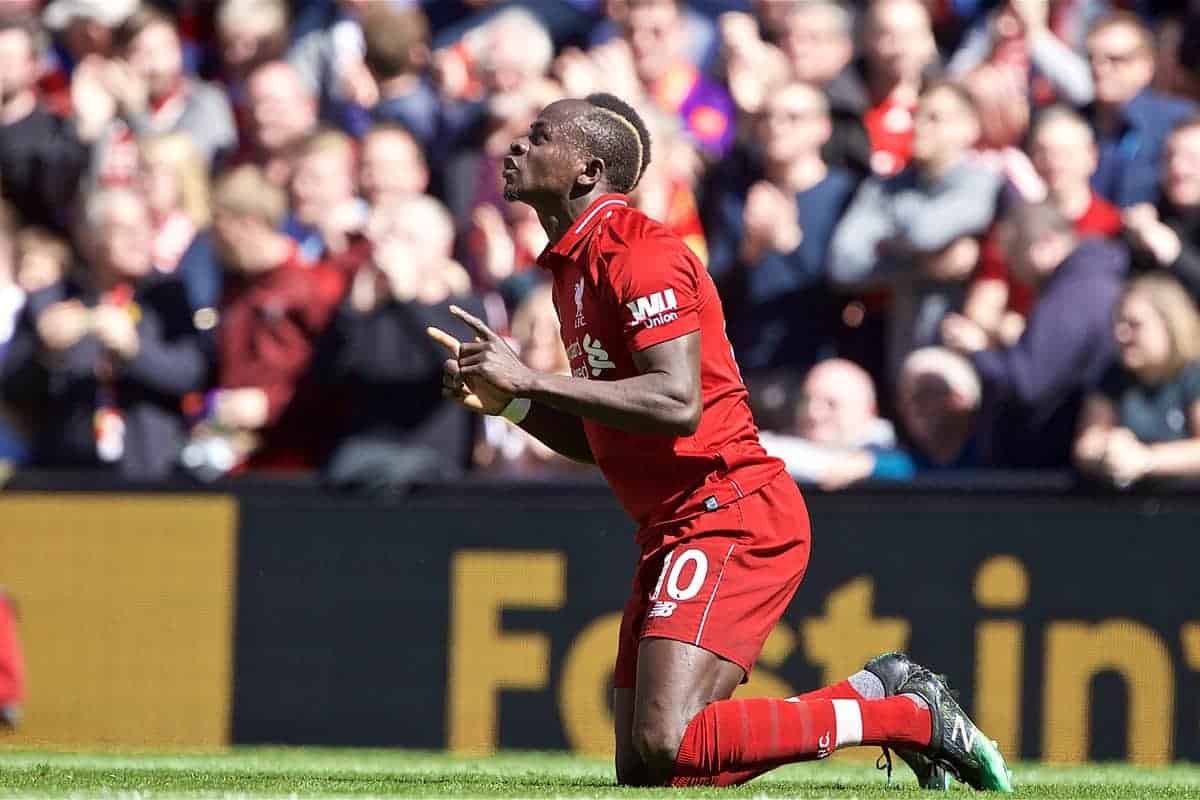 Another big performance from Sadio Mane, who so often has been the key man for Liverpool in 2019.
The No. 10, so important in midweek, got the goal to kick matters off in the best style at Anfield, finishing brilliantly after a trademark fine run into the centre off the left flank.
A brilliant header late on in the match sealed his double—and took him level with Mo Salah on 22 Premier League goals for the season.
Both those players deserve huge applause for a great goalscoring season, which sees them jointly land the Golden Boot award, alongside Arsenal's Pierre-Emerick Aubameyang, who also netted a final-day brace.
There's still one big game to come and it's vital that at least one, preferably more, of the forwards come up with a big performance.
Divock Origi couldn't quite add to his recent tally but worked hard, Roberto Firmino continues to work his way toward fitness and Salah indeed returned from injury.
All positives ahead of the Champions League final.
10 minutes thinking 'could it be?'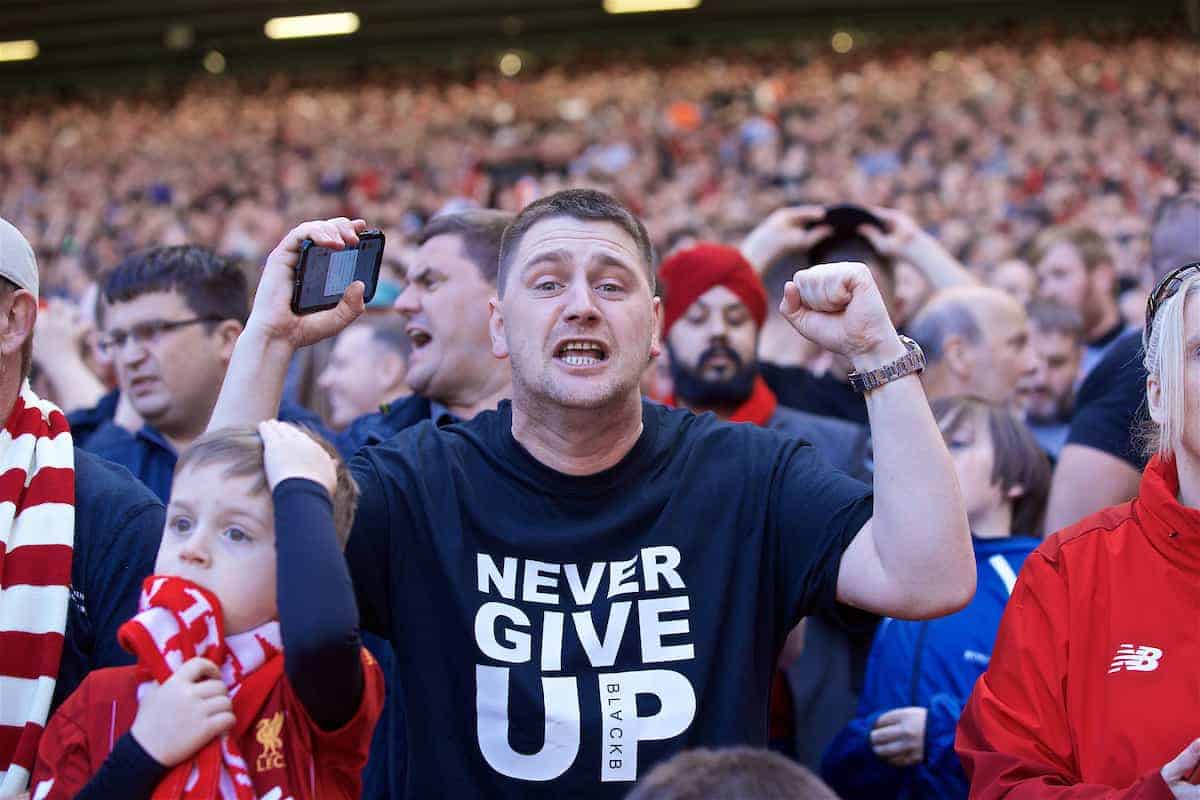 For just a short spell, it looked as though it might just happen. It was still unlikely, still improbable, but the hope was there.
Mane scored…and then so did Glenn Murray. Brighton were ahead, albeit only briefly, meaning Man City needed two.
That spell only lasted 10 minutes, as the again-now-champions found the goals they needed, but Anfield, for a moment, believed the impossible could happen again.
The songs were sung, the players were roared on, the smiles came out on the bench and in the stands.
And, admittedly, the performance levels dipped somewhat in that spell too, with possibility perhaps playing havoc with focus and professionalism.
It wasn't to be, not on this occasion, but the Anfield crowd was fantastic for the rest of the game, lauding the players for the incredible season they have managed to put together.
Alisson acclaim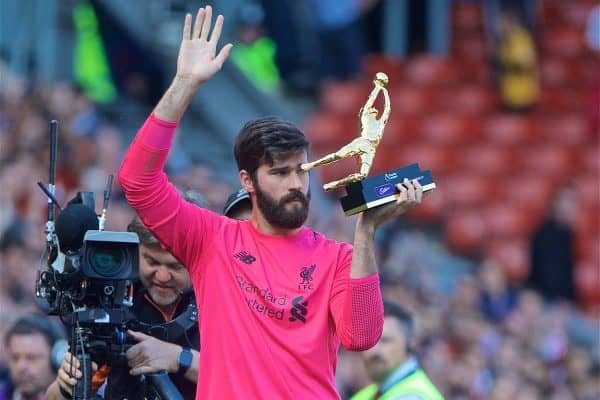 With all the acknowledgement, all the praise, all the rightful acclaim which goes the way of Virgil van Dijk on a week-to-week basis, it's appropriate that the final day of the season should see Liverpool's other defensive master heralded.
Alisson Becker comes to the end of his debut season at Liverpool winning the Golden Gloves award, keeping 21 clean sheets in 38 games, a quite fantastic figure.
He also ends the season with the league's best defensive record: 22 conceded, one fewer than Man City and Ederson.
And it wasn't by chance or fortune that his 21st shut-out came on the final day, either. As was the case in midweek, he made massive interventions at crucial times, thrice keeping Wolves at bay when the Reds were only a goal up.
A fantastic one-on-one save and a close-range catch were the two highlights, but once more it was Alisson's all-round aura, calmness and assured work on the ball which make him a stand-out.
The Brazilian is a monster goalkeeper and a true jewel in Liverpool's crown.
Title fights ahead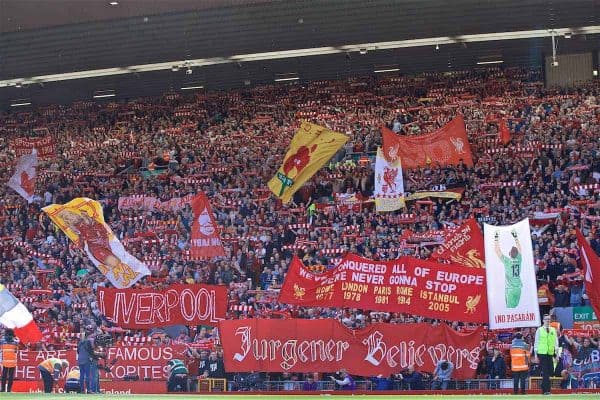 This isn't the last time, it's only the first time. Those words, said by Jurgen Klopp more than once, remain entirely true.
A Liverpool team which is built to challenge, not just in this Premier League campaign but far beyond, has gained more vital experience here.
Not just in terms of adding matches, a benign type of experience, but in terms of playing for something, being involved in the games which matter.
For Trent Alexander-Arnold, Joe Gomez, Fabinho, Alisson, Mo Salah, Andy Robertson…all these players, with years and years ahead of them, this is just another part of their growth and learning which will aid them for challenges to come.
And the next one is only a couple of weeks away.
An incredible campaign and one game to go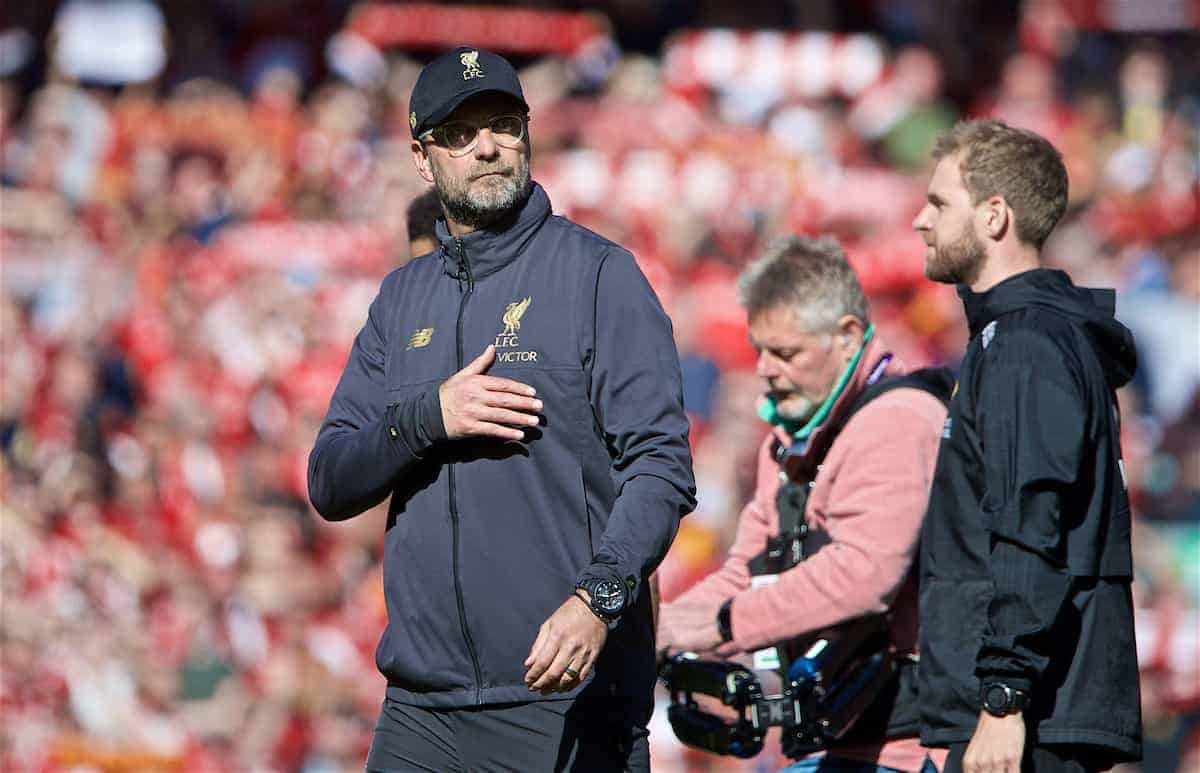 The steps taken forward this season are enormous. The points tally from this season to last is incomparable. The home form has again been team-defining. The players are better, the team is better, Liverpool are a major force.
This 2018/19 season has been magnificent, no mistake, and the huge applause the Anfield crowd afforded the team toward the final minutes goes to show that.
Liverpool aren't done, though.
The Premier League title has just evaded the Reds, by the smallest of margins, but another almighty prize lies ahead.
Players, coaches and even fans alike must regather themselves, mentally and physically, and come up with the game plan and the approach to tear Tottenham apart in Madrid.
This Champions League trophy must come home with Liverpool.
The season has been too good, the players too impressive and the team as a whole too strong to walk away with nothing but a massive glut of runner-up medals.
One game to go, one show of force and one big reward for a massive year of growth.