There is now little more than one week until Liverpool's Champions League final in Madrid against Tottenham—and thoughts now turn to who will play.
A year on from heartbreak in Kyiv, the Reds have another chance to lift No. 6 and end a truly remarkable campaign on the most memorable of highs.
This team has performed superbly in 2018/19 and silverware is surely deserved…but that means little when it comes down to a single 90-minute game, and Jurgen Klopp needs to get every decision perfect to ensure the Reds emerge triumphant.
Tactics, planning, recent form and fitness, coping with Spurs' key threats and more will all go into the choices of which Liverpool players should make the starting XI—so who do the fans think should get the nod?
This Is Anfield's Karl Matchett (@karlmatchett) spoke to Matt Ladson (@mattladson), Sean McGough (@SMcVII) and Gags Tandon (@GagsTandon) to predict who Klopp will opt for and discuss the main factors affecting change for the biggest, and final, game of the season.
First a look back at one year ago: are there more places up for grabs than for the final against Real Madrid? Does the squad feel better, or deeper, one year on?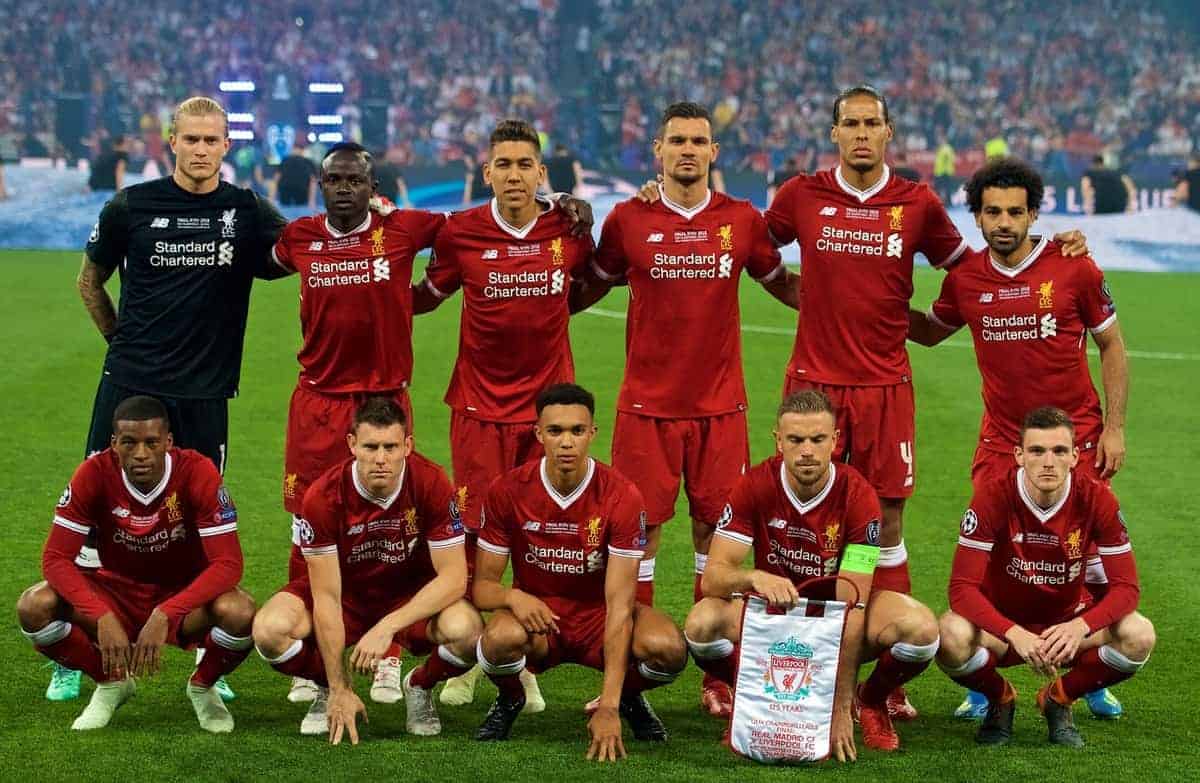 MATT: Our bench in Kyiv was pretty pathetic, highlighted by Lallana being the replacement when Salah went off early on. The other 'attacking' options were Solanke and Emre Can.
So our bench will be much stronger, but the starting XI somewhat picks itself just like it did a year ago. That probably says more about Klopp's belief in a smaller group and a well-defined starting lineup.
SEAN: Yes absolutely. The squad seems a lot healthier than last year.
Lallana coming on for Salah in last year's final shows just how threadbare we were by the final. There are genuine options this year and Klopp has decisions to make.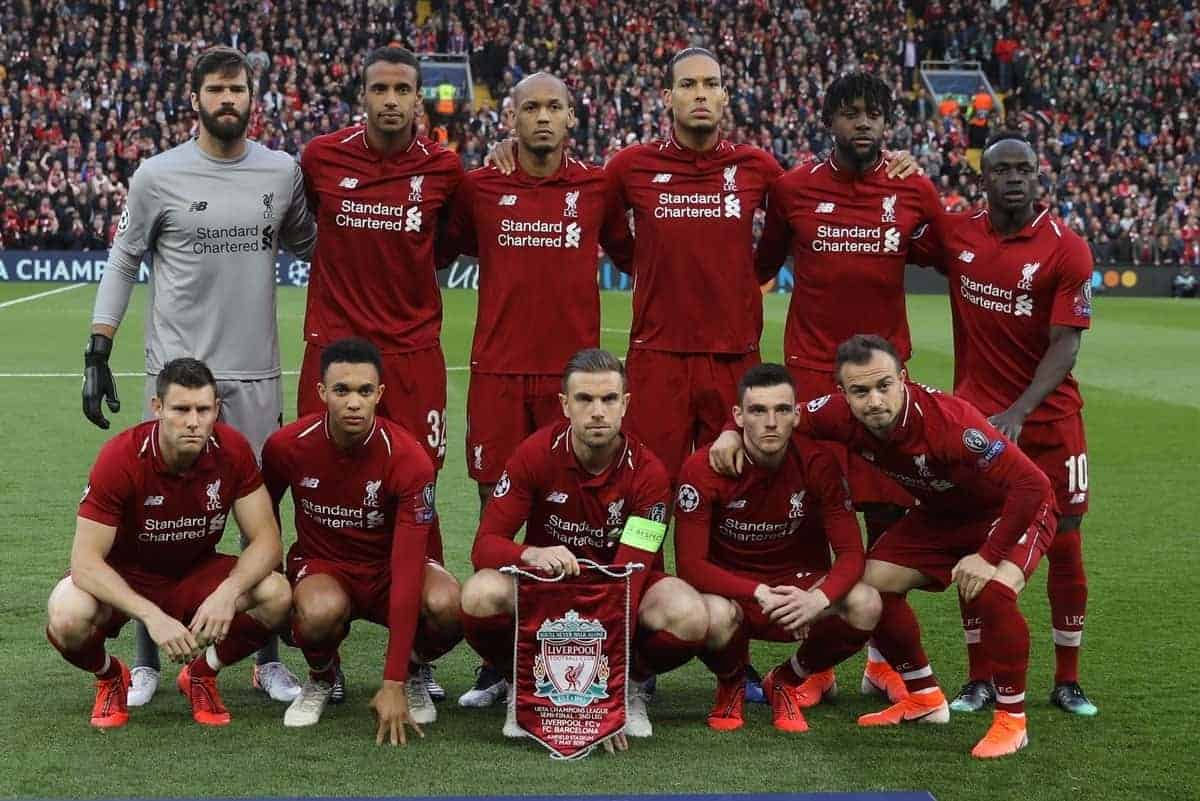 GAGS: I don't think there are many choices to be honest.
Keita's injury and Oxlade-Chamberlain's lack of fitness means that Fabinho, Gini and Henderson will start in midfield and the rest of the team picks itself.
Yes the squad is better but many players are coming back from injury and aren't in contention. Origi is only in contention because of Firmino's injury, otherwise there's no chance you change the front three.
The back five has been in tremendous form too.
The squad is better, of course it is otherwise Liverpool don't get 97 points and to a Champions League final—who'd have thought it? No one.
KARL: The squad is deeper, yes, but more decisions—barely. One decision to make, I'd suggest, rather than two since Keita is injured.
Last year it was Oxlade-Chamberlain's absence who removed any real choices.
We have a bit better depth and bench options, which in turn has made us rather better overall, but it's also great that the extended bench for the final should see one or two youth players involved.
Liverpool did the league double over Spurs, but not without some worries; given the Anfield game in particular, is there reason to think of changing approach?

MATT: In a word, no. It will be 4-3-3 and there's not much to debate for me on this!
SEAN: Id argue not, I believe the 4-3-3 is what we'll go with and what we should go with.
I'd offer that Gini may play a little deeper than he did at Anfield, where he seemed to be trying to affect the top half of the field a lot more than normal, and offer a little more in the centre to allow more control of the game for us.
Let's also not forget that when we played the game at Anfield we really had to go for it and this led to us playing a 4-2-4 with Origi on the left, which didn't really work.
It meant us being far too open and led to the Spurs breakaways.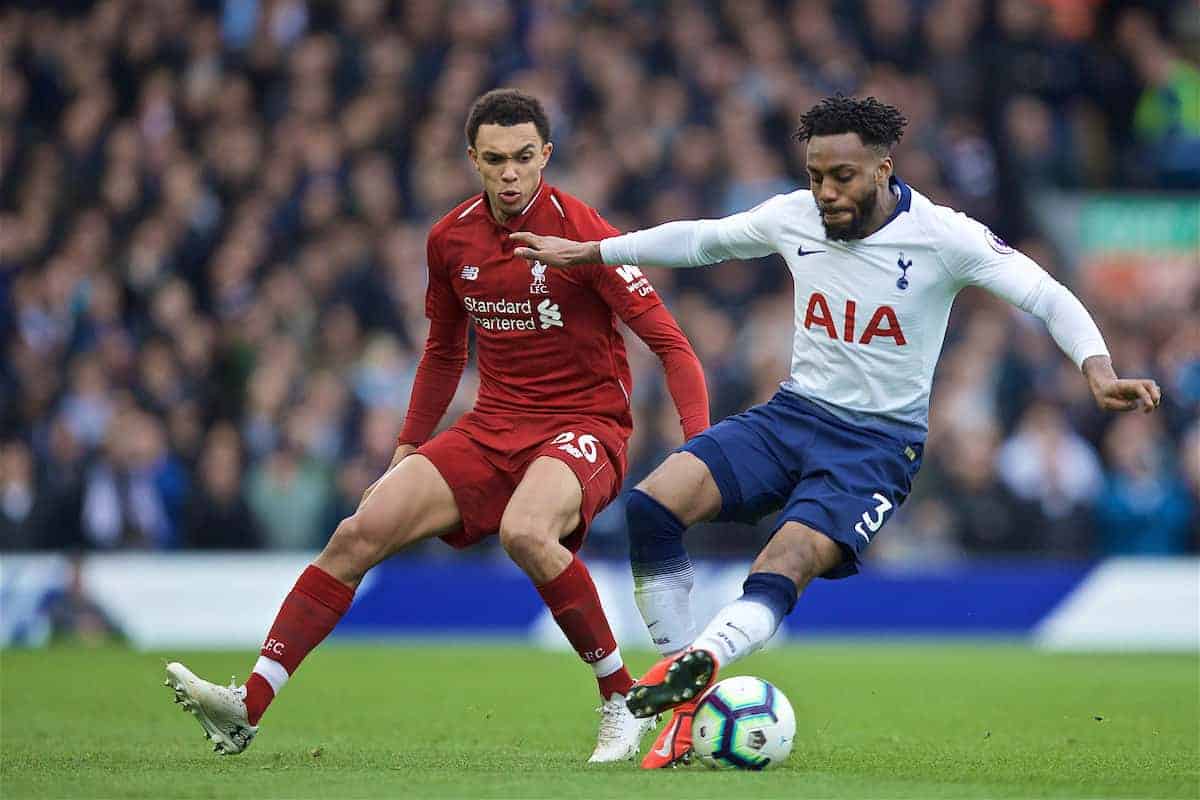 GAGS: The game at Wembley was fairly comfortable until the last few minutes and we should have scored more to put that game to bed.
The Anfield match, all the pressure was on us, we needed the 3 points the most and we needed to score a goal so we left gaps and we went gung-ho. That kind of tactic will only be repeated if we are behind in this game so it's not entirely fair to compare the Anfield game and the final.
Liverpool have shown that they can manage games better, they've shown they can be strong defensively and still be threatening on the break. There is no chance in hell that Klopp changes his formation for Spurs. We play our way, the way that suits us.
There is plenty of artillery now.
The defence, as we've said so much on the Anfield Index Podcast—fix the defence and the team doesn't need to score a bag-full to win, one will do it and this team is the most capable of shut-outs, Alisson's golden glove points to that.
Then the counter-pressing. Liverpool love to press in the final third, the Spurs boys love building out of the back and in midfield. If Firmino is fit and we are on it, this could be the biggest weapon against Spurs. We've succeeded before, we could do it again.
Set pieces, we are pretty good at them. Spurs hate them, they concede from them the most. This must be worked on, I can't imagine Klopp not working on this right now. We stood on Lloris in the Anfield game, I'm hoping to see more weird and wonderful corners to give Spurs a few things to think about. This is also a massive weapon.
And our full-backs. They are awesome and could provide the width we need with our three forwards in the box. They are the best in the league. I'm hoping for more Trent cheekiness!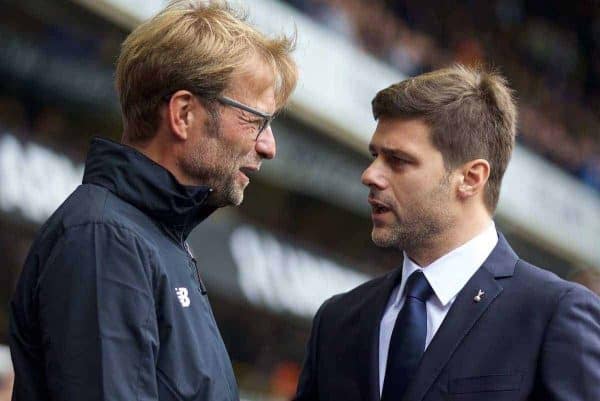 KARL: As above, changing away from 4-3-3 won't be an option to start with.
But I'd like to see Jurgen be flexible enough to change it when the time is right; we've struggled against a midfield four more than once toward the end of the season, and Tottenham did exactly that partway through the Anfield match.
That's when the game changed, and both Southampton and Barcelona had some success against us that way, too.
But we're good enough to play our way and win, too, and if Firmino's fit that's exactly the approach we'll take.
The biggest question mark: Who gets the central midfield berths? Is it a straight fight between Gini and Milner?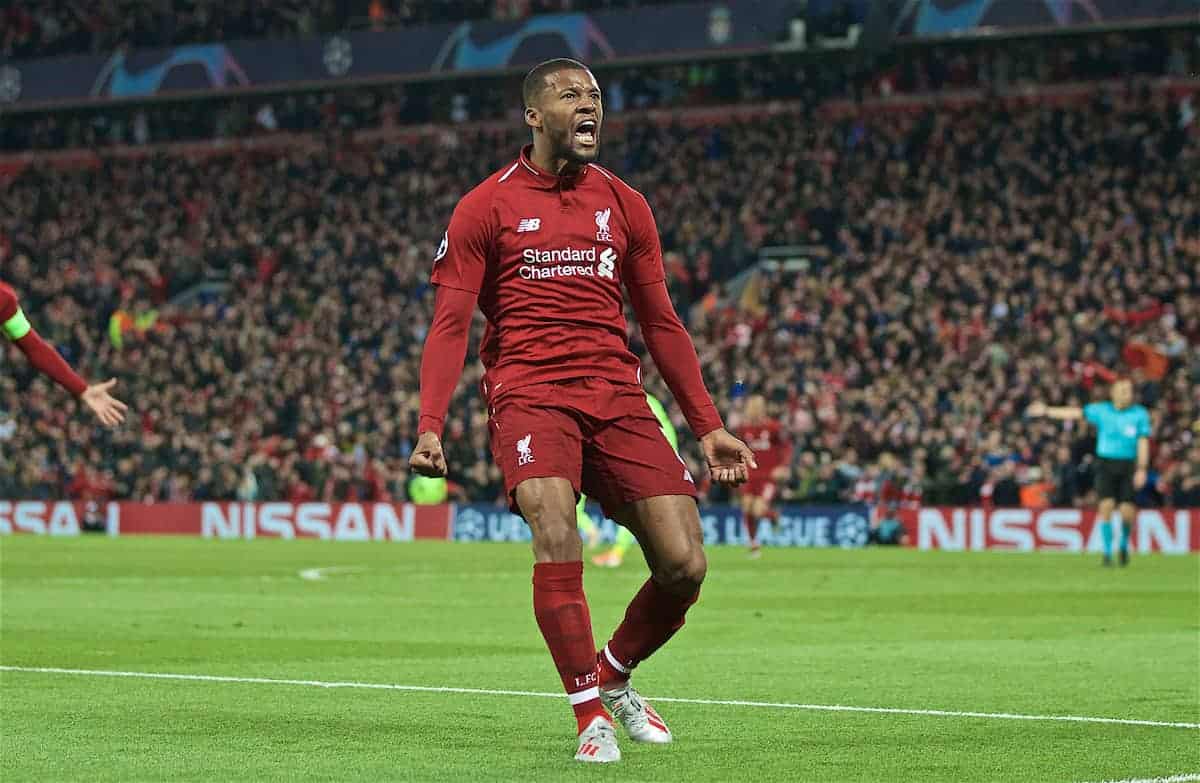 MATT: Fabinho for me has to start as the holding player, then I'd expect it to be Henderson and Wijnaldum joining him. Meaning Milner will be the unlucky man out.
Klopp could throw a curveball though and start Henderson, Gini and Milner, with Fabinho often being a useful sub as we saw a few times in the season—either to protect a lead or to add something in terms of more forward passes from central areas when needing a goal.
SEAN: Yes, the meritocracy Klopp employs prioritises performance and uses it as a scale for selection.
Using this, Fabinho and Henderson will surely start and I think Gini will join them; if you score twice in the semi-final you deserve to start, don't you?
Fabinho has been superb and our best midfielder since he got to grips with how Klopp wants him to play. Gini and Henderson deserve their place in the starting line up for their sheer hard work this season.
Their industry should allow us to win the ball back and spring our attacks as all three are also good passers of the ball.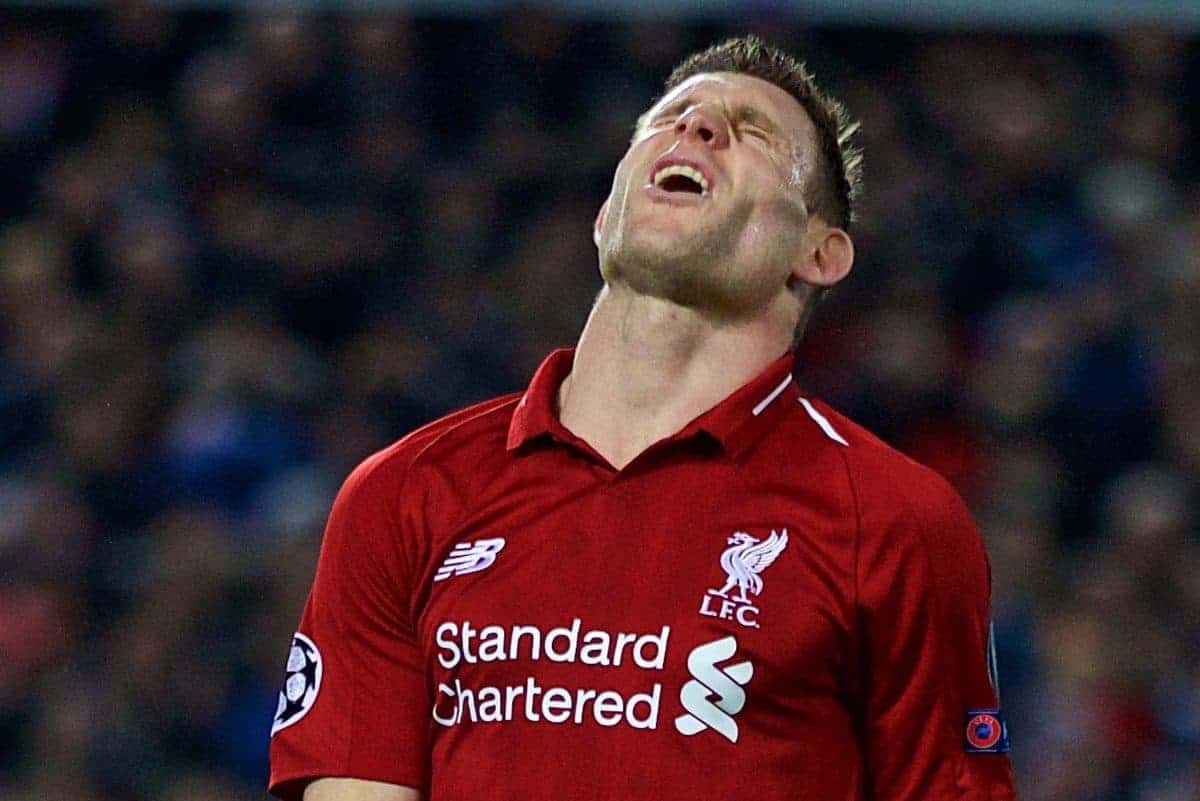 GAGS: It is a straight fight and it has to be Gini.
He deserves it and he's been popping up in great positions towards the end of the season. Hoping for a massive performance from him.
KARL: Yes it is and Gini wins if Klopp goes by end-of-season form.
What I'd add is that Milner been surprisingly effective as an impact sub at times, both in a defensive and offensive capacity.
He knows how to wrest control of games in different ways and helps Liverpool be a bit more aggressive, so he's good to bring on regardless of leading or trailing by one.
Gini has earned it and at this point even a fit Naby could only be sub.
Give us your starting 11 and your three go-to subs for different game situations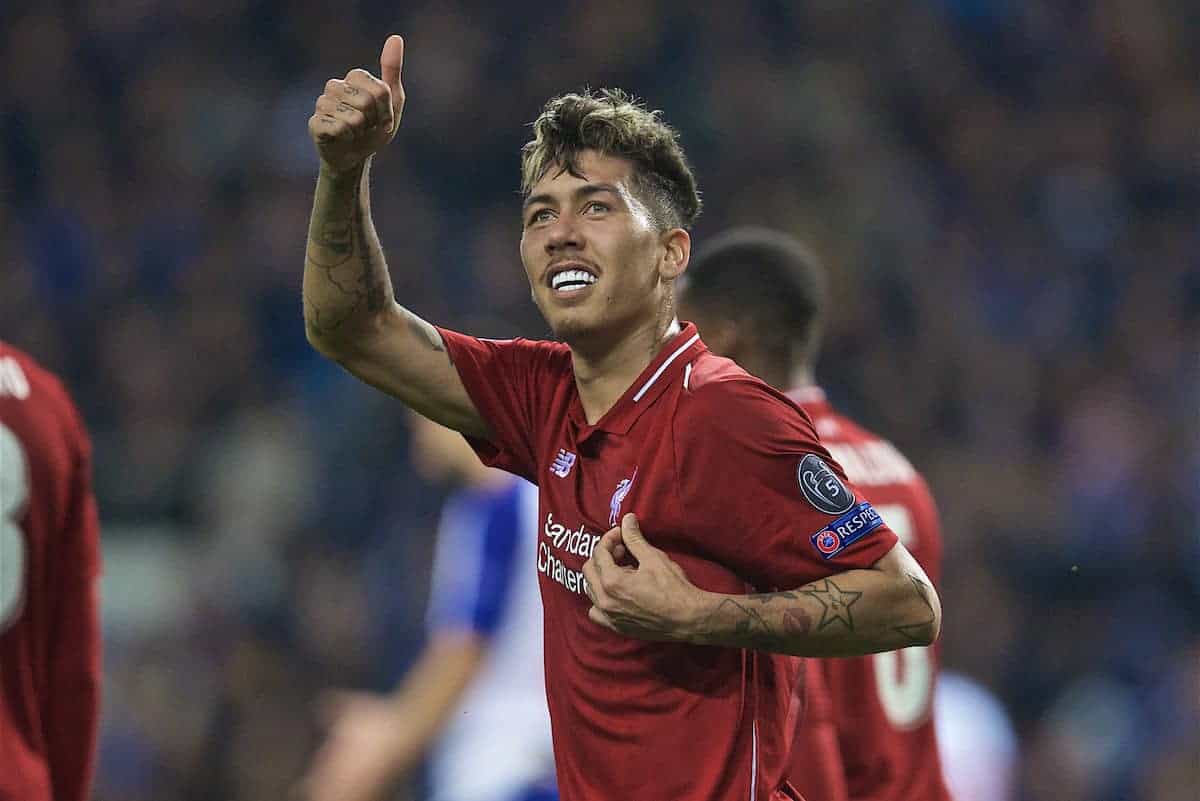 MATT: We haven't discussed Firmino's fitness, but assuming he's deemed fit it's a pretty straightforward selection:
Alisson, Trent, Matip, Van Dijk, Robbo, Fabinho, Henderson, Wijnaldum, Salah, Firmino, Mane.
It's interesting that there's only three changes to last season's final—Alisson, Matip and Fabinho—and only two of them were signed since then.
If no Bobby, it could get interesting. But I seriously doubt that. As much as Origi has contributed to our season, he's not a player I'd want starting a European Cup final for us.
SEAN: I think the 11 pick themselves now that we've said Gini starts over Milly: Alisson; Trent, Matip, Virgil, Robbo; Gini, Fabinho, Henderson; Salah, Bobby, Mane.
From the bench, Milner is the calm head needed. It wasn't the case when he came on against Fulham, but his experience in a match situation like that could be vital.
Origi is our break-the-glass option. I know I said it didn't really work in the 4-2-4 against Spurs before, but we won that game and that's all that matters in a final!
If Keita is fit enough then he would be my choice if it was tight and we were looking to win, his directness and change of pace could be what we need to get us over the line. If not, Shaqiri has shown how well he can impact a game coming on as a sub—remember United?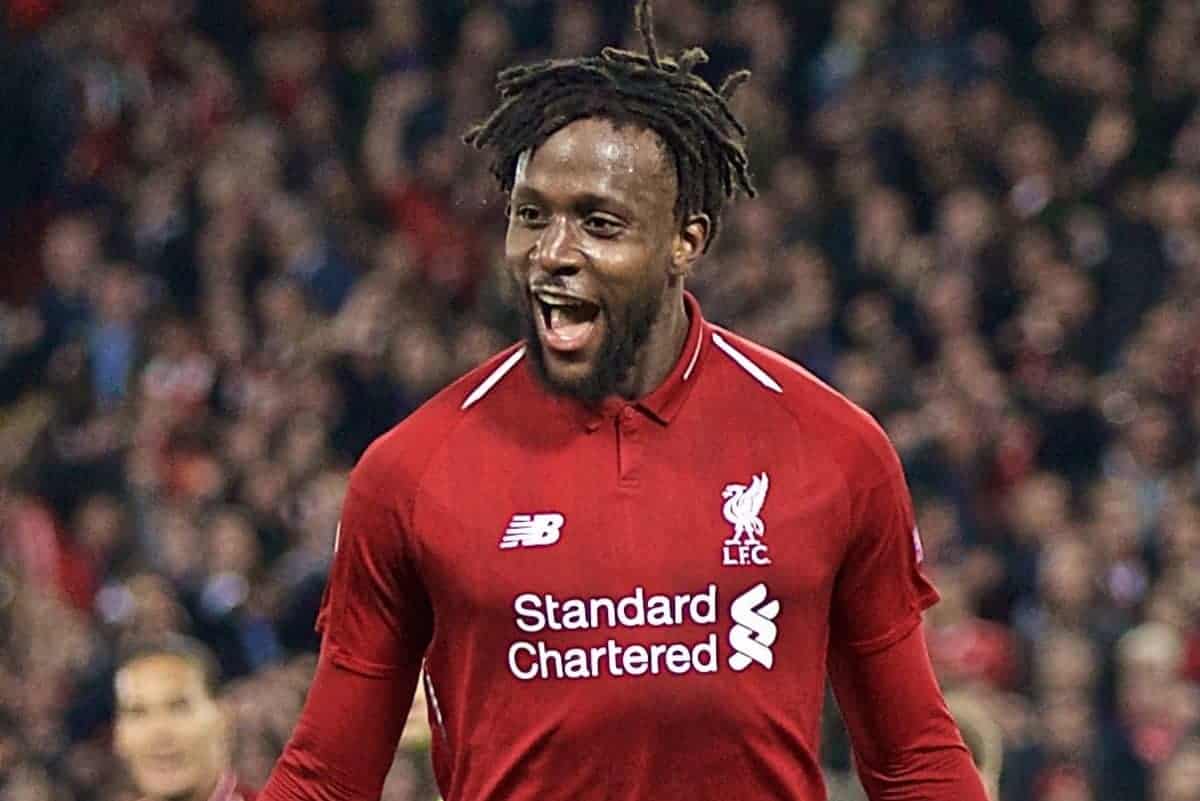 GAGS: Alisson, Trent, Matip, Virgil, Robertson, Henderson, Fabinho, Gini, Mane, Firmino and Salah.
If we are leading with 20 or 30 minutes to play, I'd keep it the same if it's a single-goal lead.
On the off-chance we're two or three goals up I'd bring on Joe Gomez for Gini or Hendo and shore it up a little more at the back and close the game out completely for Spurs.
If we are behind, Origi would have to come on for his lucky goals. Hendo would be the guy I take off to make it a 4-2-3-1.
Tight draw, tough decision. I'd keep it the same and maybe play the chess game and react after seeing what Spurs do.
If you're pushing me, I'd probably bring Milner on for Gini or Hendo depending on their performance. Milner late in a game, being fresher than opponents is better than from the start because of how much slower he is than most. Also, his penalty-taking skills are vital!
KARL: Alisson; Trent, Matip, Virg, Robbo; Fab, Hendo, Gini; Mo, Sadio, Bobby.
For me the first sub in each case is pretty straight forward, because as mentioned above, Milner is such a diverse player he's useful in different situations.
If we want to change the approach or freshness in a tight game, he comes on for whichever midfielder is struggling to impose themselves.
For a more conservative end to the game, closing out the lead somewhat for the final 20, Milner is also the player I'd bring on first, maybe for Firmino (assuming fitness isn't 100 per cent) and flattening out to a four-man midfield.
Origi has earned the right to be our great goal hope off the bench, but let's hope it doesn't come to that!